Spy Book by Andrew Meier '85 Featured in NY Times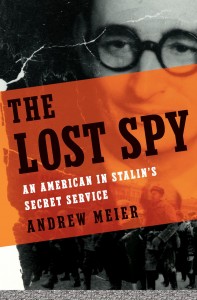 The Lost Spy: An American in Stalin's Secret Service (W. W. Norton, 2008) by Andrew Meier '85 was the subject of an article in the New York Times on Nov. 8.
A former Moscow correspondent for Time magazine, Meier spent seven years for his new book researching the fascinating tale of Isaiah "Cy" Oggins, an American radical and Columbia University graduate who served in the highest circles of Stalin's intelligence agency, the NKVD. From the late 1920s through the 1930s, Oggins traveled to Berlin, Paris, and Manchuria on his missions. In 1947, he was poisoned by lethal injection under Stalin's direct orders. The spy's story remained hidden in secret files of the KGB and the FBI until 1992. To tell the entire story of Oggins' career for the first time, Meier conducted interviews with more than 300 people on three continents and studied KGB and FBI papers as well as archives in Japan, China, Germany, France, Italy and Switzerland.
The author also met Oggins' only child, his son Robin, who had last seen his father at age seven in 1938. Meier's book is both a vivid biography and an exciting cold war espionage story that uncovers a secret world of dramatic intrigue and tragic events. The New York Times article mentions how Meier's book has prompted Robin Oggins to seek more information about his father from Russian officials.