785 Undergraduates Receive Degrees at Wesleyan's 181st Commencement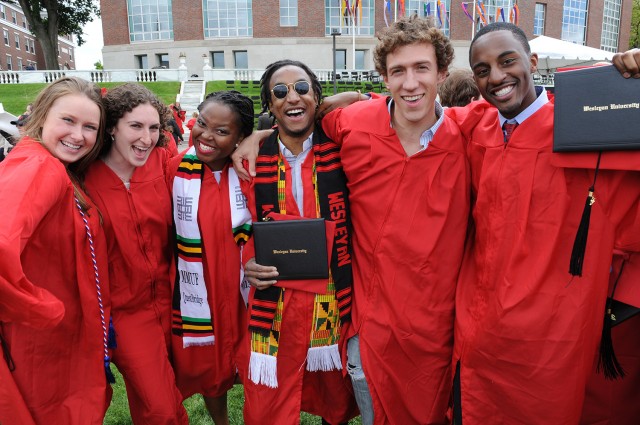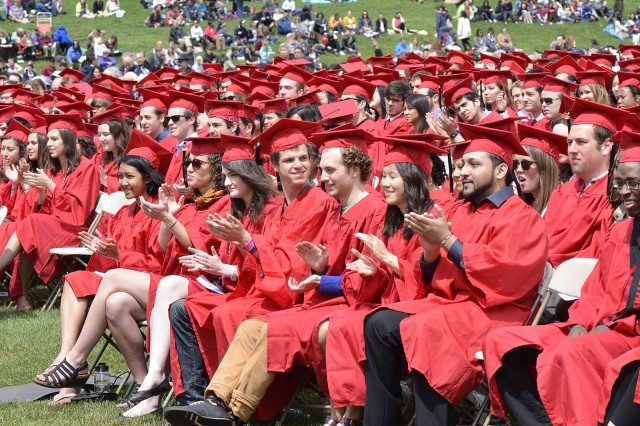 Embrace the contradictions and tensions within yourself and between yourself and others, and accept that they will never go away.
This was the advice Joss Whedon '87 shared with the Class of 2013 at the 181st Commencement Ceremony on Sunday, May 26.
"The best thing is not just the idea of honest debate, the best thing is losing the debate, because it means that you learn something and you changed your position. The only way really to understand your position and its worth is to understand the opposite. That doesn't mean the crazy guy on the radio who is spewing hate; it means the decent human truths of all the people who feel the need to listen to that guy. You are connected to those people. They're connected to him. You can't get away from it."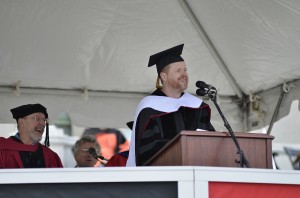 Wesleyan conferred an honorary doctor of letters upon Whedon at the ceremony, which was held on Andrus Field, with temperatures that felt more like October than late May. Also honored were Majora Carter '88, an urban revitalization specialist, and Jim Dresser '63, who has dedicated himself to serving Wesleyan in numerous capacities since graduating. Both were awarded honorary doctor of human letters degrees. This year, Wesleyan awarded 785 bachelor degrees; 30 master of arts degrees; 30 master of arts in liberal studies degrees; and 21 doctor of philosophy degrees.
An award-winning film and television writer, director and producer, Whedon was behind the 2012 superhero blockbuster The Avengers, as well as cult favorites like Buffy the Vampire Slayer and Angel. His latest film, an adaptation of Shakespeare's Much Ado About Nothing, premiers June 7. An early screening was held at Wesleyan on Friday, May 24.
Whedon told this year's graduates, "So here's the thing about changing the world. It turns out that's not even the question, because you don't have a choice. You are going to change the world, because that is actually what the world is. You do not pass through this life, it passes through you. You experience it, you interpret it, you act, and then it is different. That happens constantly. You are changing the world. You always have been, and now, it becomes real on a level that it hasn't been before."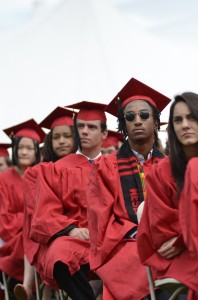 He concluded, "…the one thing that I wish I'd known and want to say is: don't just been yourself. Be all of yourselves. […] Live all of your life. Understand it, see it, appreciate it. And have fun."
Also honored at the ceremony were Jeanine Basinger, Corwin-Fuller Professor of Film Studies, Erik Grimmer-Solem, associate professor of history, and Phillip Wagoner, professor of art history and professor in the archaeology program. All were awarded the Binswanger Prize for Excellence in Teaching.
In his address, Wesleyan President Michael Roth urged the graduating class to "take with you and make practical in your lives going forward" three ideals: non-violence, diversity and equality.
"…we Wesleyans have used our education to mold the course of culture ourselves lest the future be shaped by those for whom creativity and change, freedom and equality, diversity and tolerance, are much too threatening. Now we alumni are counting on you, class of 2013, to join us in helping to shape our culture, so that it will not be shaped by forces of violence, conformity, and elitism."
He added: "We are counting on you because we have already seen what you are capable of when you have the freedom and the tools, the mentors and the friendship, the insights and the affection to go beyond what others have defined as your limits. What you do fills me with hope, fills me with confidence in the potential of education."
In her Senior Class Welcome, Anna Swartz '13 recalled the wisdom that then-Senator Barack Obama shared with Class of 2008 when he spoke at its Commencement: "We are a people whose destiny has never been written for us, but by us."
She concluded, "Passivity is not the Wesleyan way. The class of 2013 has never been a group of young people to sit blithely by and let things happen. We have shaped these four years. And now, as we set out for new places, new communities and experiences, it is our responsibility to hold our Wesleyan education before us, to take what we learned inside our classrooms and out, and lead the way for others. It is we who are the bringers of change, and the makers of the future."
The text of President Michael Roth's address to the Class of 2013 can be found here.
The text and video of Joss Whedon's Commencement Address can be found here.
The text of the senior class welcome by Anna Swartz '13 can be found here.
Information on the Binswanger teaching prize recipients can be found here.
Information on the Honorary Degree Recipients can be found here.
View a Reunion & Commencement highlights video online here.
Elvin Lim's "Senior Voices" remarks are online here.
"Senior Voices" remarks by Glenn Stowell '13, Isaiah Sypher'13 and Jacob Eichengreen '13 are online here.
Information on record-breaking reunion gifts is online here.
The entire Reunion & Commencement 2013 photo gallery is online here.