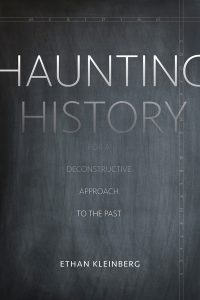 Ethan Kleinberg, director of the Center for the Humanities, is the author of Haunting History: For a Deconstructive Approach to the Past, published by Stanford University Press in August 2017.
"Haunting History is about the ways we think about the past and 'do' history at a moment when the digital revolution is changing how we conduct research, store materials, and even write," Kleinberg said. "In it I argue that many of strategies for writing about, but also understanding the past, are conditioned by the analog practices of the previous century which has served to create the illusion that the past can be studied like an object held in your hand or placed under a microscope."
The past — by definition — is gone and thus has no definite properties or perhaps we can say that is has latent properties that are activated when we do history, Kleinberg explained. "But this activation of the past is always partial leaving remains that are hidden or dormant. This is a past that is absent but haunts us and can return in ways that disturb our conventional historical narratives and understanding of what the past and history is."
To account for this play of absence and presence, Kleinberg advocate for a "hauntological" approach to the past.