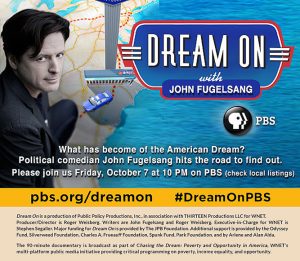 Dream On, the newest documentary by Roger Weisberg '75, will air on PBS at 10 p.m. Friday, Oct. 7. (check local listing). The film is the 32nd documentary written, produced and directed by Weisberg, who heads Public Policy Productions. Dream On has already appeared in 19 international film festivals, garnering four top awards. Weisberg's earlier works have won more than 150 awards, including Emmy and Peabody awards, as well as two Academy Award nominations.
Dream On asks the question: "Is the American Dream still alive and well?" Are we still optimistic that hard work will raise our standard of living—for our generation and for our children? Weisberg explores this question with political comedian John Fugelsang serving as host and commentator throughout this unusual road trip. The journey revisits the cities of Alexis de Tocqueville's 1831 itinerary, which served as the Frenchman's research for Democracy in America. In it, Tocqueville described America as a land of equality, opportunity and social mobility. For those interested in viewing the film as part of a community screening event or classroom educational opportunity, PBS offers a viewer's guide, as well as a trailer and additional resources, including video segments that Weisberg was not able to include in the 90-minute slot for PBS.
Weisberg also spoke to The Wesleyan Connection about the process of creating his newest work and his hopes for it: 
Connection: What was the inspiration for Dream On?
Roger Weisberg: I wanted to make a contribution to PBS programming surrounding the election, but I wanted to do it in a way that was different from some of my more conventional reporting on poverty, social mobility and economic inequality. The road trip infused this project with a degree of exuberance and levity, while also permitting us to examine some urgent social issues and meet some really powerful subjects along the way.
Connection: How did John Fugelsang come to join you?
RW: We were pretty lucky to have been referred to him by colleagues who worked with Bill Moyers. It turned out that for John, the timing was perfect: He'd just lost his job as a talk show host, because the cable network that had hired him was sold to a foreign buyer. Because of John's new feeling of economic insecurity, he was able to put himself in the shoes of many of the people he met on our Tocqueville odyssey.
Connection: What kind of time frame were you working in?
RW: In the early part of 2013, I did the whole road trip on my own, without a crew, to meet prospective participants and scout locations. In the fall of 2013, we filmed this journey in two stints of about 25 days each.