Wesleyan Honors the Life and Work of Rev. Martin Luther King Jr.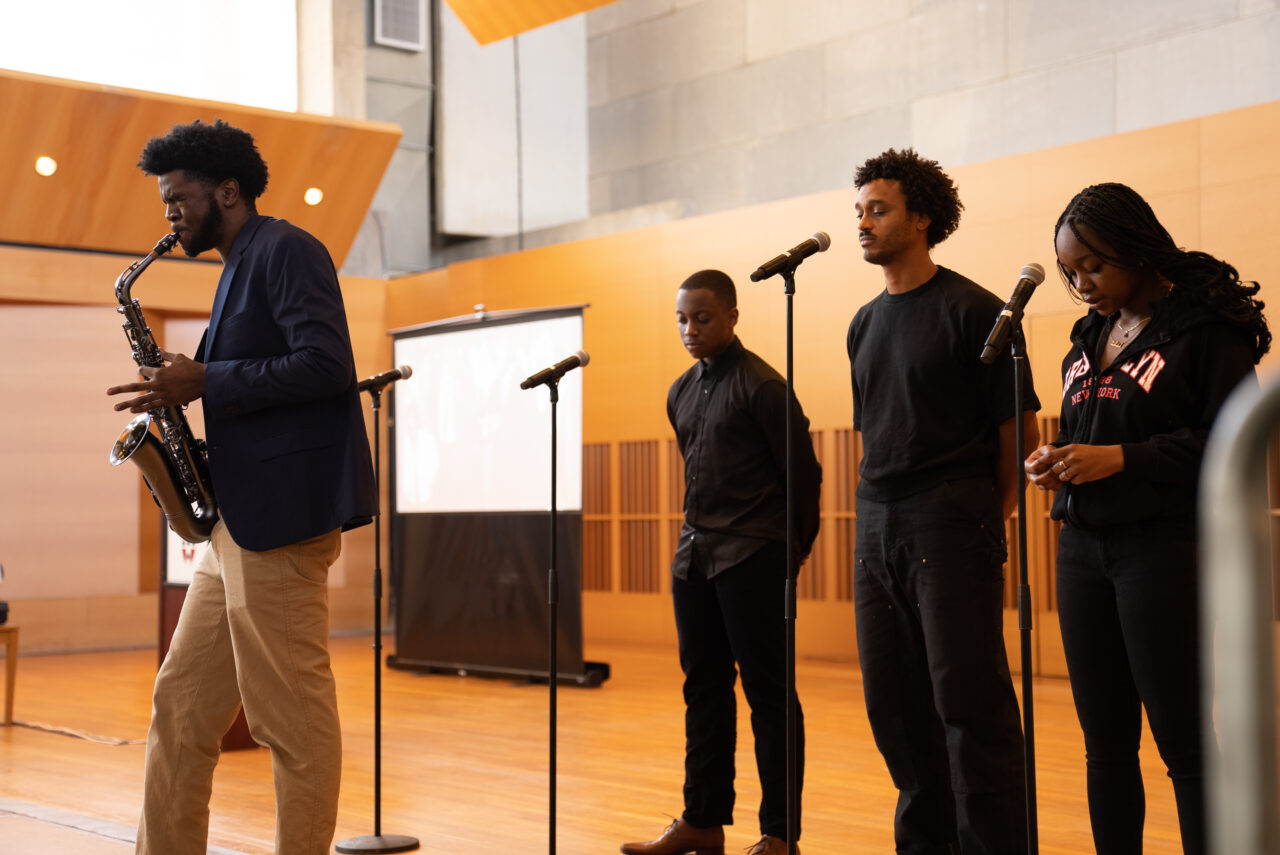 Wesleyan University's annual Martin Luther King Jr. commemoration, held February 3, was a moment for hard truths about racial justice in the United States and inspiration for where we might go as a nation.
The annual commemoration concluded Equity and Inclusion Week and launched a series of events to recognize Black History Month.
The MLK Commemoration, hosted by Demetrius Colvin, director of The Resource Center, featured a recollection of King's special relationship with Wesleyan. The civil rights leader visited campus four times and was an honorary degree recipient in 1964.
In addition, Black Raspberry, an all-Black student musical group, offered a performance of "Lift Every Voice and Sing" and other songs.
April Ruiz, dean for Academic Equity, Inclusion and Success, said in her brief remarks that many people speak of the current fraught moment as a time for action – a time to use their voices. "We cannot be still and we cannot be silent," Ruiz said.
However, Ruiz believes there is equal importance in people listening carefully to truly understand the challenges African Americans still face. "For some of us this is a time for listening first. To pay attention to our Black communities and to hear them. Really hear them. Today, of all days, as we remember and honor the Rev. Dr. Martin Luther King Jr., I encourage us to center Black voices," Ruiz said.
It can be hard to process the tragedy, Colvin said. One week there is a mass shooting targeting Asian Americans. The next week another African American man dies at the hands of police. For a person in the world trying to live respectfully, it can all seem too big. "It doesn't feel like we can sit with it," Colvin said. There is a way forward, Colvin said. "We are each other's hope. We can continue to strive," he said.
Andrea Jenkins, president of the Minneapolis City Council and the first openly transgender woman to be elected to public office, served as the keynote speaker. "She's who I'd want a politician to be – about the people," Colvin said.
Jenkins' political career began in the wake of the murder of George Floyd by Minneapolis police. Over the course of the trauma surrounding Floyd's death, Jenkins found her artistic voice, throwing herself into creating work that explored the deep discord at the heart of African American history in this country.
With the recent attempts in Florida to prevent the teaching of African American history and the killing of Tyre Nichols at the hands of the Memphis police, Jenkins said "the anti-Blackness is real."
"Tyre was murdered by a system, a system that has been deadly for centuries in this culture," Jenkins said.
Despite the pain and the need for protest and reform of all kinds, Jenkins believes that there is only one thing that can drive out the darkness of ongoing institutional racism — love. "Hate cannot drive out hate. Only love can do that," she said
About midway through the event, Colvin played a recording of King speaking to the Wesleyan community. King's warm tones and familiar cadence filled Crowell Concert Hall, offering a sense of what it must have been like to hear him live. The moral arc of the universe is long, King said, but it bends towards justice.
"We must move out of mountain of physical violence and corroding hatred to the higher and noble mountain of nonviolence and creative powerful love," King said in his 1964 baccalaureate address. "I believe that we have the resources to move on through the difficulties of the present hour towards a great and noble Promised Land which will bring peace and joy, and harmony and brotherhood to our nation and the nations of the world."
Colvin stopped the recording. The room was silent.
The 2023 Rev. Dr. Martin Luther King Jr. Commemoration was sponsored by The Resource Center, Office for Equity and Inclusion, Department of African American Studies and the Center for African American Studies, Department of Feminist, Gender, and Sexuality Studies, and the Olin Library.