Shapiro-Silverberg Distinguished Writer in Residence: Chigozie Obioma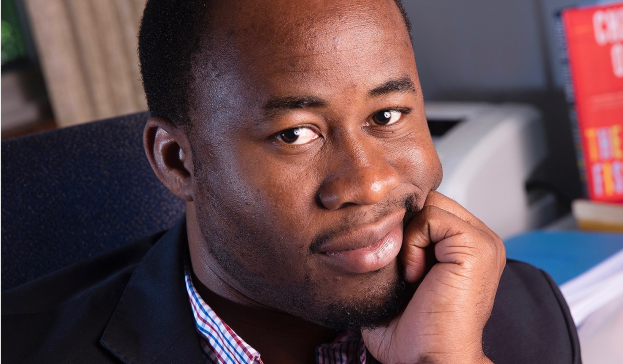 From a young age Chigozie Obioma knew he was going to be a novelist. But the moment he told his classmates, they laughed at him.
"When I was in primary school it was a common question kids were asked—what do you want to be? I used to get laughed at. The class would just boom with laughter. It didn't make any sense (to want that) because there was no such thing. I didn't know anyone who was a writer," he said.
Kids would say they wanted to be a pilot or a lawyer or an engineer. Obioma wanted something very different. From a young age his father would tell him stories and took him to the local library, both formative experiences. "That created an unconscious tenacity in me," he said. "I have always thought I would (write), no matter what."
That drive has led to a celebrated life in letters, twice being shortlisted for The Booker Prize, teaching literature and writing, and helping students find the path that was not readily available to him when he was young. He has joined the Wesleyan community for the 2023-24 academic year as a Shapiro-Silverberg Distinguished Writer in Residence.
While at Wesleyan he plans to complete a set of short stories set in the United States and begin work on a memoir called "In Pursuit of the Night Hawk," recounting his personal journey as a writer growing up in Nigeria. "I want to reflect on all of these moments," he said. "I want to explore my trajectory, all the stumbling blocks along the way as I pursue this thing that's so elusive."
Critics have described Obioma's work as a mix of the real and the folkloric, creating an original and unique voice. In an article in The Bookseller, publishing director of Hutchinson Heinemann Ailah Ahmed said, Chigozie is one of the most important and talented writers of our generation."
Working through the deep maze of writing a novel means keeping an eye on the big picture of the book and exploring the connections between characters. Said Obioma, "I want to explore what causes someone to move from one emotional and psychological arc to another."
Even a writer of Obioma's ambitions only realizes about 70 percent of his visions on the page—if all has gone well, he said. Writing literature is a lot like the Night Hawk in the title of his memoir—no one ever truly catches one.
Through his work Obioma is attempting to bridge what he feels is a gap in African literature. While there is a long storytelling tradition, the African novel only dates to the mid-1950s, he said. Inspired by mythology, Obioma is attempting to create archetypal stories that capture the unique flavor of his native language—what he calls the "special effects" in his writing.
"I am trying to create a cosmological novel, something along the lines of Paradise Lost by John Milton, or The Divine Comedy and the mythology of Adam and Eve," he said. "It's a very difficult thing to be doing."
One of Obioma's joys as a professor is mentoring students, trying to offer the guidance and encouragement that he didn't necessarily have. This semester he will be teaching a course called "Conceptual and Experimental Fiction." "I love that I am able to help young people. Even if you have the skills, there are a lot of things that you won't develop by yourself unless you have guidance," he said.