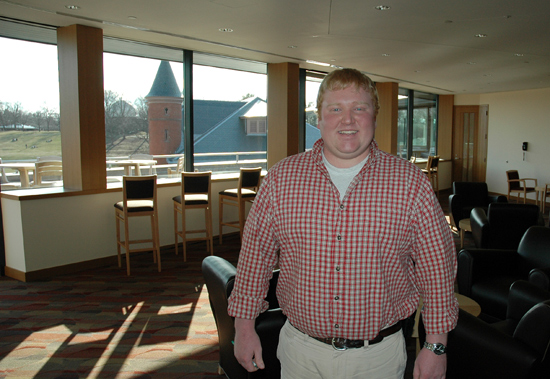 Josh Hamilton, evening manager for the Usdan University Center, builds relationships with Wesleyan students through the Usdan Center Activities Board.
Posted 04/03/08
Q: Josh, when does the "evening" begin at the Usdan University Center? What is your typical shift?

A: Generally around 6 p.m. is when I begin. The evening continues until 2 a.m. when we do our final walk through before going home.

Q: What are your primary duties as a manager?

A: I am here to support the student staff that operates the building.

Q: What typically goes on during your job?

A: I do a fair amount of work on my computer. However, many times I am out in the building checking up how the building is, such as whether it's clean, furniture organized, and everything inside is in working order. Often I assist the student staff with issues they may encounter.

Q: Do you have the opportunity to interact with the students? Do you get to know any of them on a personal level?

A: I am the supervisor of our setup crew. This responsibility lets me get to know the students who make up the setup crew team very well. I am also the co-advisor for the Usdan Center Activities Board (UCAB) with Nicole Chabot, which allows me to build relationships with the students who sit on the board. Our student manager and Information desk staff both set their schedules so that students work the same times and days through out the semester. I get to know the students who work nights very well by the end of each semester.

Q: What is the dynamic like during the evening hours?

A: There are a few groups who meet in Usdan after dinner. UCAB puts on events each Thursday and every other weekend. Other students and groups have held dinners, lectures, dances and concerts which go until the building closes. Many students stop by for late night dining. Others use Usdan's lounges as an option to Olin for their studies. And still others relax by playing pool, ping pong, or foosball in the game room.

Q: What are your thoughts on the new Usdan complex?

A: I think it's a great resource that everyone in the Wesleyan community can, and should, take advantage of. Where I went to school the student center didn't have nearly as many opportunities and amenities as Usdan has.

Q: What are some of the unexpected challenges that come up from time to time?

A: In general the issues we face include disappointed building users, last minute requests or changes for events, and broken equipment in the building.

Q: What are typical concerns or questions the university center staff might ask you during your shift?

A: The students seek my assistance for issues such as speaking to clients, methods for avoiding and solving problems, and guidance with time management and completion of their responsibilities during their shift.

Q: When did you come to Wesleyan?

A: I came to Wesleyan in July to begin to prepare for the opening of Usdan. I always heard great things about the university from a family friend who attended Wesleyan. Working in higher education has been one of my career goals.

Q: What were you doing before? How was that similar to what you do now?

A: I was the assistant operations manager for the Sportscenter of Connecticut, which is a large family activity center in Shelton, Conn. The property included a mini-golf course, driving range, batting cage, laser tag and the world's only double-decker ice rink. My job here at Usdan and my old job at the Sportscenter have many similarities, both buildings were built to hold events and entertain users. The main difference is the community aspect at Usdan. At the Sportscenter there was not much opportunity to get to know the people who used the building. However, at Usdan one of my favorite parts is building a rapport with the Wesleyan community members who make use of Usdan.

Q: Where did you attend college and what did you major in?

A: The University of New Haven. I majored in sports management.

Q: Where are you from and do you have family?

A: I grew up in Massachusetts. I currently do not have any kids, but would like to have a few some day. A black lab named Zam is the closest thing I have to a child. Both Zam and I enjoy hiking and the outdoors. I also play men's league hockey and softball. This spring I will be playing golf with the Westrokers.
 
By Olivia Drake, The Wesleyan Connection editor