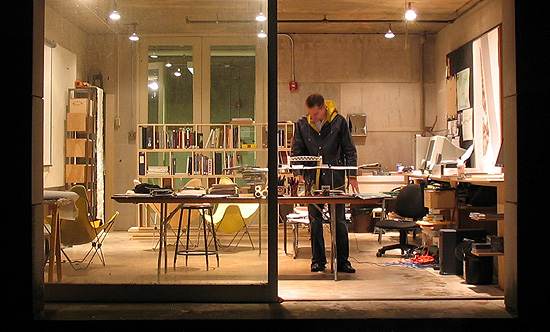 Elijah Huge, assistant professor of art, works from his office in the Art Studios.
This fall, Elijah Huge joins the Art and Art History Department as an assistant professor of art.
Huge comes to Wesleyan after four-years working for a large architectural office in New Haven, Conn. At Pelli Clarke Pelli Architects, Huge worked on the design team for the Minneapolis Public Library, which opened to the public in May 2006. While working there, he also pursued a series of academic and speculative projects.
"As the library neared completion, it was increasingly clear to me that rather than move on to another large-scale, long-term architecture project, I wanted to partake more fully in the intellectual vibrancy and open exchange of ideas that happens in a university environment," Huge says.
In addition, Huge knew he wanted to continue design work and remain active in architectural practice. An opening in Wesleyan's Art and Art History Department was the perfect opportunity.
"In light of these varied professional interests, Wesleyan presented an ideal opportunity: encouragement to pursue my own creative work while engaging bright, lively minds in the studio, and interacting with Wesleyan's outstanding Art and Art History faculty," Huge says. "The fact that I would be working in the Center for the Arts – a wonderful collection of buildings – was icing on the cake."
At Wesleyan, Huge is teaching Architecture I and Studies in Contemporary Urbanism, which explores the physical and environmental design conditions that shape the built environment.
Huge holds a bachelor's of art in architecture and history of art from Yale University, a master's of architecture from the Yale School of Architecture. He also attended Princeton University School of Architecture as a Princeton University Fellow and Merit Scholar. While pursuing his degree at Yale, Huge worked as a teaching fellow and teaching assistant for several architectural design and history of art classes. In addition, he was selected through a competitive application process as an editor for Perspecta, The Yale Architectural Journal. Titled "Building Codes," this issue was published in 2004 by MIT Press.
Also while completing his graduate studies, Huge started an architectural research group with a classmate to pursue speculative projects and design competitions. The group has met and worked continuously since its founding, garnering a number of awards, including an honorable mention for their entry to an ideas competition for the Highline, a 1.5 mile long elevated rail structure on the west side of Manhattan. Their entry was exhibited in Vanderbilt Hall of Grand Central Terminal over the summer of 2002. In the spring of 2005, Huge and the group won an international design competition for a new 26-acre park in Buzzards Bay, Mass. Development of the park's design is currently underway.
Huge's professional background contains stints at several architectural firms prior to working as a senior designer for Pelli Clarke Pelli Architects. He worked as a designer for Turner Brooks, Architect of New Haven, on the Nicholas/DuPont House, West Yarmouth, Great Island, Mass. He held internships at Behnisch & Partner, Architekten and Buerling-Schindler, Architektenin Stuttgart, Germany; and Little & Associates, Architects in Charlotte, N.C. He helped design the Lothar-Gunther Buchheim Museum, Bernried am Starnberger See in Germany and the Daimler-Benz Exhibition Pavilion for the 1999 Detroit International Auto Show in Detroit, Mich.
In addition, Huge is currently on the City of New Haven's City Planning Commission, and has formerly served as a commissioner for the City of New Haven Development Commission and as a Yale University President's Public Service Fellow for The Community Builders, Inc. of New Haven. He was an exhibition coordinator for the "Architecture and Revolution: Charles Moore and Architecture at Yale in the '60s" exhibit in New Haven.
Huge lives in New Haven with his daughter and wife.
In addition to teaching, he is starting his newest design project — designing a home for a Web designer in New Haven.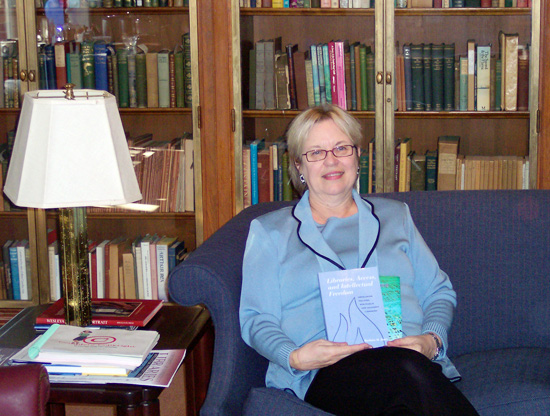 Barbara Jones, the Caleb T. Winchester University Librarian, is the author of two books on intellectual freedom.
Posted 10/05/06
If a Wesleyan professor wanted to know what books students have read in the past, the staff at Olin Library would not be allowed or able to give him an answer.

"By law, we cannot report to anyone what anyone else has been reading, asking or viewing on the Internet," explains Barbara Jones, the Caleb T. Winchester University Librarian. "We have the right to provide people with information, but we do not have the right to share what information they have requested. Plus, we break the electronic link between the patron and the borrowed item as soon as the book is returned."

Jones' knowledge in this area is not just a result of he being a library administrator. She is also an internationally-acknowledged expert on intellectual freedom. It was this background that garnered Jones an invitation to speak on similar topics at three venues in Japan Aug. 28-31. The U.S. Embassy in Toyko, Japan hosted her visit.

She was accompanied by James Neal, vice president of Information Services and university librarian at Columbia University. Together, they spoke on "Intellectual Property and Intellectual Freedom." Jones spoke primarily on the First Amendment and the U.S. Patriot Act; Neal spoke on copyright law issues in the United States.

Both of these issues are hot topics in Japan. Copyright laws in the U.S. are different from other parts of the world, Jones explains. And Japan contemplating its own version of the U.S. Patriot Act. Japanese library professionals are sensitive to these issues.

During World War II, library collections in Japan were heavily censored.

"In today's prosperous and relatively open Japanese society, their librarians are very passionate about including all areas of thought in their collections and in daily discourse," Jones says. "This is why they are so interested in U.S. library policies related to the First Amendment."

Jones and Neal spoke at embassy and consulate information centers in Fukuoka, Sapporo and Toyko, Japan. Their audiences ranged in size from 50 to 150 people. Most in attendance were professionals, academics, legislature members, librarians and the general public. Radio, television and newspaper reporters also attended the meetings. The presentations were made in English and translated to Japanese.

In her talk, Jones brought up the importance of balancing security and privacy with the public's right of access to information, how U.S. constitutional issues affect the international library community and how technology plays a role in controlling access to content. She also talked about how national security legislation can compromise librarians' best practices in providing content and services, the importance of written polices and guidelines for library services, problems with information crossing national boundaries, and accessing electronic information.

Although the talk was sponsored by the U.S. Embassy, Jones was able to speak against such U.S. government policies as Internet filtering requirements tied to federal funding, and the scope of the U.S. Patriot Act. While she is just as concerned about international terrorism as all U.S. citizens, Jones believes that current government policies that compromise library access and patron privacy in order to prevent terrorism are often ill conceived and do not achieve their objective.

Some Japanese audience members knew of her research in advance. Her book, "Libraries, Access and Intellectual Freedom: Developing Policies for Public and Academic Libraries," is published in both English and Japanese. Her new book, "Intellectual Freedom in Academic Libraries," is due to be published in spring 2007.

In these books, Jones takes first amendment theories and ties them to the real world of librarians in libraries with real patrons with actual examples of intellectual freedom problems.

"For example, it is all well and good to have a written policy on following the spirit of Connecticut state law regarding library patron privacy, but what should a student worker do when a distinguished faculty member asks the student to reveal what books a particular student has checked out?" she says. "What does that student do when an FBI agent approaches the desk and asks what books that student has checked out? Fortunately, such events don't happen often at Wesleyan, but it's important to know the legal and ethical obligations in such cases. My books are practical, but based on court decisions, legislation, and American Library Association policy."

This fall, Jones begins her fourth year as Wesleyan's head librarian. In addition to intellectual property, her interests include academic library space planning; legal issues; collection management and budgeting for the 21st century library; fundraising, library development and community outreach; scholarly communication in a digital environment; special collections' role in the 21st century library and international librarianship.

The Chicago, Ill. native has various degrees from the University of Illinois at Urbana-Champaign, Northwestern University, Columbia University, New York University, and she has a Ph.D in U.S. history from the University of Minnesota.

At Wesleyan, Jones has been an active member of the Deans' Council, a coordinator for the Academic Technology Roundtable; chair of the Intellectual Property Committee; chair of the Library Space Planning Advisory Group; convener for the Information Literacy Discussion Group with faculty and librarians and the coordinator of Constitution Day events 2005-07.

Jones says she'd like to return to Japan to speak at other information centers in the country.

"I'm really hoping that once my new book comes out they will want to invite me back," she says, smiling.
 
By Olivia Drake, The Wesleyan Connection editor