Hecht '04 Finds the Irresistible Music for Commercial Clients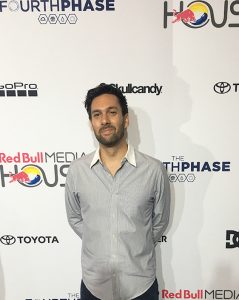 "Wait, turn that up! What is that song?"
If you've ever watched a commercial that became more significant the second you heard a song you just had to hear again, chances are Jonathan Hecht '04—founder of Venn Arts—was behind its discovery.
His interest in pairing music with picture was inspired by the Paul Thomas Anderson film Boogie Nights: "I realized how different some of the musical selections were, but how they all fit together to create a sound and musical character for the film."
He began to wonder if he could create a career out of this observation—which became Venn Arts, the music supervision company specializing in curating and procuring licensed music for commercial projects. Hecht took the name from a Venn diagram, with its "intersection or coming together of two things to make something unique," he said. For Hecht, one of those "things" is always music: "There are so many nuanced emotions that can be inflected when you find the right music."
Now, collaborating with brands such as Under Armour, Free People, Mercedes, and most recently, supervising the music for Subaru's phenomenally effective "Love" ad campaign, he is gaining attention: Forbes recently wrote about his work as a music supervisor to Subaru's marketing and rapid sales growth. "I've been working with Subaru's ad agency, Carmichael Lynch, since 2011 and have placed more than 30 songs into national TV ads for the brand," he says.  The campaign was also highlighted as "Ad of the Day" on Adweek.

Hecht initially became familiar with a diverse catalogue of music through his undergrad internships at record labels. At RCA Records, Hecht explored the label's vast musical holdings—and the significant ways in which both old and new songs could be promoted through film and television licensing. He notes that familiarity with a wide range of music has been an important asset: "Music supervisors are tasked with pulling together and vetting music options that fit the various creative needs and wide-ranging budgets for a client's project," he said.
Hecht presented Odessa's "I Will Be There"  as one such option for the Subaru Impreza commercial "Flat Tire"—and it launched the artist's career. A Republic Records representative heard her song in the commercial and tracked her down. Using new, relatively unknown musicians is popular with clients. "Brands like the idea of hanging their hat on something they found," Hecht said, "because it gives them a sense of ownership over the song that they were able to introduce."
It's also popular with Hecht, who enjoys helping the artists find their audience: "It can make such a big difference to them to get these deals where their music can be heard."