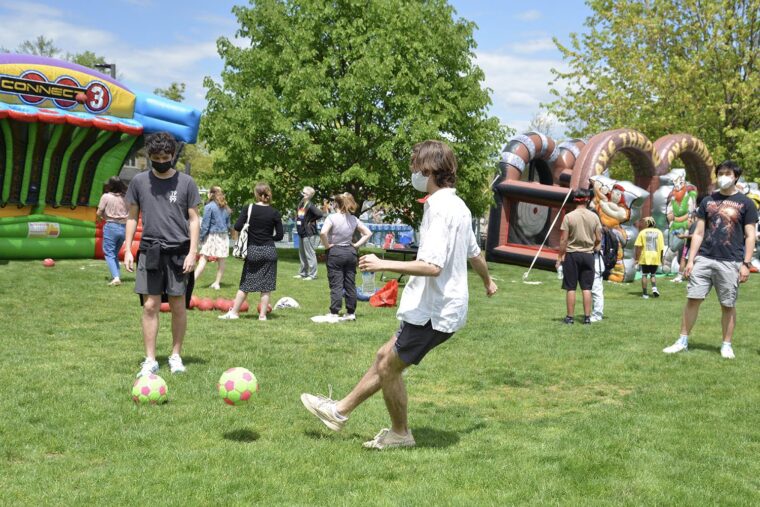 Wesleyan's intellectually dynamic faculty, students, alumni, staff, and parents frequently serve as expert sources for national media. Others are noted for recent achievements and accolades.
Victoria Smolkin, associate professor of history and a scholar of communism, speaks in The Los Angeles Times about Patriarch Kirill, the head of the Russian Orthodox Church, who is trying to defend the war in Ukraine with a spiritual defense. "What they are after is salvation," Smolkin says. "Not just of the Ukrainians, but of themselves. They see it as their mission to establish unity." (March 29)
In The Hartford Courant, Suzanne O'Connell, Harold T. Stearns Professor of Earth Science, shares an op-ed titled "There are Two Prices to Consider and they are Gas and Climate." (March 30)
Hannah Star Rogers '95, editor of Routledge Handbook of Art, Science, and Technology Studies (Routledge, 2021) speaks on a News Books Network podcast about her new handbook on Science and Technology Studies (STS). (March 30)
In Newsweek, Peter Rutland, Colin and Nancy Campbell Professor in Global Issues and Democratic Thought, is one of six experts speaking about the end of Putin's presidency if the war results in a bad outcome for Russia. "I'm afraid that Putin will be unwilling to accept defeat or any compromise solution that could appear to be a defeat for Russia," he says. "Given the structure of political power in Russia, I find it hard to imagine a scenario where Putin steps down from the presidency." (March 25)
In the Denton Record-Chronicle, Paul Meltzer '82 discusses economic growth in Denton, Texas. "The key to growth in Denton is building on what makes Denton unique and great … so that means leveraging the creativity and commitment to sustainability in our community, which includes having everything from landmark performance spaces that will help drive commerce to deploying enough dark fiber so that creative high-tech firms can be productive here. And investing in sustainability and making it into the news for being forward-thinking so that companies who want that association will seek us out." (March 29)
The Record-Journal reports that the Wint Filipek Sr. Memorial Tennis Tournament "will celebrate its 16th year this June at a new home: Wesleyan University." The annual event will play nine days from June 18-26 and feature 21 divisions that span all levels of play on the city of Middletown's John Wood Memorial Tennis Courts. (March 29)
Also in Newsweek, Peter Rutland shares his view on how the war in Ukraine will end. "Securing a Ukrainian commitment to Swiss or Austrian style neutrality is something that the Kyiv government could accept, and that Russia could declare to be a victory since Ukraine was unwilling to make such a commitment before February 24," he writes. (March 17)
In The Washington Post, Peter Rutland discusses what could happen if pro-Putin performers come to America. "Cultural diplomacy goes back even before the Soviet period when the czar state was trying to cover up its atrocities at home by spending lavishly on high art and culture to show, 'We are leaders of European civilization," he says. (March 31)
Peter Rutland also speaks on ousting Russian Oligarchs on Daily Motion. (March 31)
Press News Agency shares an op-ed by Jamie De Langhe '08 titled "Yes You Can Build a Successful Career in Tech with a Liberal Arts Degree." The technology industry requires many of the skills the STEM fields teach us: analytical thinking, quantitative reasoning, attention to detail and the drive to find clear, repeatable answers. But it also requires people who are fascinated by how we look at the world and why we see it that way. (March 31)
Mike Turner P'21, father of Zach Turner '21, is a contestant on the 42nd season of Survivor. On the show, he wore a Wesleyan Wrestling shirt, that did not go unnoticed by Dalton Ross P'22, executive editor-at-large at Entertainment Weekly, who mentioned it in his weekly Survivor recap. (March 24)
Jennifer Raynor, assistant professor of economics, explains on FreakNomics Radio about how the wolf contributes to the more than a million collisions in the U.S. between drivers and deer. (March 24)
The Hartford Courant via Yahoo! News reports that a new $5 million fund established at the Hartford Foundation for Public Giving by Simsbury philanthropists Robert '61, P'88, 90 and Margaret Patricelli P'88, '90, is dedicated to granting projects that lift up communities in the Hartford area. The Patricellis also support the Patricelli Center for Social Entrepreneurship and the Patricelli '92 Theater restoration project at Wesleyan. (March 25)
Indian music scholar and performer Jody Cormack, archive assistant for the World Music Archives at Wesleyan, is mentioned in an article titled "Preserving the Past in the Digital Age Is Still a Massive Headache," which appears in San Francisco Classical Voice. (March 24)
Alyx Mark, assistant professor of government, speaks to PEW about her database that compiles more than 20,000 unique state court guidance documents. Collected from all 50 states and the District of Columbia, the documents were issued from February 2020 to March 2021. "I was observing a diverse range of rule and policy modifications being made by people in lots of different roles within court systems and thought it might be valuable to attempt to capture all of this activity, both for my own research and other scholars, as well as for court reformers, who have been calling for some of these changes for a long time," Mark explained. (March 25)
The Ringer shares a short bio of Michael Bay '86 who "over the course of a career" would "encounter rejection, distrust, and dislike." Michael Bay "had learned to turn the chip on his shoulder into the source of his power. He'd gotten into movies early, taking a job as an intern at Lucasfilm at 15, helping out on a movie that he thought would be a disaster until he saw it cut together: Raiders of the Lost Ark." (March 24)
Broadway World shares the history of the The Drama Book Shop, which "longtime friends, and patrons of the bookstore, Thomas Kail '99 and Lin-Manuel Miranda '02, Hon. '15, along with Jeffrey Seller and James L. Nederlander, purchased." In 2002 a theater troupe from Wesleyan University founded by Kail and some friends convened downstairs in the store's 60-seat Arthur Seelen Theatre to rehearse a new musical. "Written by Mr. Miranda … and directed by Mr. Kail, that show was In the Heights, which went on to win four 2008 Tony Awards, including Best Musical." (March 25)
Yahoo! Lifestyle names Jeanine Basinger's A Women's View among "the 125 Best Books About Hollywood." Basinger is Corwin-Fuller Professor of Film Studies, Emerita. (March 25)
The Patch reports that Wesleyan has announced the inaugural cohort of Embodying Antiracism Initiative Fellows. The 10 2022-2023 Fellows include community members, faculty, and visiting guest artists who will receive financial support for their work and participate in a collective Think Tank, a central leadership component of the multi-year initiative.
In an NBC op-ed, Robyn Autry, associate professor of sociology, explains how Judge Ketanji Brown Jackson's dreadlocks are changing the face of American justice. "As Jackson's image circulates, some observers, most notably other Black women, have called attention to something that might at first seem superficial: her hairstyling. She looks especially familiar to those of us, women and men alike, who belong to what some call the "natural hair community." And Jackson's hair doesn't stand out because of its texture alone; the locked style makes a particularly strong statement."
Katja Kolcio, associate professor of dance and director of the Allbritton Center for the Study of Public Life, speaks on The Conversation Weekly podcast about the origins of Ukrainian nationalism, and how Ukrainian national identity is changing. (March 17)
A virtual discussion, hosted by Wesleyan University on March 11, is mentioned in The Connecticut Mirror. "The moderator (Barry Chernoff) asked Svitlana Andrushchenko, a Ukrainian political and security expert, specifically what Ukrainians need to defend their country. Her answer: high-altitude air-defense systems." (March 16)
WalletHub's recent study about states with the highest job resignation rates features a Q&A with Joyce Jacobsen, Andrews Professor of Economics, Emerita. "Different states have different economies, and we are seeing a greater increase in quit rates in states where there are fewer remote work options and lower unemployment rates," she said. (March 17)
In Smithsonian Magazine, Mark Slobin, professor emeritus of music, shares a personal epilogue about legendary songwriter and entertainer Tom Lehrer.  (March 18)
According to Latin Business Today, Bozoma Saint John '99 is a celebrated BIPOC Thought Leader and was named to Marquis' 2022 Who's Who Maker's List. (March 17)
In The New Britain Herald, alumnus Marc Dantonio explains how he operates a telescope in Arizona that feeds into his home computer in Terryville, Conn. With these, he is able to peer out into the depths of space and capture clear images of distant nebulas and other objects. "Approximately 99.8% of what I see can be easily explained," he said. "That doesn't necessarily mean that you didn't see a UFO, but if it can be easily explained to be something else, I tend to err on the side of caution." (March 18)