Wesleyan Students Offer Advice to the Nation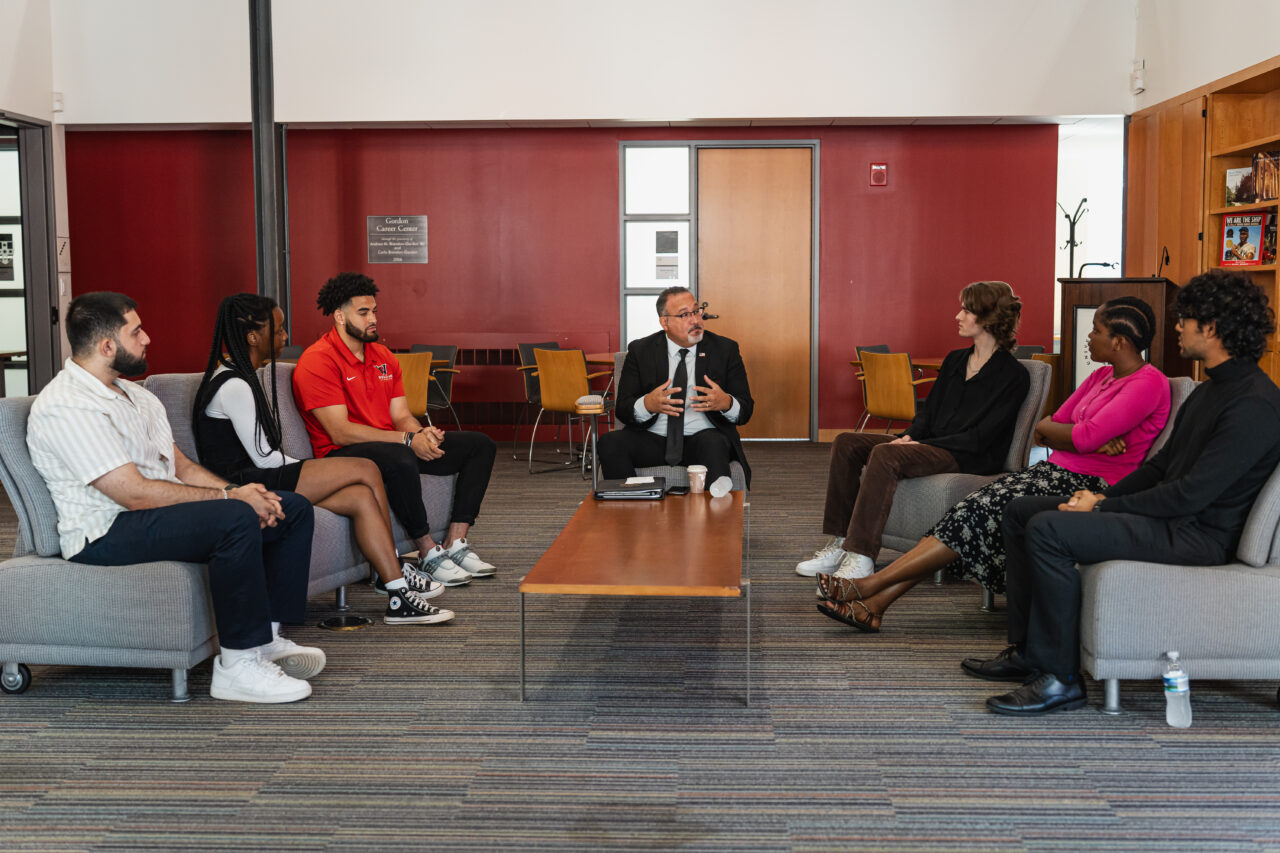 U.S. Secretary of Education Miguel Cardona visited Wesleyan University on July 28 for a roundtable discussion with first-generation students on the Biden-Harris Administration's efforts to advance diversity and opportunity in higher education.
Cardona engaged with students about how diversity is important to their learning experiences, bilingualism, having staff that represent their student populations, and culturally relevant teaching. He also sought advice on how to elevate students' voices and what they want Washington to do to further this charge.
"Each one of these students here today told me that one of the things they love about Wesleyan is learning in an environment that's diverse—people from different countries, different states, different backgrounds," Cardona said at a press conference following the roundtable. "That leads to better solutions. That leads to a stronger sense of empathy and looking at different perspectives. That's what we need more of in this country. I am proud to be here, and proud of the leaders at Wesleyan, and I look forward to other leaders across the country following what they are doing here."
He spoke with Ahmed Almohamed '24, Darren Boyce '25, Omar Gonzalez '26, Christa Ishimwe '23, Ezra Jenifer '23, and Sukenia Wilson '23.
Almohamed, an African American Studies and Molecular Biology & Biochemistry double-major and native of Iraq, said that when he arrived at Wesleyan, he enrolled in Arabic classes even though he was fluent in the language. When he walked in the first day and the professor spoke to him in Arabic, it made him feel like he belonged.
"It's easier to be what you can see," Cardona said in response to Almohamed.
Ishimwe, a College of Letters and Mathematics double-major, suggested to increase access to food from different cultures as a way to make students feel more at home. Ishimwe is Bujumbura, Burundi and said that it is difficult at times to find food from her home nation.
Jenifer, a Psychology major, highlighted America's heritage as a diverse nation of immigrants, warning against the increasing divisions among racial groups in the country through decisions like the Supreme Court's decision to end race-informed admissions. He suggested that the Administration initiates more conversations with young activists on social media to better understand their needs.
"America calls itself a melting pot, but we can't be a melting pot if our college campuses aren't racially diverse," Jenifer said. "If we can't learn from each other and grow with each other if we can't accept to be around one another. There has to be a willingness for everyone and all their biases to come together and say 'hey, we're a melting pot. This is who are, and this is our identity.' We need to come together, not take steps backward to further racial division in this country."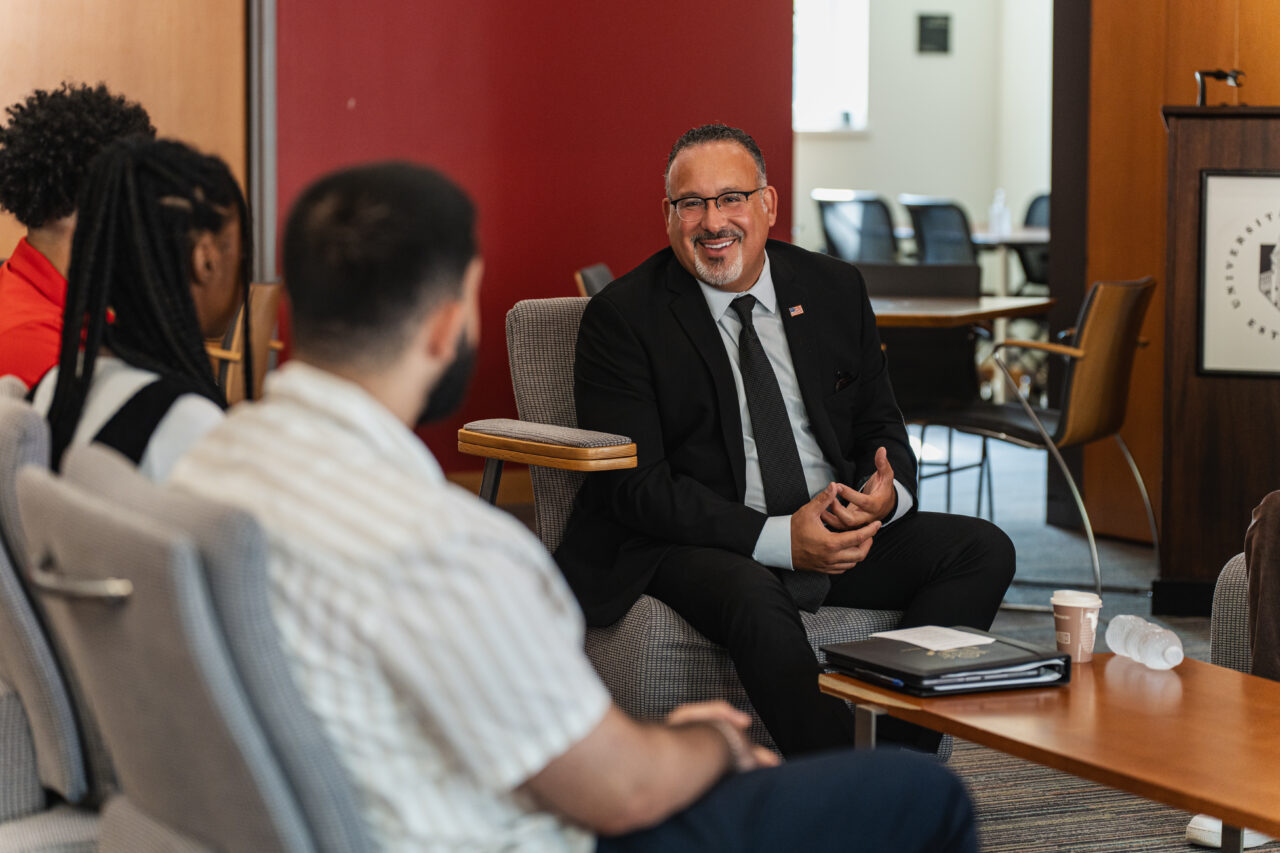 Cardona said in order to do a better job of recruiting and retaining students from different backgrounds, government and educational institutions need to be more intentional about making sure students feel like they belong.
"You learn most when you just sit down and listen," Cardona said at a press conference following the roundtable. "These students perspectives are great. They reinforce a lot of things that are happening, but they also offer suggestions around what we could do across the country to increase the number of students that have access to higher education."
He also pointed out that some schools have counselor ratios of 500 students to one counselor, which makes it difficult for students to get the attention and exposure to higher education that they need.
One way he suggested was to blur the lines between K-12 schools and higher education through increased access to college-level courses for students before they graduate high school, and for improved communication between K-12 and higher ed leadership.
"As a first-generation college student myself, it was that experience for me in junior year that made me feel like I'm college material," Cardona said. "A lot of our students don't know that unless they have that experience. University leaders have the opportunity now to reach out and say I want to go where the students are and I want to give them opportunities they haven't had. What they'll find is they're going to be able to recruit better and have a stronger pool of students."
The roundtable follows the U.S. Department of Education's National Summit on Equal Opportunity in Higher Education. Senior Biden-Harris Administration officials and leaders from educational institutions across the nation met to discuss strategies to reimagine admissions, build affordable college pipelines, and create inclusive campus communities that support student success and completion.