Newly Elected Alumni Join Board of Trustees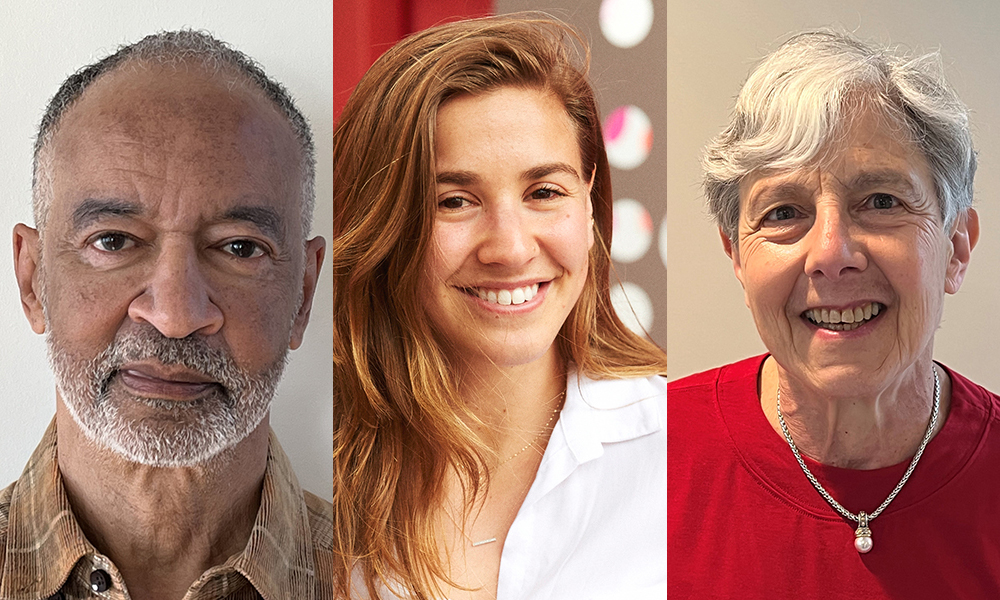 Each year, Wesleyan alumni have the opportunity to participate in the Alumni-elected Trustee process and vote for three of their peers to serve on the Board of Trustees. Screenwriter William H. Boulware '71, investment manager Dana A. Levy '12, and economist Monica G. Noether '74 were elected this year to serve a three-year term.
Boulware, Levy, and Noether join 33 other trustees who are responsible for ensuring the University fulfills its mission, sustains its values, and appropriately balances its obligations to current and future generations. While many schools have some Alumni-elected Trustee representation, Wesleyan is unique in that one-quarter of the Board is elected by the alumni body. All alumni plus members of the class of 2023 were eligible and invited to vote.
Noether is a Vice President at Charles River Associates, a global consulting firm based in Boston, and consults on health care antitrust and reimbursement for law firms, professional organizations, and government agencies. She has worked on dozens of hospital and health plan mergers and has provided expert testimony in litigation. She is a former member of Wesleyan's President's Council, a member of the Quantitative Analysis Center Advisory Board, and has been active in recruiting Wesleyan alumni into economic consulting.
Before Noether became an expert in health economics, she attended Wesleyan as an art major with a specialization in photography. She didn't take an economics class until her senior year. She loved the class and soon pursued a career in business, starting with an MBA before earning her Ph.D. in economics.
"I certainly didn't think coming out of that initial class that I was going to turn into an economist, but there was something there that sparked me," Noether said.
Boulware, a psychology and sociology double-major when he was at Wesleyan, has spent over 40 years in the television industry with work on shows like The Fresh Prince of Bel-Air, 227, Family Reunion, Benson, One on One, The Parkers, and In the House. He is a screenwriter and producer at Chuckles Productions. He co-authored Longshot, a memoir about co-author Sylvia Harris' battle with bipolar depression and how horses helped her manage her illness.
Boulware said that Wesleyan was a "training ground academically," but was most important for shaping his values and helping to develop him socially.
"I felt in essence it was me becoming a man from a boy," Boulware said. "I still had a little way to go, but it was very vital in that sense, and it was the most important time of growth I've ever had."
He was active in the planning for his class year's 50th anniversary celebration in 2021, which helped spark his interest in getting further involved with Wesleyan on the Board of Trustees, he said.
Levy's path to Wesleyan was an atypical one. She transferred, joining her sophomore year to play softball before going abroad her junior year. She said her Wesleyan network really grew following graduation once she began working on her 5th and 10th class year reunions as Reunion Chair, then as a Class Agent for her class, and a GOLD (Graduates of the Last Decade) party organizer. She is also a former member of the Athletic Advisory Council and Wesleyan Fund Volunteer Leadership Committee.
"The opportunity to serve, give time and intellectual power feels like the greatest way to continue my connection with Wesleyan and serve current students," Levy said.
Levy, who majored in History at Wes, ventured into business following graduation. She worked for CLEAR, a biometrics company, and helped to implement their systems into Oracle Park where the San Francisco Giants play. She then co-founded a biotechnology company called Sporos Bioventures, based out of Houston. She now oversees a financial company and a foundation with her family.
All three trustees said they chose to pursue an election to the Board of Trustees to serve and give back. Noether said she hopes to use her experience to help Wesleyan make key financial choices that optimally further its mission, Boulware hopes to help recruit more people of color to the University, and Levy wants to continue to improve the relationship between the University and its alumni.