New Book Tells of Most Successful Medical Development of the Iraq War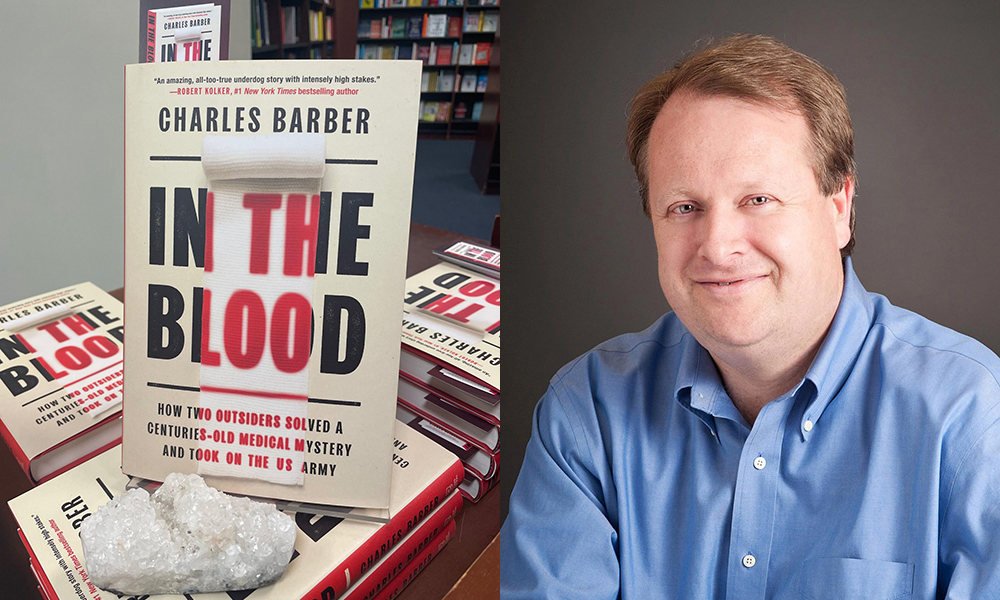 Every day, when Charles Barber comes home from teaching at Wesleyan, he starts what he calls "his second shift." After a short nap, he settles down to reading, research, and writing, a disciplined practice that has allowed him to be, over the past several years, a prolific nonfiction author.
Since 2019 Barber has published three substantive works and has more ideas in the pipeline.
"I wish I'd started (writing) earlier. I had done some other things—I was working in the mental health world, and I was proud of what I did. I am now trying to get as much done now before I get older," said Barber, Associate Professor of the Practice in Letters.
His latest, In the Blood (Grand Central Publishing), tells the story of a pair of unlikely inventors who battled the U.S. Army to get it to adopt their latest lifesaving measure. The book has received good notices and has been named one of Amazon's "Best Books of 2023 So Far."
His recent books, Citizen Outlaw, which chronicled the redemption of William Outlaw, once one of New Haven's most notorious drug lords, and Peace & Health, the story of how a group of outsiders changed health care, have shown how innovation can come from the most unlikely areas. In the Blood mines similar territory. "Over my career, most of my writing has been about redemption," Barber said.
In many ways, immediate treatment of battle wounds had not changed since ancient times—pressure and some kind of bandage was the initial course of care for someone injured in combat.
Connecticut residents Frank Hursey and Bart Gullong, who had no medical or military experience—discovered that a crushed rock called zeolite had blood‑clotting properties and sought to bring it to the attention of the armed forces. The Marines and the Navy immediately adopted the resulting product, called QuikClot. The Army declined to use the product and set out to smear QuikClot's reputation to protect its own expensive—and ineffectual–products.
"The QuikClot story, so compellingly recounted by Mr. Barber, offers critical lessons about medical innovation: the importance of recognizing insights from nontraditional sources; the value of tinkering; the dismaying lengths to which incumbents often go to defend their turf; the fact that certitude, vital in some circumstances, can be detrimental in others," wrote Dr. David Shaywitz in the Wall Street Journal.
Barber discovered the story 11 years ago. His neighbor across the street had dipped back into the dating scene. When things got serious with someone, she'd ask Barber and his wife to go out for a drink with to check them out. So, it was under those circumstances that Barber met Bart Gullong at his beautiful home along the coast in Old Saybrook. "He's a big personality, a big guy, a natural salesman. Relentlessly ambitious," Barber said.
The conversation came around to how Gullong made his money. He spun Barber the tale about his long struggle with the military, and how he and his partner, Frank Hursey, worked on the most important medical development of the Iraq War. "I said, you know, I think there might be a book in this," Barber said.
After an initial flurry of messages, the two drifted apart. Barber became immersed in the reporting and writing of Citizen Outlaw. However, when it was time for him to look for another project, Gullong's story quickly came to mind. The duo reconnected easily, and Barber was on his way.
While promoting In the Blood, Barber is already making progress on his next two projects, which would take his work in a new direction. One is a podcast about the life of his friend Moe Armstrong, a Vietnam vet turned rock star turned national mental health reformer, who was once Neal Cassady's roommate and friend and confidante of The Clash. He plans to work with some of his students on the podcast, he said.
Barber's main project, though, is the saga of a local gang of bank robbers in 1920s Palm Beach County tracked by a corrupt father and son sheriff tandem. Set in a sweltering boom town, Barber describes a juicy tale of violence, treachery, familial betrayal, and local corruption.
"There's this Bob Dylan line—steal a little and they put you in jail. Steal a lot and they make you king. To me, this is a core American story, very much on display in recent years …  I want to write a good tragedy in my career," Barber said.
A longtime New Englander, Barber has taken trips to the Everglades to seek out firsthand sources and soak up the details you only get by immersing yourself in a place. "I've spent months researching it … I needed to go there and feel the sea breeze, look at the architecture, and see the sawgrass and mangrove trees. Without it, I wouldn't be able to write the proposal (for the book)," Barber said. "It's a lot like writing a song. It's like trying to find the riff."