Wesleyan in the News: August 2023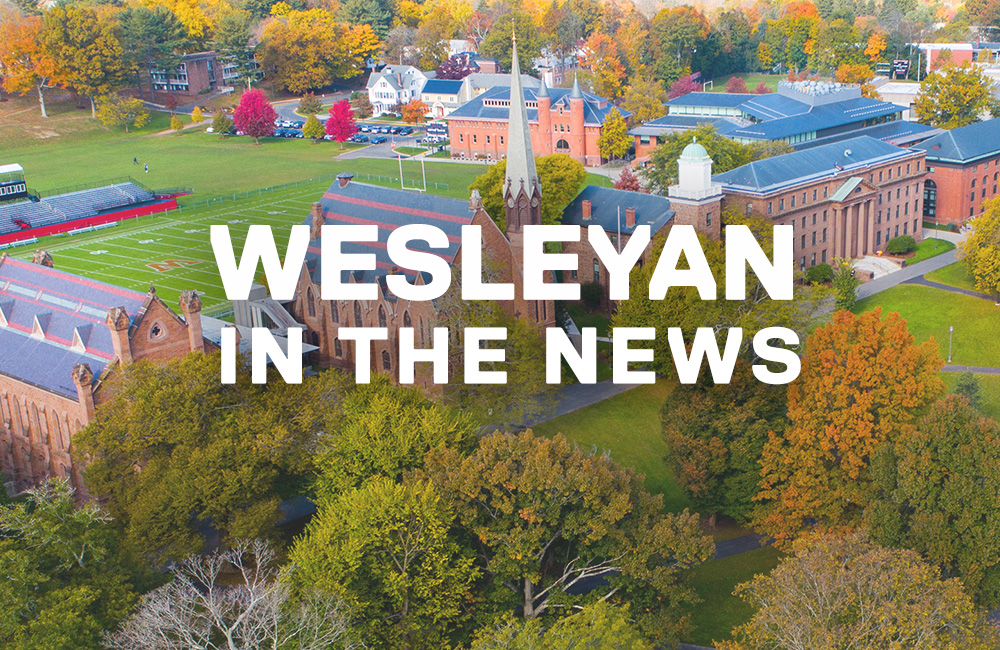 While the majority of students are away from campus during the summer months, many members of Wesleyan's faculty, staff, and alumni are hard at work and making headlines.
President Joseph R. Biden announced that attorney Ed Siskel '94 will serve as White House counsel on August 22. Siskel spent four years working in the White House Counsel's Office during President Barack Obama's administration, including time as the Deputy Counsel. Siskel will lead a team to provide the president with legal counsel, help to craft policies and executive actions, and defend and advance Biden's agenda.
"Ed Siskel's many years of experience in public service and a career defending the rule of law make him the perfect choice to serve as my next White House Counsel," Biden said in the announcement.
Siskel comes to the office after two years as the top lawyer in Chicago as Corporation Counsel under Mayor Rahm Emanuel and a stint as the chief legal officer at an investment firm in Chicago.
U.S. Secretary of Education Miguel Cardona visited Wesleyan on July 28 to have a roundtable discussion with six students regarding the Biden-Harris Administration's initiatives to further increase diversity and opportunity in higher education. Cardona's visited attracted wide media attention, with coverage from the Associated Press, Axios, Boston Herald, FOX61, NPR "Morning Edition," The Guardian, WNPR, WSHU, and WTNH.
Jennifer Tucker, professor of History and director of the Center for the Study of Guns and Society, wrote a comprehensive piece outlining the history of police use of mugshots for MSNBC in the wake of former President Donald J. Trump's indictment and subsequent booking in Fulton County, Georgia. Trump's mugshot was released by the county on Aug. 24, as is their standard practice for all accused by a grand jury. Tucker said, "Trump may spin his mug shot into gold, but for others it's an unnecessary humiliation. Donald Trump shouldn't get special treatment from Fulton County authorities, but his surrender is an opportunity to rethink the practice of publicizing suspect photos."
Vice President and Dean of Admission and Financial Aid Amin Abdul-Malik Gonzalez '96 appeared on The New Yorker Radio Hour podcast to discuss Wesleyan's decision to end legacy admissions in July. Gonzalez described some of the efforts Wesleyan has undertaken to continue to foster diversity amongst its applicant pools. "While we cannot consider race in selection, we value racial and ethnic diversity and we should not have to compromise on that value," Gonzalez said.
Wesleyan President Michael S. Roth '78 joined 12 other college presidents in an initiative promoting free speech on college campuses, according to Forbes. The project, called Campus Call for Free Expression, is aimed at bringing attention to the importance of free expression, critical thinking, and civil discourse on campuses.
Roth also wrote a piece for the Institute for Citizens & Scholars on empowering students to become engaged in the community and take steps to become active citizens. Roth said "politics today arouses great cynicism, but it doesn't have to be that way. Our students are learning how to make a positive difference, improving their own lives by contributing to the improvement of the communities to which they belong."
Writer Douglas A. Martin, Associate Professor of English and Assistant Director of Creative Writing at the Shapiro Center for Creative Writing and Criticism, was featured on PBS Newshour's segment Brief But Spectacular. Martin was shown performing his work and describing his efforts to make art by paying close attention to the day-to-day world.
The Hollywood Reporter interviewed longtime filmmaker John Waters about his upcoming exhibit at the Academy of Motion Pictures Arts and Sciences' Academy Museum. Waters said the exhibits curators, Jenny He and Dara Jaffe, visited his film archive at Wesleyan during their travels. He began to give Wesleyan artifacts from his filmography in the mid-1980s.
Wesleyan's College of Film and the Moving Image was ranked the No. 10 film school for military veterans by Military.com. The ranking pointed to Wesleyan's partnership with the Service to School program, which provides mentorship to veterans transitioning into college.
Director Mike White '92 had his humanity spotlighted in a profile by the LA Times on Aug. 11. White reportedly wanted to be mentioned as little as possible in his Emmy acceptance speech in 2022, preferring to shine a light on the cast, crew, and production team instead, according to producer David Bernad who worked on the acclaimed HBO show "The White Lotus" with White.
Arran Bardige '10 will take on a new role as the Executive Director of Audience, Opinion, and Sub Brands at the New York Times. Bardige has been with the Times for several years, working in audience, data, and strategy roles for the historic newspaper.
New Hampshire maple syrup maker Morgan Hill '15 is aiming to repurpose their business' farmland after an infestation of forest tent caterpillars wiped out around 4,500 of their trees, according to the Boston Globe. The new goal: a queer farming campus to help curate others' projects and to make "rural New Hamsphire a queer destination."
Professor of Government Sonali Chakravarti was quoted in the Philadelphia Inquirer piece outlining the Bruce Springsteen experience for first-time concertgoers. Chakravarti said, "no need to dress up for [the concert] unless it makes you feel more excited." She went to her first Springsteen concert in 1999 at the Frist Union Center in Philadelphia.
Recent graduate Sarah Timbie '23 wrote an op-ed for the Hartford Courant on the link between human health and climate conditions. Timbie outlines the One Health perspective, an approach aimed at improving the health of people, animals, and the environment by recognizing that all three are interconnected. "We only have one Earth; with the One Health approach, we can act with the knowledge that our health is dependent on the animals and environments around us," Timbie said.
Playwright and actor Lin-Manuel Miranda '02, Hon.'15 is reportedly working on a new stage musical, according to the New York Post. It will supposedly be a stage adaptation of Sol Yurick's novel "The Warriors," which depicts gang battles in New York City in the 1960s. Miranda is a decorated figure, with five Grammy Awards, three Tony Awards, two Emmy Awards, and a Pulitzer Prize, among many other distinctions.
GQ Sports profiled New England Patriots Head Coach Bill Belichick '75, Hon.'05, P'07 and his love of lacrosse. Belichick called the sport "relaxing" and said he took pride in his ability to play with both hands. He was a midfielder and backup goalie for Wesleyan's lacrosse team during his tenure, serving as a team captain his senior season. Belichick went on to an NFL coaching career quickly after graduation and has since won eight Super Bowl Championships, including six as a head coach with the Patriots. He holds several NFL records for his coaching resume, including most Super Bowl wins, most Super Bowl appearances, and most playoff wins as a head coach.
New Jersey Treasurer Elizabeth Maher Muoio '85, P'17 was listed as a possible Lieutenant Governor pick by NJ.comfollowing the death of trailblazing Lt. Gov. Sheila Oliver on Aug. 1. Muoio was previously picked by Gov. Phil Murphy to serve as Treasurer in 2018 after a stint in the state legislature, representing portions of Hunterdon and Mercer counties.
Just five years after graduating from Wesleyan, former men's basketball player Jordan Sears '18 was named the Head Coach of the Texas Legends—the Dallas Mavericks' NBA G-League affiliate. Sears has been with the Mavericks organization since 2021, as Head Video Coordinator, after breaking into the league with the Milwaukee Bucks in 2019.
Assistant Professor of Computer Science Sebastian Zimmeck spoke with tech newsletter The Markup for stories on privacy policies on Aug. 3 and Aug. 5. Zimmeck is a data privacy researcher who hosted the Shasha Seminar for Human Concerns on the issues of privacy this past Spring. Zimmeck created a roadmap for data privacy with the help of several industry professionals and fellow researchers.
Climate economist Gary Yohe penned an op-ed for The Messenger outlining the reality that the Earth's climate may not normalize until after the existence of humanity. Building on the research of others, Yohe said, "we will not experience the 'new normal' climate in our lifetimes—normalcy may not be achieves even in the lifetime of humanity itself."
Yohe wrote another piece for The Messenger on how the scientific community responds to news of potential disaster following the news that there is concrete evidence suggesting Atlantic meridonial overturning circulation (AMOC) could be on the verge of collapse by mid-century with current climate emissions. If the AMOC, a system of ocean currents, collapsed, it would potentially cause severe global climate changes.
Peter Rutland, the Colin and Nancy Campbell Chair for Global Issues and Democratic Thought, appeared on LAist's "Morning Edition" to talk the influx of Russian citizens who have fled the nation during the War in Ukraine. Rutland joined the show to discuss how the large swath of fleeing citizens has affected the nation economically and politically.
Rutland also wrote a piece on the War in Ukraine for Voices from The Hill. Rutland said that Ukraine's ability to avoid "defeat at the hands of Russia hinges on continued economic and military support from its Western allies." He added that Ukraine has received around $96 billion in economic aid and military equipment from the West since the start of the war. Rutland also outlined the complexities surrounding Ukraine's efforts to join the NATO Alliance.
Rutland was quoted in story for The Messenger on the strength of the Russian rouble after it fell below 100 to the U.S. dollar and forced the central bank to raise interest rates over double-digits. Rutland said, "this week's crisis with the slide in the rouble…that's one sign that the stability is quite shallow, that it (Russia) is very vulnerable to instability."
Rutland also wrote a story in The Conversation on the possibility that China will use the cover of the war in Ukraine to attack Taiwan to try to regain control of the former province before Chinese President Xi Jinping leaves office. He wrote a piece in Responsible Statecraft on Ukraine's efforts to shield the peninsula of Crimea from Russia through an escalation of military action in and around the Black Sea.
Partner and Managing Director of IDEO's North American business Becky Bermont '98 was named to the New England Conservatory of Music's Board of Trustees. Bermont works with a focus in higher education, spending time with the NEC in her role at IDEO. She previously led the marketing and communications group at the Rhode Island School of Design, where she co-authored the book Redesigning Leadership with RISD President John Maeda.