Wesleyan's Upward Bound Students Traverse Freeman Pool in Cardboard Vessels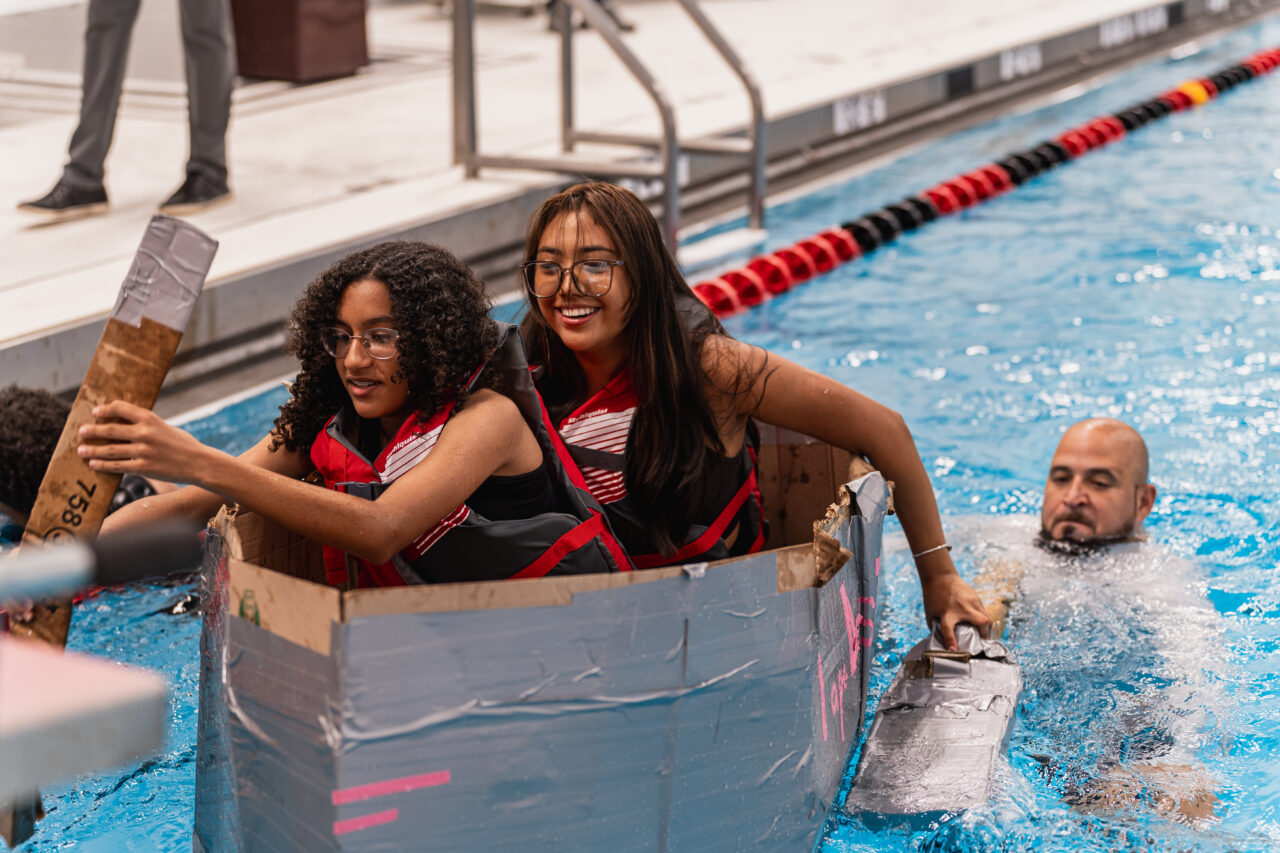 An Olympic swimmer at the peak of their profession can, at best, blaze across a 50-meter pool in under 25 seconds. That's with Goldilocks conditions—decades of training, supreme reaction time, and the perfect dismount. It's a feat of athleticism few can truly appreciate or relate to.
Now imagine trying to do the same task, but in a cardboard boat engineered and assembled by a group of high schoolers. One group of Wesleyan's Upward Bound students did just that. They hopped into a small vessel with two recyclable paddles in hand and hit the water with calculated rhythm, momentum, and determination to fly to the other side. They did it in 72 seconds. In a cardboard boat.
The result was not the important part of this special race in Freeman Athletic Center on July 31 and Aug. 1—all that mattered was the student engagement in the process.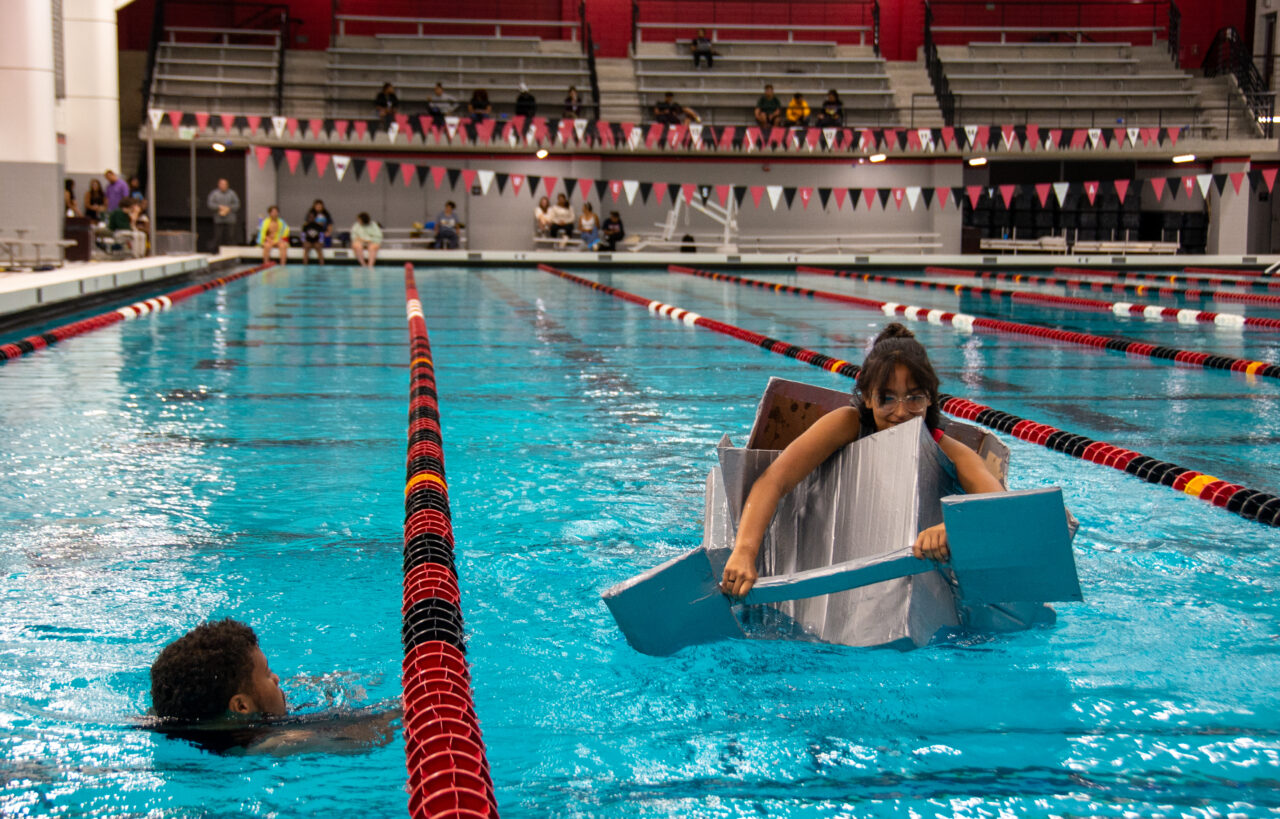 "I told them from day one, I don't care if these things make it across. That's not the whole purpose," said Jeff Gonzalez, science teacher both of Wesleyan's Upward Bound and Upward Bound Math-Science programs. "Writing a lab report with a procedure that is doable, that's what I care about."
Wesleyan hosts two chapters of the Upward Bound program, a year-round college access program that holds a six-week summer session for 120 first-generation and low-income high school students from Middletown and Meriden. This federally funded program is a key aspect of Wesleyan's efforts to help improve the connection between K to 12 schools and higher education.
"Upward Bound around here is synonymous with Wesleyan, in terms of providing educational opportunities to students," said Miguel Peralta, Director of the Upward Bound Programs and alumnus of the program. "Especially in terms of liberal arts education and making sure you know a little bit about everything, how that connects to the world and how you connect to the world. It's very much aligned."
Students do academic and enrichment activities and get support from staff throughout the school year. The activities include tutoring, academic progress monitoring and interventions, college tours, and enrichment trips. Students also take workshops on college and financial aid, financial literacy, goal setting, and social-emotional learning, among many other topics.
Results from the program have been impressive. Over 90 percent of students who graduated from the program in the last three years enrolled in postsecondary education, Peralta said. Nearly 48 percent completed postsecondary education within six years of high school graduation, which is almost double most reported figures for FGLI students nationally.
Peralta said he draws on his own experiences as a student within the program to help relate to the attendees. He said it's important that the students know that there is someone there who came from where they are coming from, someone who understands what they have been through, and can help them navigate the college admissions process.
Most of Wesleyan's Upward Bound staff are alumni of the program, he said. Upward Bound Math and Science Program Coordinator Jordan Romine is a product of three different TRIO Grant programs—he was a nationwide Upward Bound program member, he was involved in it when he lived in Alabama, and he was a Ronald E. McNair Scholar.
"Even though I'm from rural Alabama, we have shared experiences," Romine said. "Particularly in the college application process and things like that. Things that we don't know and things that weren't ever told to us as a first-generation student."
Romine said he feels like program participants leave with a stronger connection to why they're pursuing college. He said they have a better feel for why they want to attend and what they want to get out of the experience.
"We try to make it as easy. If students show up and give their best effort and they'll get something out of it. We've been really successful," Peralta said.