Students Present Research Contributions at Annual Poster Session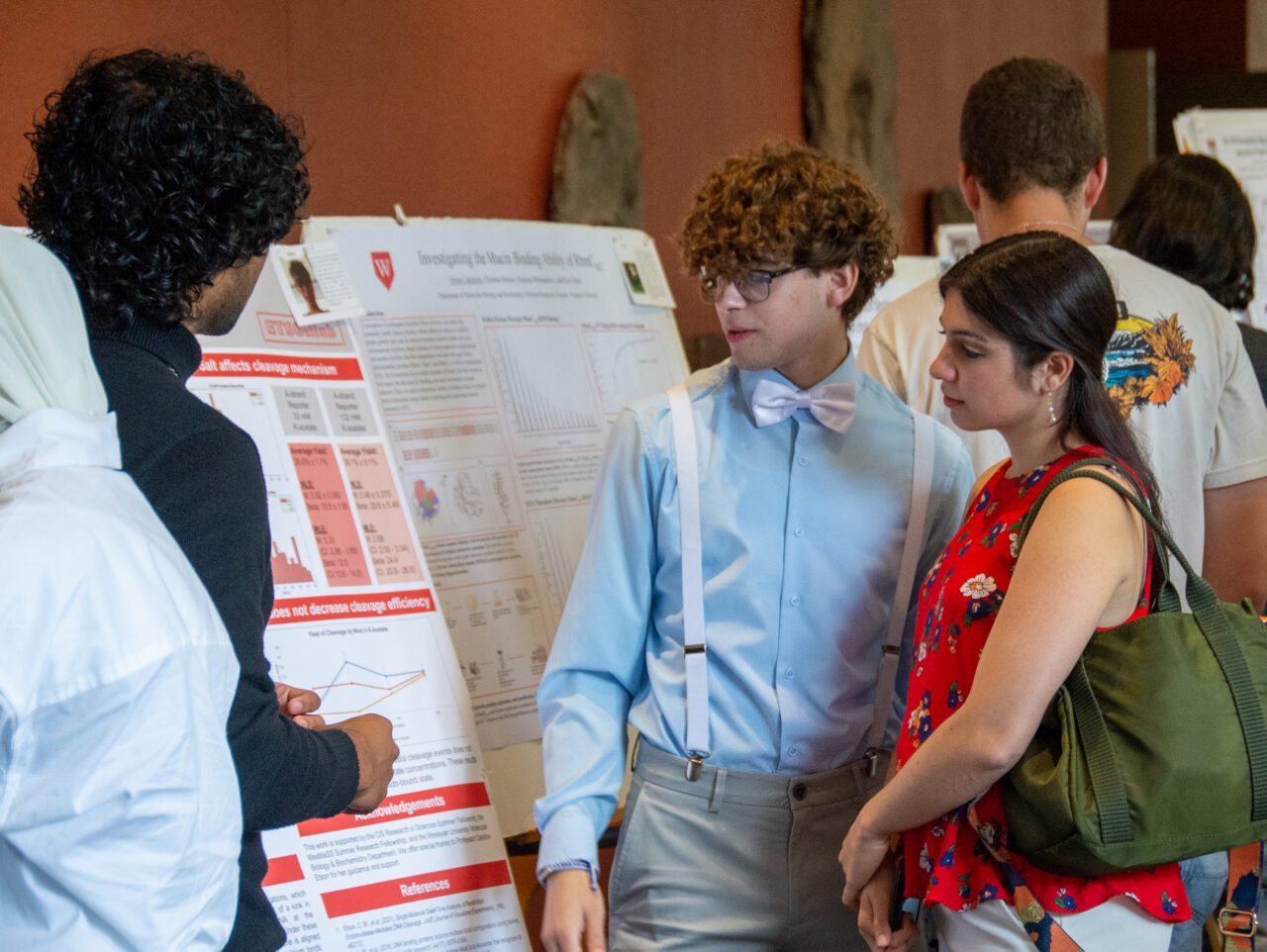 On the surface, the annual poster session held in Exley Science Center looked like an average scientific poster presentation. A couple hundred students lined up side-by-side, standing anxiously next to their tripod-hoisted poster boards waiting for passersby to ask them about their colorful charts and graphs. For the attendees, it could be their chance to learn about something new. For each presenter, the poster was the culmination of their curiosities, a spotlight on all their hours spent tucked under the lab lights or sifting through ocean sediment samples.
"I love coming together as a community on this day," Seth Redfield, Director of the College of Integrative Sciences and Professor of Astronomy, said. "It's celebratory, but also really brings home how large of a community we are and just the amount of work the students and their mentors did this summer, so it's really gratifying."
Over 150 poster boards lined Exley's main hallway during the annual session, hosted by the College of Integrative Sciences, which showcases the summer research of over 200 students.
Students make posters to outline their research, findings, and work on communicating it to different audiences, Redfield said.
"A really big, important part of this is being able to communicate your science to the aficionados, to an educated scientist who's maybe not in your field, or to someone's totally unfamiliar with the topic," Redfield said. "I think that's what we're looking for in terms of the posters being able to do that in a creative, successful way."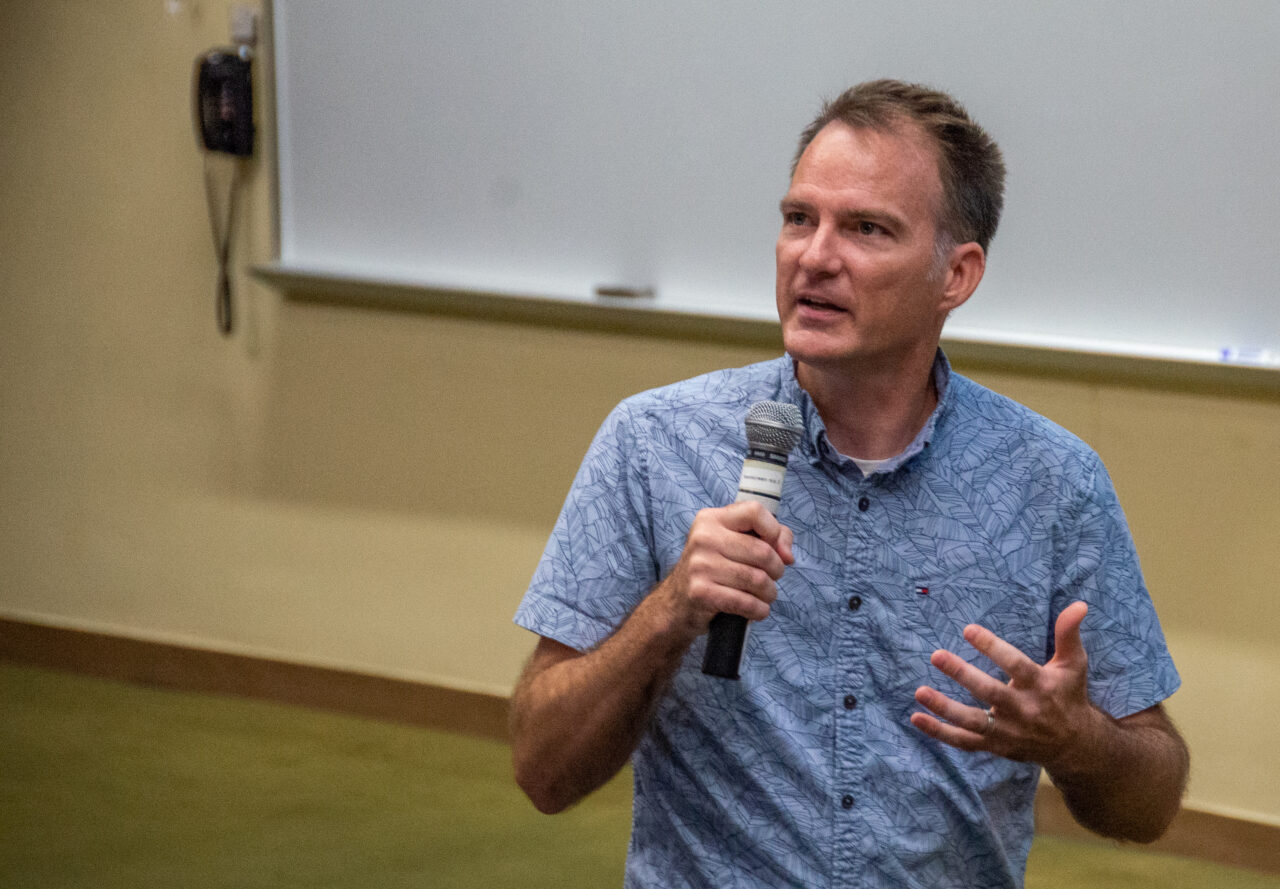 Redfield highlighted how important strong communication skills are for scientists. Good communication sparks new ideas or allows for challenges to previously presented information that can lead to further discovery, he explained.
"We want to share ideas because we brainstorm together," Redfield said. "Who knows where an inspiration for a new idea will come from. If we don't communicate well then less of that happens."
This year CIS handed out awards for best data visualization and the Maureen Snow Poster Prize—named after a long-time administrative assistant who supported various undergraduate summer research programs including the CIS' Research in Science summer program and awarded to the best poster to communicate its research clearly. The data visualization prizes went to Terry Brannigan '24 (first place), Maya Alicki '24 (second place), and Iris Jiang '25 (third place). The Maureen Snow Poster Prizes went to a first-place trio of Mady Davis-Troller '24, Veronica Hearne '25, and Marie-Claire Smith '25, second place went to Darren Boyce '25, and third place to Bri Taylor '24.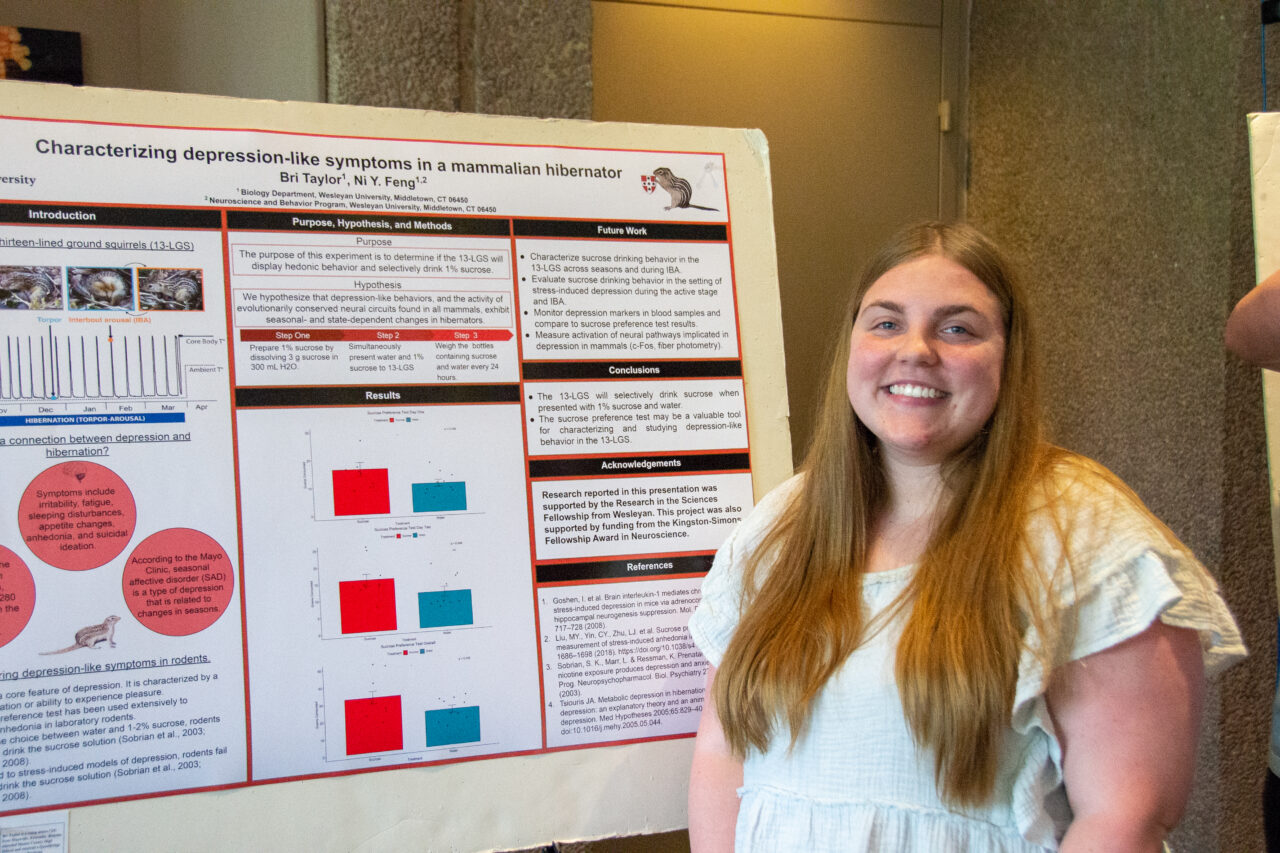 Taylor's award-worthy poster outlined her research into the rates of depression-like symptoms in squirrels, done in Assistant Professor of Biology Ni Feng's lab, with the goal of seeing if there's a link between hibernation and seasonal affect disorder. The Neuroscience & Behavior and Biology double-major said her summer's work was to establish baseline data for further research. She is monitoring depression-markers in squirrels while testing the amount of sucrose-infused water vs. regular water they consume during different periods.
She plans to pursue a M.D.-Ph.D. program to become a physician-scientist doing neuroscience research—she said her research this summer has helped her build the skills necessary to go after that dream. "This summer has set me up for a lot of the techniques and applications that I'm going to need in order to pursue that," Taylor said.
Srinivas, a government and Hispanic Literatures and Cultures double-major, said her research has helped clarify her path forward, too. After working with data from the Wesleyan Media Project on how people of different races view the economy in concert with their reported media consumption, she now wants to work in data analysis and policy in government, she said.
Arenas plans to keep her options open, but said she is "definitely interested" in further lab work after her time this summer studying deep sea sediment samples in the Antarctic collected through the International Ocean Discovery Program. By looking through the samples collected from the Pliocene Era, when there were similar carbon dioxide levels in the atmosphere to current day, Arenas said they can extrapolate what our future climate conditions will be based on the environmental conditions at the time.
"Making my poster was really cool to learn what I'm doing is actually being applied to something and a part of this bigger project," Arenas said.