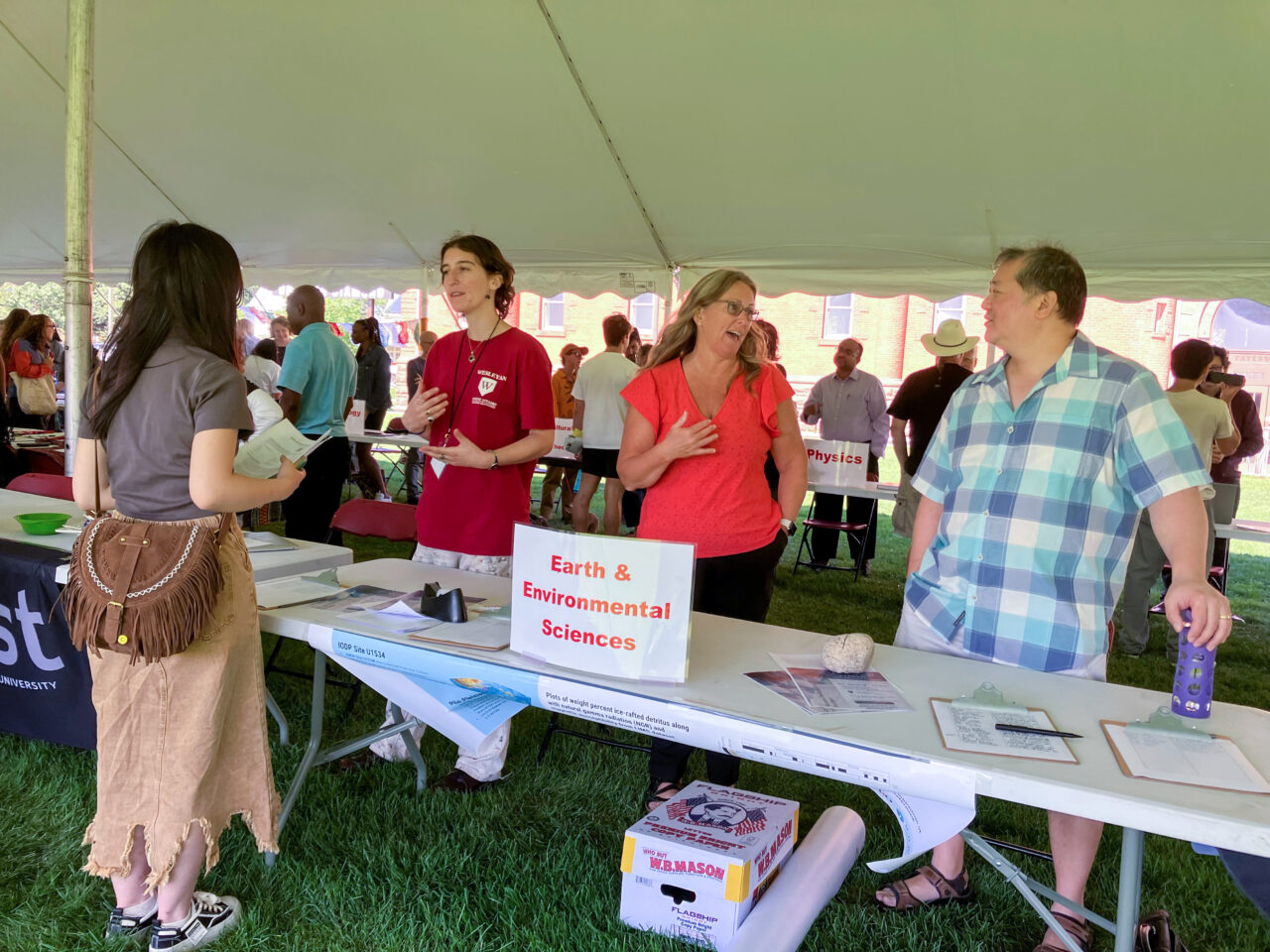 Andrus Field turned into a forum of ideas on August 31 with the return of the yearly Academic Fair, held on August 31.
The fair was a staple of university life before the pandemic, offering new students the chance to peruse Wesleyan's array of academic classes. "I've definitely seen a lot of wonderful academic opportunities that I want to pursue," said Keith Do '27, who is interested in computer science.
Under a large white tent near Usdan, faculty enthusiastically explained their offerings to first year students less than 24 hours into their Wesleyan experience. The students moved from table to table, asking questions and signing up for more information. For a moment at the beginning of the fair, there was a line in front of the Psychology department's table, consistently one of the most popular majors.
Sasha Moran '26, a transfer student who is interested in being pre-med, came to the fair knowing exactly who she was interested in speaking with. "I am dead set on being a neuroscience major and the director of the department was very helpful. She directed me to all the other people I needed to talk to discuss things like transferring credits and if I needed to retake anything or classes that intersects with Neuroscience, such as chemistry and biology," Moran said. "I really got everything I needed out of that."
Julia Borden '26, also a transfer student, doesn't quite know what she wants to study, but is drawn to Wesleyan's Education Studies program. However, she was also drawn to the University's offerings in Feminist, Gender, and Sexuality Studies and Environmental Science.
"I've always been a little bit diverse in what I wanted to do. So, I think I'm going to at least try to double major with a minor. We'll see how it goes. I really went in [to the fair] with an open mind to trying to think about it and talk to people about what I could be learning about," Borden said.
It's that openness the Wesleyan community is trying to cultivate—a student may not know how their ideas could evolve, with one triggering another.
For example, Abigail Oduro '27 plans to be a molecular biology and biochemistry major on the way to becoming a doctor, but happened to see a class in West African dance that looked like it might be interesting. "I've never taken a dance class before, but it might be worth a try," Oduro said.
Zuha Anjul '25 and Miko Nakamura '24, peer academic advisors, are part of the vast network in place to help Wesleyan students maximize their academic opportunities. Peer academic advisors play a wide-reaching role for new students, helping them with time management skills, learning how the drop-add process works, and connecting them with help in their courses. They spoke of the Rule of Seven—the idea that students only have time for seven activities during a given semester, they said, including four classes.
"The biggest challenge a student faces when they walk in the door on day one is that there are so many interesting classes, but they only have space really for four classes. How do they balance all the classes they want to take?" Nakamura said.
Anjul offered some advice for the new students wandering amongst their new professors and friends as they look for the subjects that will enliven their minds. "I think just to take everything in slowly … I know there's a lot going on, but one of those seven things could really just be getting adjusted to campus. So, just not feeling like you have to stuff everything in now because they have four years. It's a lot of time," she said.