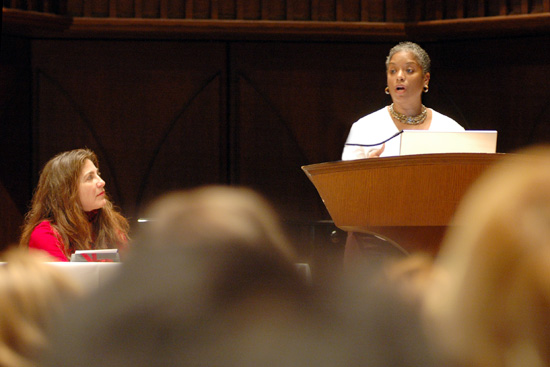 Janice Astor del Valle, left, director of the Green Street Arts Center, listens to Sonia BasSheva Mañjon, director of the Center for Art and Public Life at the California College of the Arts in Oakland, speak in Memorial Chapel during a campus visit Nov. 2. Mañjon will return to campus in July as Wesleyan's new vice president for diversity and strategic partnerships.
Posted 02/01/08
President Michael Roth has appointed Sonia BasSheva Mañjon as vice president for diversity and strategic partnerships, a new position that will include leadership on civic engagement and cooperation with private and public organizations. Mañjon will work with Wesleyan's leadership team to develop programs to attract, retain and inspire students, faculty and staff from groups currently under-represented on campus. She formally joins the university on July 1.

Mañjon comes to Wesleyan from the California College of the Arts (CCA) with more than 20 years experience in higher education and nonprofit administration and education. At CCA she was a member of the president's cabinet, director for CCA's Center for Art in Public Life, chair of its community art major and Diversity Studies Program, co-chair of campus diversity initiatives, and a member of the faculty. She recently developed the country's first bachelor of fine arts program in community arts, which stresses student civic engagement and diversity issues. At CCA, Mañjon worked closely with Roth.

"I am very excited to work with Michael Roth once again," Mañjon says. "He has been a tremendous colleague and leader. I look forward to joining the rest of the team at Wesleyan as we seek to implement civic engagement and service learning in a wider arena that incorporates community arts within the liberal arts more generally. I also feel proud to have the opportunity to work at an institution that has such a strong history of affirmative action and diversity."

As Wesleyan's vice president for diversity and strategic partnerships, Mañjon will be charged with enhancing the university's outreach and engagement with the greater Middletown community. She will bring her expertise and experience to bear on the strategic planning for the Green Street Arts Center and other Wesleyan projects and programs within Middletown.

Mañjon will serve as Wesleyan's affirmative action officer and direct the Office of Affirmative Action. She will be an advocate for the interests of students in such areas as recruitment, curriculum development, campus culture and career planning. She will partner with the directors of human resources to increase diversity within candidate pools and to support programs of thoughtful outreach. As a member of the president's cabinet, Mañjon will provide advice, guidance and support to the president and the other vice presidents.

"I am delighted to have Sonia join our efforts at Wesleyan," Roth says. "She is a tireless innovator with a very sophisticated sense of how to nurture existing relationships and create new partnerships with communities and constituencies of all sorts. She also has keen insights on how to use art and performance to forge new community relationships."

Mañjon earned a Ph.D. in humanities, transformative learning and change in human systems and a M.A. in cultural anthropology and social transformation from the California Institute of Integral Studies. She received a B.A. in world arts and cultures with a dance emphasis from the University of California, Los Angeles.

In addition to her position at CCA, Mañjon has served as executive director of the City of Oakland's Craft and Cultural Arts Department, director of the Community Arts and Education Program for the San Francisco Art Commission, and executive director of the San Francisco National Academy of Recording Arts and Sciences.

Mañjon currently lives in Oakland, California with her sons Zyan and Ezra.