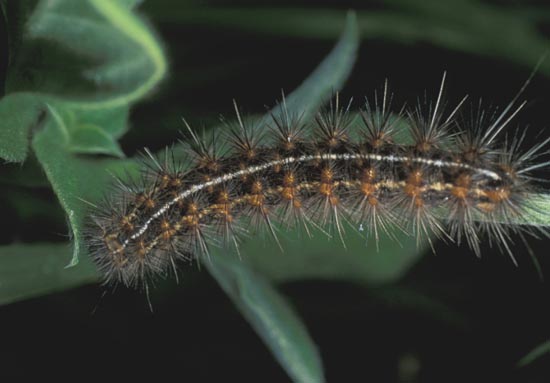 Michael Singer, assistant professor of biology, discovered that the wolly bear caterpillar, Grammia geneura, ingests medicinal plants when sick.
Posted 08/17/05
When tiger moth caterpillars get a bug, they do what a lot of us do – ingest some medicine and hope it provides a cure.

These findings by co-investigators Michael Singer, assistant professor of biology, and Elizabeth Bernays, regents professor emerita of entomology at the University of Arizona, appear in the July 27 issue of Nature.

During a study of the caterpillars of two types of tiger moths, known as Grammia geneura and Estigmene acrea, Singer and Bernays observed that when the caterpillars were besieged by potentially deadly parasites, they underwent a chemical change that affected their taste sensing cells. The result: the infected caterpillars suddenly acquired a taste for plants that contained compounds – iridoid glycosides and pyrrolizidine alkaloids. When plants containing these compounds are ingested by the caterpillars the parasites die, often before they could inflict mortal harm on the caterpillars from within.

Singer and Bernays noted that the taste for these medicinal components was heightened in the infected caterpillars while remaining unchanged in uninfected caterpillars.

"In essence, contracting the parasites actually triggers a chemical reaction inside the caterpillars that makes them more disposed to eating the very plants that may help them get rid of these deadly organisms," Singer says. "The parasites are actually setting in motion a process that may lead to their own demise, provided the caterpillars can get to the right type of plants in time."

Singer adds that this type of chemical "taste change" that gravitates the caterpillars toward medicinal foods has not been observed in other caterpillars, but is likely to occur as in other animals that are known to self-medicate, including some primates.
 
By David Pesci, director of Media Relations