Public Affairs Center, New Science Building Construction on Schedule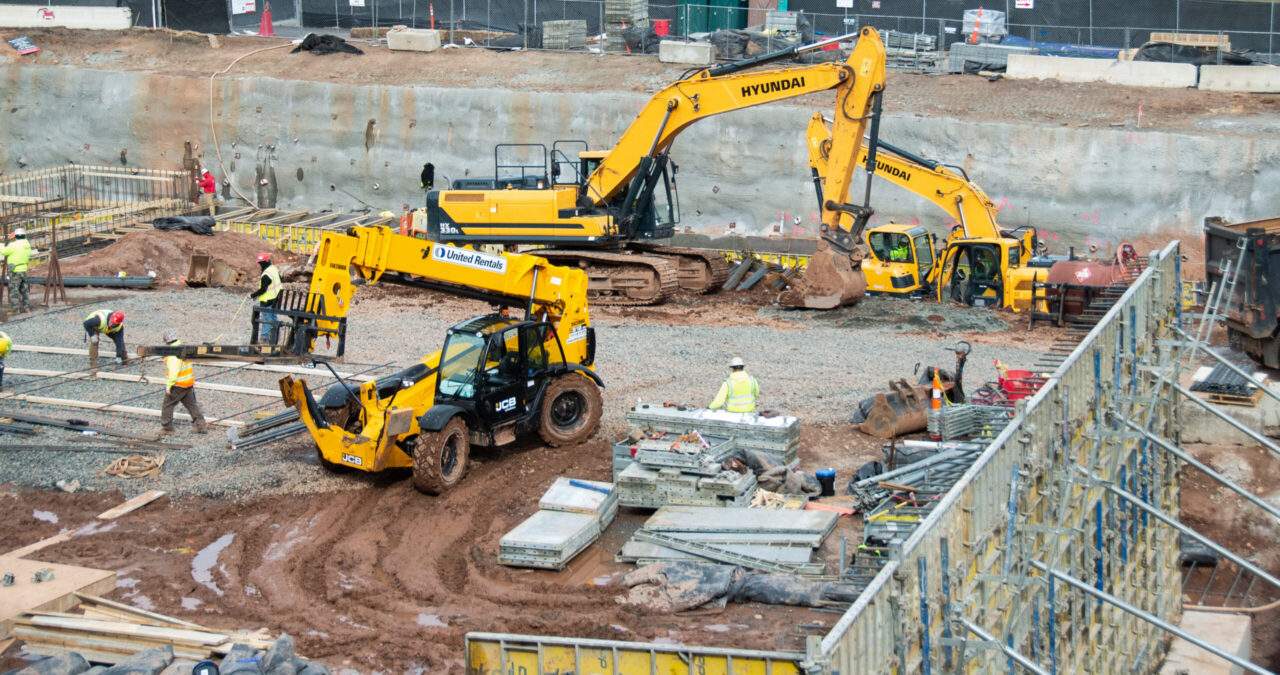 One of Wesleyan's hallmarks is its ability to foster conversation, difference of opinion and creativity. It's a place where thinking one way isn't always the way. The experience of Wesleyan is unique, it's open and it's broad. It's a community, but it's also individual.
Despite its nuances, it shares a few universal fixtures that most other universities have too. It has stately buildings with hallways lined with classrooms, its students can be seen rushing from lectures to library study rooms, and if you listen closely enough you can hear the faint beeping of construction vehicles backing up in the distance.
At Wesleyan, there are several major projects underway by Physical Plant—all of which are either on- or ahead-of-schedule and on-budget, according to Alan Rubacha, Assistant Vice President of Construction and Infrastructure.
"Our team is best-in-class," Rubacha said. "… Our success lies in our ability to attract, engage, motivate and manage these teams to achieve the goals of each of these projects."
Public Affairs Center
Despite having the most foot traffic, the Public Affairs Center had the lowest desirability scores of any classroom building on campus before it was marked for a near-total renovation, according to university survey data.
The building is now approaching completion and a certificate of occupancy should be obtained by late summer. Then the building systems will be commissioned, with AV equipment and furniture installed by December. Once furniture is complete in the fall, faculty and staff from the College of Social Studies and History, Economics, Government, and Sociology departments will be brought in to pick office spaces before they move in over winter break. The building should be fully operational by spring of 2024.
The art gallery space is also well on its way—contractors are currently focused on doing the finishes. The walls, overhead beams, and non-directional lighting have been installed. The beams inside the gallery are in the process of being wrapped in wood and the wooden curved ceiling near the main entrance of the gallery is in the midst of being installed.
While the building is about 80 percent done, there are still some milestones to hit before it's ready for occupants, according to Michael Rosalie, Project Manager of Physical Plant.
The main stairwell and the elevators need to be installed. The team recently finished up reinforcing and setting up the new stairwell on the south side of the building and has started the construction of spaces similar to the ones on the north side of the building, Rosalie said.
The landscaping on the North side of the building also still needs to be done but should be finished by Reunion and Commencement in May.
Science Building, Shanklin and Hall-Atwater
Wesleyan's new over 190,000 square foot science building, which will replace the 56-year-old Hall-Atwater Laboratories, is six-weeks ahead of schedule with a target opening in spring of 2026, Rosalie said.
Workers broke ground on the facility in the fall and have excavated over 30,000 cubic yards of dirt since. The first footings of the building were laid down on this past Valentine's Day.
"We've taken advantage of the great weather we've had this winter," Rosalie said.
The four-level structure, designed by Payette Architects, will house 39 research and support labs, 10 classrooms, nine teaching labs, a vivarium, greenhouse, outdoor spaces, and the Advanced Instrumentation Lab. The building is designed to use a third of the energy per square foot that Hall-Atwater currently takes up.
Then the contractor will abate the Shanklin facility before renovating it to house the College of Environment and College of Integrative Sciences. Hall-Atwater will also be abated and demolished. Then a new 25 space parking lot equipped with 12 car charging stations will be constructed along Lawn Ave.
"FIP Construction, our construction manager for both the PAC and Science Building projects, has done an amazing job planning the construction sequence and setting up the site logistics to make both sites safe and well organized. They have an experienced team that is constantly reviewing the schedule and meeting with the onsite contractors," Rosalie said.
44 and 56 Hamlin Street
The University recently purchased 44 Hamlin Street to go along with 56 Hamlin Street, a former mill building that was home to the Physical Plant department for over four decades. After considering several programs for the 56 Hamlin site, converting it into studio spaces for the integrative arts became an attractive option. Rubacha said the Center for the Arts has spaces for each discipline, like dance, music, and theater, but the University needed a space where multi-disciplinary arts could flourish.
A development committee led by Roger Grant, Dean of Arts and Humanities, selected Bruner/Cott Architects out of Boston for the projects. Bruner/Cott has famously been overseeing the adaptive re-use of a 17-acre industrial complex of mill-style buildings into the Massachusetts Museum of Contemporary Art in North Adams, Mass. for over 30 years.
The Board of Trustees recently approved moving to the next phase which is to complete the construction documents and open the project for bid, with a hope to begin construction in September, Rubacha said. He put an 18-month timeline on the build once the pre-construction process is complete.
Campus Steam to Hot Water conversion
The University's heating system is amidst a multi-year revamp as a key cog in Wesleyan's plan to upgrade its infrastructure and become carbon-neutral by 2035, according to Andrew Plotkin, Engineering Project Manager.
"In order to be carbon neutral at Wesleyan, we really need to reimagine how we heat our campus," Plotkin said. "Heating is the bulk of our carbon emissions. It's around 75% of our carbon emissions."
Physical Plant has already converted a third of campus from steam-based heating to the hot water system in the last three years, Plotkin said. After completing Phases 3 and 4 last summer, Phase 5 will be finished by the end of this summer, meaning the entire north side of campus will be converted.
The University is expecting significant energy savings when the system is switched over. The new pipes are cheaper to install than replacing the steam system, are 30 percent more efficient, and are installed in a way to allow for future access to renewable technology.