"Wake" Author Speaks at Launch of New Lecture Series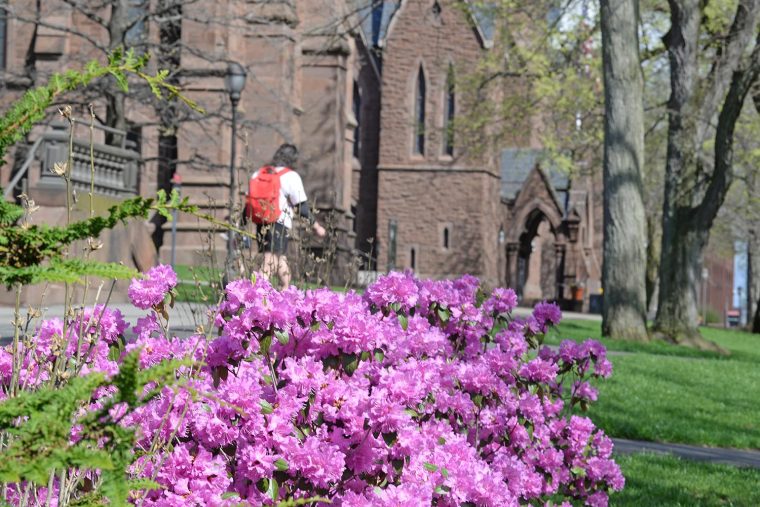 Taking one's doctoral dissertation and transforming it into a graphic narrative was certainly not an ordinary choice, but it was exactly what author and independent scholar Rebecca Hall did.
The resulting work, "Wake: The Hidden History of Women Led Slave Revolts," won multiple awards and was a finalist for the N.A.A.C.P. Image Awards and the Pen America Open Book Award. Wake was listed as a Best Book of 2021 by NPR and The Washington Post, Forbes, and Ms. Magazine. "As far back as I can remember, I've been searching for women warriors," Hall reflects in the opening pages of her book. "Pickings were slim."
She melds the story of her own search through the historical record for enslaved women's stories with the stories of the women themselves, creating a unique literary experience. "It's a genre busting book," Professor of Feminist, Gender and Sexuality Studies (FGSS) Victoria Pitts-Taylor said.
Hall shared the story of the creation of her important book with a full house in Judd Hall at the inaugural Sheila Tobias Memorial Lecture, a new series named in recognition of Tobias, the first woman senior administrator in the history of the university. The lecture took place on March 30.
After excluding women from the university for much of the 20th century, Wesleyan readmitted women to the institution in 1970. Tobias, in her role as Associate Provost, a post she held from 1970 to 1978, managed the inclusion of women students and worked on hiring women faculty, advocating for salary and promotion equity. Tobias also taught the first women's studies course at Wesleyan, one of the first in the nation, and brought well-known feminists to give lectures including Gloria Steinem, Pitts-Taylor said.
"In honor of Tobias, who passed away in 2021, a group of alumni, including Louise (Lucy) Knight '72 and Jerry Stouck '77, P '15, who are here with us tonight, spearheaded an effort to create this lecture series to be organized and hosted by FGSS. The series carries forward Tobias' commitment to feminist writing, lecturing, and activism," Pitts-Taylor said.
"This new lecture series accomplishes just what we donors hoped: bringing cutting edge, feminist, public intellectuals to campus to 'make good trouble,'" Knight said.
Hall's journey from academia to nationally acclaimed writer had a few twists along the way. After getting a law degree from University of California Berkeley and representing low-income families for 8 years, Hall got her doctorate in history from the University California Santa Cruz in 2004 and had trouble getting a full-time academic position. She was let go from a few jobs, including positions teaching high school that she enjoyed. She assumed her teaching career was over.
"Before I walked away, I thought, what would what I need for me to not feel really bitter about this? My dissertation was something I put a lot of work and a lot of heart and a lot of tears into. I had turned it into an article, academic reading, and maybe five people read the dissertation and maybe 10 read the article," Hall said. "So, I was like, I would like to get what I found in my research and thinking from behind this wall into the mainstream? How do I do that? Oh, I know I'm going to turn my dissertation into a graphic narrative. I mean that was a weird thought."
Creating a graphic narrative meant needing an artist and Hall didn't have the cash on hand to hire one. "As I said, I've been fired so I didn't have anything to pay the artist … I was paying them a hundred dollars per page rate off my credit card at like 15.9 percent interest," Hall said.
A mutual friend connected her with illustrator Hugo Martinez, who was working as a full-time pedicab driver in New Orleans. Together, they created eight pages of the book and set up a Kickstarter campaign to fund the remainder of the project. They doubled the amount of money they needed to fund the work and attracted attention from both the media and publishing industries. "It's been quite a ride," Hall said.
Hall made the crucial decision to include her own story as part of the narrative. She felt it would be important for readers to understand the work she did as a historian to help unearth the narrative of women led slave revolts, a narrative that had been systematically and thoroughly buried over time. "Nobody likes being lied to … no one wants the information that they need to orient themselves in the world hidden from them or taken away from them. Young people aren't having it," Hall said.
A year and a half touring the world talking about the book showed Hall just how deeply it struck a chord with people, particularly young ones. "As they're shutting down the teaching of history across the country, it's actually been the norm to have (African American) history repressed. Maybe the last couple of decades are the exception to that rule, which is that any kind of history that interrupts, interrogates, involves critical thinking, or is not compliant with Christian baptism is not going to be offered or taught," Hall said.