Wesleyan Team Wins 'Best Data Story' at 6th Annual DataFest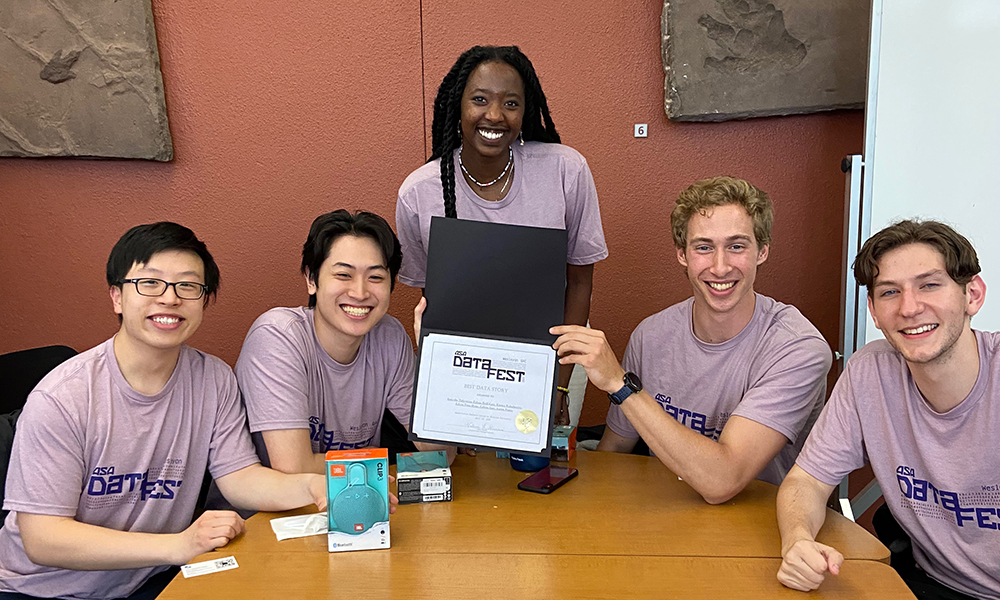 A team of Wesleyan students won "Best Data Story" at the 6th Annual Wesleyan DataFest hosted by the Quantitative Analysis Center April 21 through April 23.
The Wesleyan team, called "Team Into the Tidyverse," consisted of Ethan Brill-Cass '23, Aaron Foote '24, Calvin Gao '23, Edvin Tran Hoac '24, and Emma Tuhabonye '23. In addition to the Wesleyan squad, teams from Yale University, Connnecticut College, Trinity College, University of Connecticut, and Bentley University, encompassing 55 students, participated in the event.
In addition to Wesleyan's honor, Connecticut College was given honorable mention, University of Connecticut was recognized for best statistical insight, and Bentley University was recognized for best use of external data.
DataFest is a data analysis competition where students are presented with a large, complex, surprise data set and work over the weekend to explore, analyze, and present their findings.  Teams of 3-5 students work together and compete against other teams. After two days of intense data wrangling, analysis, and presentation design, each team is allowed a few minutes and no more than two slides to impress a panel of judges. Prizes are awarded to the teams who impress the judges most.
The event is part of a set of initiatives to strengthen quantitative reasoning and facilitate computational and data analysis work across the curriculum. It is designed to bring together current students, alumni and data analysis professionals as they work together in addressing real world problems that involve computational data work. The event also provides an opportunity for recruiters to connect with students interested and skilled in data analysis that may be candidates for internships, job openings etc.
For more information about the Quantitative Analysis Center's DataFest, visit datafest.blogs.wesleyan.edu/about/