Three Students Win Patricelli Center New Venture Awards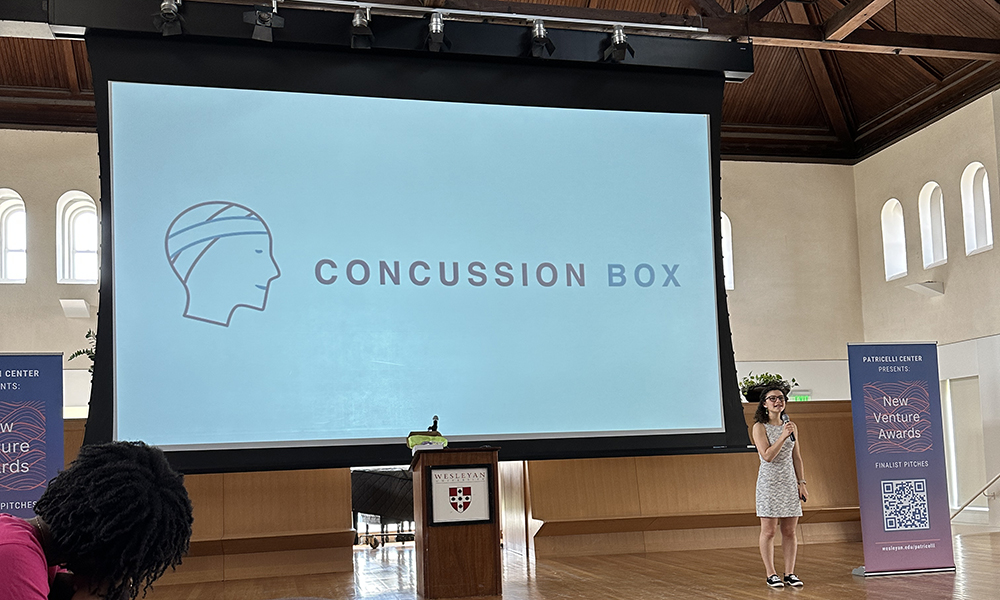 By Maia Bronfman '24
Seven students at different stages in their startups delivered pitches to potential partners and funders on Friday, April 14, at Beckham Hall during the Patricelli Center's New Venture Awards Finalist Showcase hosted by Interim Director Ahmed Badr.
"The public showcase of the New Venture Awards is a key priority of the Patricelli Center, as it presents an opportunity for students to introduce their work to the larger campus community, as well as alumni working across sectors. The gathering kicks off a series of engagements between students and alumni, and is always followed by new friendships, mentorships, and partnership opportunities," Badr said.
Over the last 11 years, Badr said that the Patricelli Center has funded 237 student ventures with $537,000 in grants. Romy Beckman '25, Eliana Bloomfield '25, and Kekeli Logoh '23 were named winners of this year's competition.
Beckman's media production company, "Pazu Productions," works with activists and non-profits to go beyond filmmaking with its calls to action, and resources for organizing. His project was inspired by his work with music therapy for Alzheimer's patients in high school.
Bloomfield's "Concussion Box," a concussion support organization, was inspired from when she got a concussion at 14 years old and had to, for a year, "spend more time in doctors' offices than with friends," she said.
"I talked with others who had experienced the same loneliness because of concussion recovery. It's not a unique story," Bloomfield said.
Her care packages provide things like community-made eye masks and chocolate. As an additional resource she is developing a podcast series about individuals experiences with concussion recovery. "Concussion Box" will also partner with schools and hospitals to expand awareness and access.
Logoh's agriculture tech venture, "AquaRoots," aims to address malnutrition in vulnerable Togolese communities through its aquaponic farming initiative.
The mechanics of the solution, which stabilizes farming productivity through a soilless technique for increasing nutritional content by cycling water through plant and fish growing systems, can be integrated into current agriculture practices without significant disruption, Logoh explained.
In addition to the winning entries, NVA finalists offered a wide-array of innovations in the areas of civic engagement, education, and personal care.
Olivia Berger '26 presented first to the crowd of alumni, members of the President's Council, and other university-affiliates. Her app and website "In the Know" operates like social media to provide law and policy education and facilitate community engagement. She said she thought of the app in the wake of the school shooting in Uvalde, Texas, when she was trying to learn more about Texas' state gun laws.
"After hours of trying to read complicated legal jargon I began to understand, but I wasn't satisfied. That is why I'm here," Berger said. Misinformation, complicated legal language, and unclear policies and data all are part of the problem she is focused on.
Nigel Hayes '23 was similarly focused on civic engagement. "Can you name the first 10 amendments right now?," Hayes asked the crowd, reiterating a question a Chief Justice for the state of Connecticut asked him after he had won mock trial for the third time in high school.
"Civic education is under served and under attack," Hayes said. His app, "Jurybean," offers interactive modules and expert resources to provide a personalized education on the US constitution, basic human rights, the three branches of government, and local government leaders.
Darren Boyce's '25 pitch was inspired from an earlier point in his education, when he was learning to read in elementary school. He grew up in foster care, and fell behind in reading as a result.
"I never felt a sense of stability, comfort," Boyce said in front of a projection of them as a young child, hugging a dog. "Even though I was young, I didn't realize that what my family was doing—drugs, manipulation—was hurting me. I didn't realize that me being below the reading level was because of it."
As a result, Boyce was drawn to picture books, which often depicted wildlife. That's when they became interested in becoming a veterinarian.
Their proposed nonprofit, "Animals of the People," supports low-income pet owners through microgrants and community education. "Join as we increase animal wellness by allowing low-income pet owners to access the preventative care they need," Boyce said to the audience.
Daëlle Coriolan's '24 plan provides care packages through her venture. Her proposed idea, "DearCurlz," will give subscribers access to online tutorials alongside hair products from small business partners chosen based on personalized hair quizzes. Coriolan said the project "was inspired by growing up in a Haitian household where straight hair was deemed acceptable."
She said it has taken her almost 10 years to be able to care for her hair. Her hope is to cut the trial-and-error time down for other young girls with curls.
Badr, who himself is a previous recipient of a New Venture Award (formerly Seed Grant), supported all seven finalists as they prepared for their pitch.
"I am so proud of each and every one of our finalists, and all of the extensive work they've put in to get to this stage. Starting a venture can be an incredibly daunting task, especially while balancing a full academic schedule. Each finalist powerfully merged their personal experiences, their expertise, and their passions to create intentional ventures with wide-ranging, local, national, and global impacts. It's a privilege to work with these extraordinary students," Badr said.
2023 Patricelli Center New Venture Award Winners: 
Romy Beckman '25 (He/Him)
Pazu Productions is a media production company that will work with activists and non-profit organizations to create content that influences the way people understand and care for the world. Our first initiative is a collaboration with Dr. Gary Altheim, the founder of Growth and Development Services Inc. (GDS), to create a short-form documentary demonstrating the immense healing power of music therapy and intergenerational relationships for people living with Alzheimer's and dementia.
Eliana Bloomfield '25 (She/Her)
Concussion Box is a concussion support organization dedicated to the idea that healing doesn't have to happen alone. We host an audio library of concussion stories and provide tailored concussion care packages to help bring comfort and resources to patients at the beginning of their recovery journeys.
Kekeli Logoh '23 (She/Her)
AquaRoots is an agricultural tech venture that aims to redefine farming in Togo by introducing a new farming model centered around aquaponic systems that will increase farming productivity, crop yields, and nutritional diversity in vulnerable Togolese communities. AquaRoots does not seek to replace traditional farming, but rather integrate this new system so that staple food crops can be grown all year-round.
Browse all finalists here, and contact abadr@wesleyan.edu for additional information.