Annette Gordon-Reed: "Navigating the Road Ahead"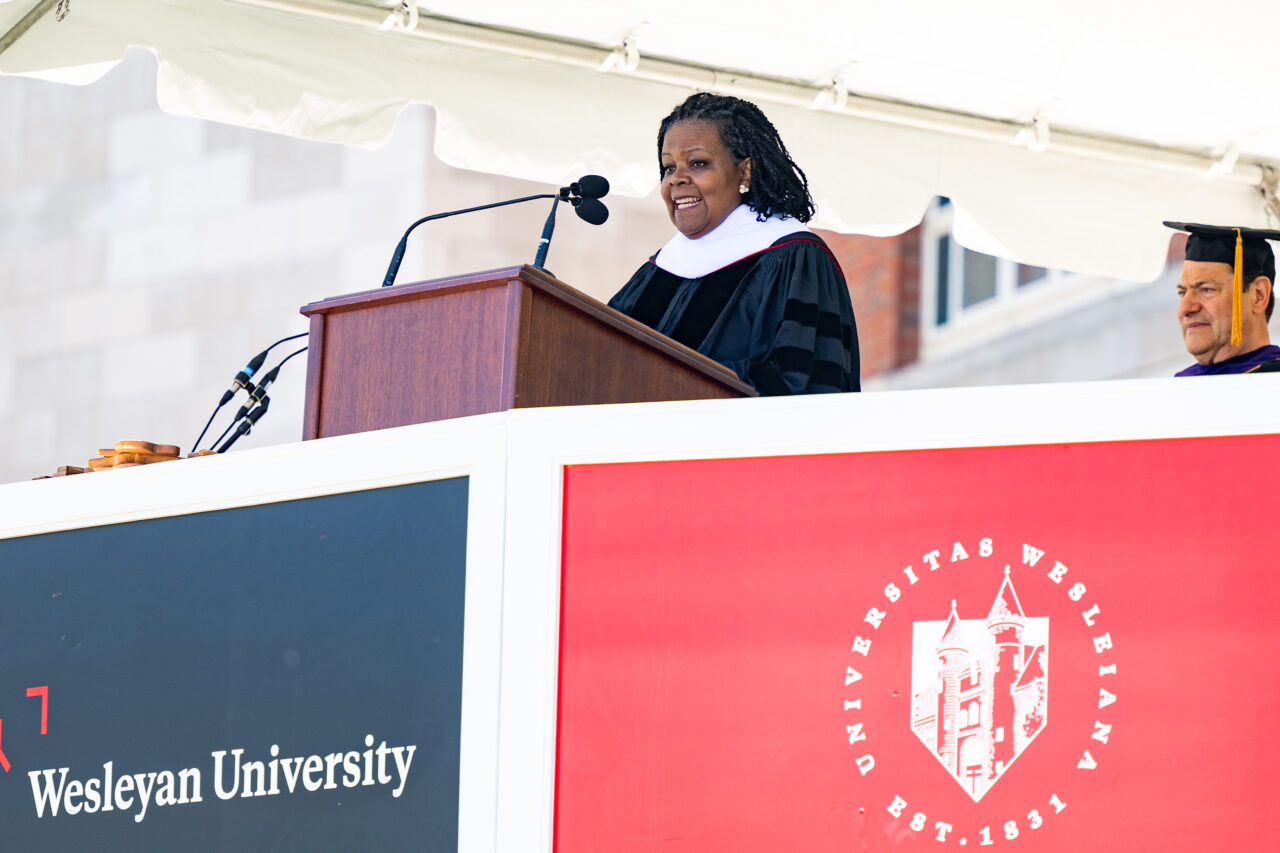 Annette Gordon-Reed, who was named an Honorary Doctor of Letters at Wesleyan's 191st Commencement Ceremony, lauded the University's Class of 2023 as part of a generation of young people who are realizing their political potential—and in this fragile moment in history, she challenged them to go further.
"Your activities have provoked responses. Lean into that," Gordon-Reed said. "And I don't just mean by voting, which I definitely think you should do, of course. But think about the other ways citizens participate. Maybe even run for office."
Gordon-Reed is a writer, speaker, and the Carl M. Loeb University Professor at Harvard, who has combined her expertise in history and the law to advance the national conversation on race in powerful ways. She has won 16 book prizes, including the Pulitzer Prize in History in 2009 and the National Book Award in 2008, for The Hemingses of Monticello: An American Family. Her other honors include a fellowship from The Dorothy and Lewis B. Cullman Center for Scholars and Writers at the New York Public Library, a Guggenheim Fellowship in the humanities, a MacArthur Fellowship, the National Humanities Medal, the Frederick Douglass Book Prize, the George Washington Book Prize, and the Anisfield-Wolf Book Award. Her most recent book is On Juneteenth.
Gordon-Reed made the following remarks during Wesleyan's 191st Commencement Ceremony on May 28:
To President Roth, members of the Board of Trustees, honored guests, families, and students, I give my greetings, along with my heartfelt congratulations to the Wesleyan Class of 2023. I am honored to have been asked to speak to you on this most important occasion. It's a little humbling to be responsible for trying to say something profound to a group of young people who are anxious to get beyond the festivities and to get on with their lives—sitting on uncomfortable chairs while wearing caps and gowns that hold heat. But I promise I won't detain you long.

Today is the end of a journey for you, one that has been made more complicated by an unprecedented event—a pandemic that altered your daily lives in ways that added to the normal stresses and strains of college life. The fallout from that historic event—which is still ongoing—will continue to shape the world of work that you are about to enter, and your life in general. You have been living in a moment that historians will likely consider to have been a turning point in our society. We have never seen anything like it, where the world came to a form of standstill as we tried to cope with a virus that we did not, and still do not, fully understand. We have yet to come to grips with what that time meant to us. Indeed, the full effect may not be clear for decades. But we do know that we think differently about how, when, and where to work. How, when, and where to shop, and how we associate with people.

So, we are in uncharted waters with all of this. But you have been there before and have all the skills you need to deal with whatever the days ahead bring to you. After all, you were in uncharted waters when you first arrived at Wesleyan. You had to acclimate yourselves to life without parents and family, without the friends and familiar places of your childhood. You had to learn to set your own schedule—to realistically assess when you had done enough work and when you had done enough goofing off and when you had done enough partying. That you are sitting here today suggests that you managed those questions and have all the tools you need to navigate the road ahead.

You're also in unprecedented circumstances in another way, a very important way. Your generation and the ones immediately before yours, have been identified as a group that has broken the mold in some very important ways. The conventional wisdom, born of experience, was that the 26th Amendment to the United States Constitution, which lowered the voting age in the United States to 18, has been a waste. As a general rule, young people did not vote. They marched, they protested, and they volunteered in campaigns. They raised the hopes of political parties—frankly, more typically the Democrats' hopes—but on voting day, they tended to be no-shows. The last two election cycles, in 2020 and 2022, were different. Young people, ages 18 to 29, came out in greater numbers than usual, and helped to shape the composition of the United States Congress. It is usually the case that the so-called mid-term elections find the party out of power gaining seats, and actually coming to control the Congress. That happened again in 2022, but not to the extent that was expected. The party out of power did not gain as many seats as had been predicted. Indeed, far less than had been predicted. Why? Because of the strong level of voting by young voters.

So, your generation has been involved in politics—electoral and other forms of political engagement—to a very surprising extent. The old received wisdom has been shattered and the potential for a new era has arrived. While some of our fellow citizens have cheered the prospect of your participation in politics, particularly voting, others have been frightened by it and have reacted accordingly. They have made disparaging statements about young voters, suggesting that you do not deserve the franchise, given the choices you tended to make. Instead of engaging with you and seeing how they might appeal to you, the suggestion, by some, is to cut you off at the pass. Many of you may have seen the calls to raise the voting age to 25 to diminish the power of the youth vote and prevent young people from having a say in the governance of the country. I have not heard of any talk about raising the age of the ability to enlist in the armed forces, however. There also have been concerted efforts to adopt measures designed to keep college students from voting in the places where they attend college. For some, the idea is that it should be very hard to vote. In other words, there are people who believe that voter suppression, instead of courting voters, is the answer.

In general, there has been much carping, on the part of some, about the values of members of your generation. And you can be sure that many of the attempts at censorship in public school libraries, of K-12 curricula, and courses of study in college—the much-hyped critical race theory hysteria—grow out of the sense that young people today have learned values that are at odds with what the censors think appropriate. Values of empathy. Anti-racism. Values that support the equality of women, and members of the LGBTQ+ community. They long for a younger generation that disdains these values and votes against them.

With all of this in mind, I think, much more so than when my generation graduated from college, you have been identified as a potential major player in society. Not just identified as—you are a major player in society. Again, not just because you are willing to protest—although that can be important—but because many of you have come to understand that voting really matters. It is easy to be cynical about that and say that nothing changes. But we have seen the direct results of winning—and of losing—elections. It matters who controls the Executive Branch that, with the advice and consent of the Senate, picks members of the Supreme Court. It matters to the budget of the United States which politicians have control over what money is spent and how it is allocated. Those, and many other truths, have become clear during the time you all have come of age and been aware of politics. You have been designated a force. I urge you to continue to act as a force.

Think not only of what you plan to do with whatever career you pursue. I ask you to think about your duties as a citizen of a country whose constitution and system of government have been, for the past several years, undergoing a stress test. Indeed, I'm sure you are aware that the very concept of democracy has been put under stress and the specter of authoritarianism has materialized all over the globe. Your activities have provoked responses. Lean into that. And I don't just mean by voting, which I definitely think you should do, of course. But think about the other ways citizens participate. Maybe even run for office.

But think not just about national politics. Think about what is happening in your state and local governments. So many important things about the way we live are decided there. School boards are now the site of contests over what books can be allowed in the public library, with successful attempts, often by a determined minority—sometimes just one person—to remove books from shelves that meet with the disapproval of some citizens. A healthy, functioning democratic republic requires the participation of all citizens.

I was at an event not long ago where a British author was asked whether the United States was essentially over. He expressed optimism about the future and predicted that we would weather the storm. I believe that is true, and that if we do, it will be, in large measure, because people like you will rise to the occasion by participating as active citizens in the democracy. It is a heavy charge, but much is at stake. I know you have been given the tools here at Wesleyan to know what to do and how to do it. We are depending upon you to maintain and carry the American experiment forward. I wish you good luck in that endeavor, health, and happiness in the future. Thank you.