Donna S. Morea '76, P'06: "Your career is a journey, not a destination"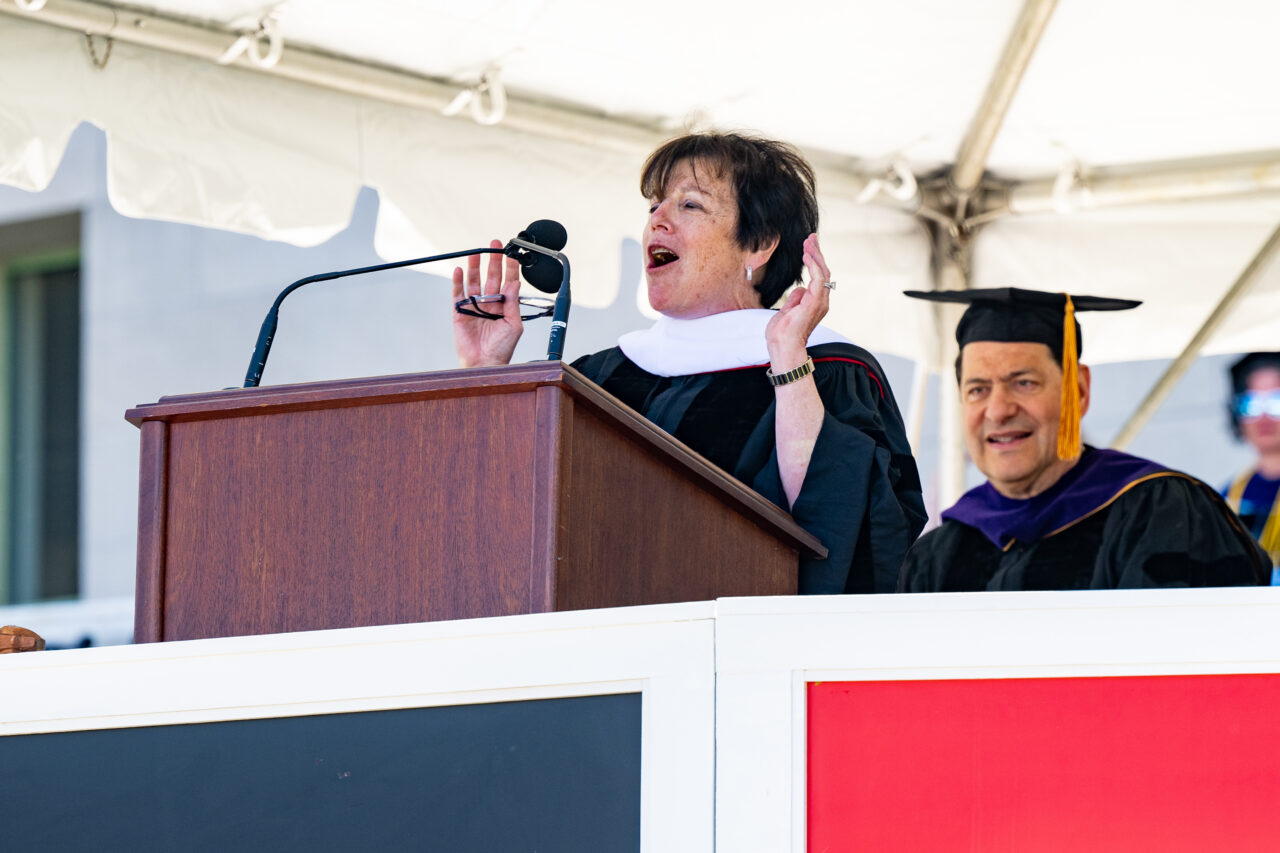 Donna S. Morea '76, P'06, who was named an Honorary Doctor of Humane Letters at Wesleyan's 191st Commencement Ceremony, found her calling in the tech industry. But, as she told the Class of 2023, it's okay if the path to the right career isn't clear at first.
"Don't despair if you don't know what you're going to do with your life this very moment. And don't ever be afraid to explore and discover. So often, our failures lead to our successes."
Morea is an internationally recognized executive in the IT services and software communities. She is currently the CEO of Adesso Group, a private consulting and advisory firm, and an operating executive at The Carlyle Group, providing investment guidance to Carlyle professionals. In 2011, she retired from a successful 31-year career at American Management Systems (AMS) and CGI, one of the largest IT business and consulting firms in the world. After receiving a BA with high honors from Wesleyan (as well as a Distinguished Alumna Award from Wesleyan in 2006), Morea served as a Wesleyan trustee from 2008 to 2020, during which time her service included chairing the Finance and University Relations Committees. In 2016 she was elected chair of the board, becoming the first woman chair in Wesleyan's history.
Morea made the following remarks during Wesleyan's 191st Commencement Ceremony on May 28: 
Good afternoon everybody, and thank you, President Roth and my good friend, Anne, for this incredible honor, and the opportunity to stand alongside such eminent and distinguished fellow recipients. But most importantly, to be able to address this awesome, amazing, beautiful Class of 2023 along with your friends and family.

It's a beautiful day, it's a beautiful campus, this is a beautiful moment, and you all look absolutely beautiful!

As you heard, I spent my career in the tech industry. So, not surprisingly, I phoned a friend—ChatGPT—to help me work on my remarks. I asked a simple question: "What are the attributes of a Wesleyan graduate?" And she said:

Wesleyan University graduates are known for their intellectual curiosity, creativity, and commitment to social justice. They are often independent thinkers who have a broad-based education in the liberal arts and sciences, and have developed strong critical thinking, communication, and problem-solving skills. Wesleyan graduates are also often active and engaged members of their communities, with a strong sense of social responsibility and a desire to make a positive impact on the world.

I thought that was pretty damn good, actually. Probably better than what I could've written. With those comments in mind, I have three thoughts that I want to share with you:

Your career is a journey, not a destination. As you know, at Wesleyan, you don't choose your major, you discover it. So, too, with a career. I graduated from Wes with a degree in studio arts. It "found" me in my freshman year as I learned that I loved building things—using ceramics and photography. When I graduated, I attempted to be a professional photographer. But fate, lack of talent, and the need for an income intervened. So I ended up in technology in the very very early days of software companies. (By the way, my mother thought I was going to a job involving underwear). IT became my career and over time I discovered that I loved working with teams more than by myself and that together we could create things that mattered. So don't despair if you don't know what you're going to do with your life this very moment. And don't ever be afraid to explore and discover. So often, our failures lead to our successes.
You don't have to be Lin-Manuel Miranda to make a difference in the world. Some geniuses, like Lin, create epic works that change the course of the world in a groundbreaking way. And of course Hamilton is the quintessential example. But most of us apply our curiosity, creativity, and commitment to make smaller but meaningful contributions each and every day. I have had the privilege over the years of working on technology projects that made a difference in many ways. As an example, creating software for banks that identified human traffickers, for states that dramatically reduced child abuse and neglect, and for school districts that created over a billion meals for hungry kids who were out of school during the pandemic. On this day 47 years ago, I never would have imagined that this would be a way for me to make a difference and fulfill my sense of purpose, but I discovered it and Wesleyan taught me how.
Be forever grateful for what you have experienced here at Wesleyan. It has changed your life. It changed mine. In a unique magical community that is deep and intense, you have made friends for life, and you feel like part of something that is bigger than yourself. Who among us succeeds entirely on our own? No one. Absolutely no one. I am sure that to succeed here, you had help from your classmates, your friends, your professors, your family, and even your lovers along the way. When I started my career in tech, I really had no idea what I was doing. But Wesleyan gave me the courage to try it and many many people helped me. So throughout your life, find those people who will teach you, challenge you, inspire you, comfort you, and especially love you. Spend a lot of time with them. Be grateful for them. And you will live a happier and better life for it. And don't forget to come home to Wesleyan, both physically and always in your heart and your soul.

A final postscript on ChatGPT: Regenerative AI has the power to solve the world's biggest problems—in medicine, climate change, and poverty. A recent Goldman Sachs article makes the case that the technology, by enhancing productivity, can meaningfully reduce poverty and raise global GDP by as much as 7 percent. I know that some of you during your careers will have the chance to utilize such tools for the greater good.

But as I think you all know, there is a dark underbelly to the technology as well. It can be used for malicious and unethical purposes, as well as beneficial ones. It can exacerbate biases and inequality and promulgate lies. So I urge you to use your critical thinking, your creativity, your problem-solving skills, and your strong strong sense of social justice to speak and seek the truth and fight against nefarious forces in the world and also in AI.

Congratulations, a big virtual hug to all of you in the Class of 2023. Despite the challenges of the pandemic, and a time of social unrest, economic hardship, and global disruption, you have reached a level of achievement that is absolutely remarkable. Always put it to good use, be curious, be grateful, pursue goodness, and I know each and every one of you will have a positive impact on the world in big and small ways.

Thank you all.