Wesleyan University Celebrates 191st Commencement May 28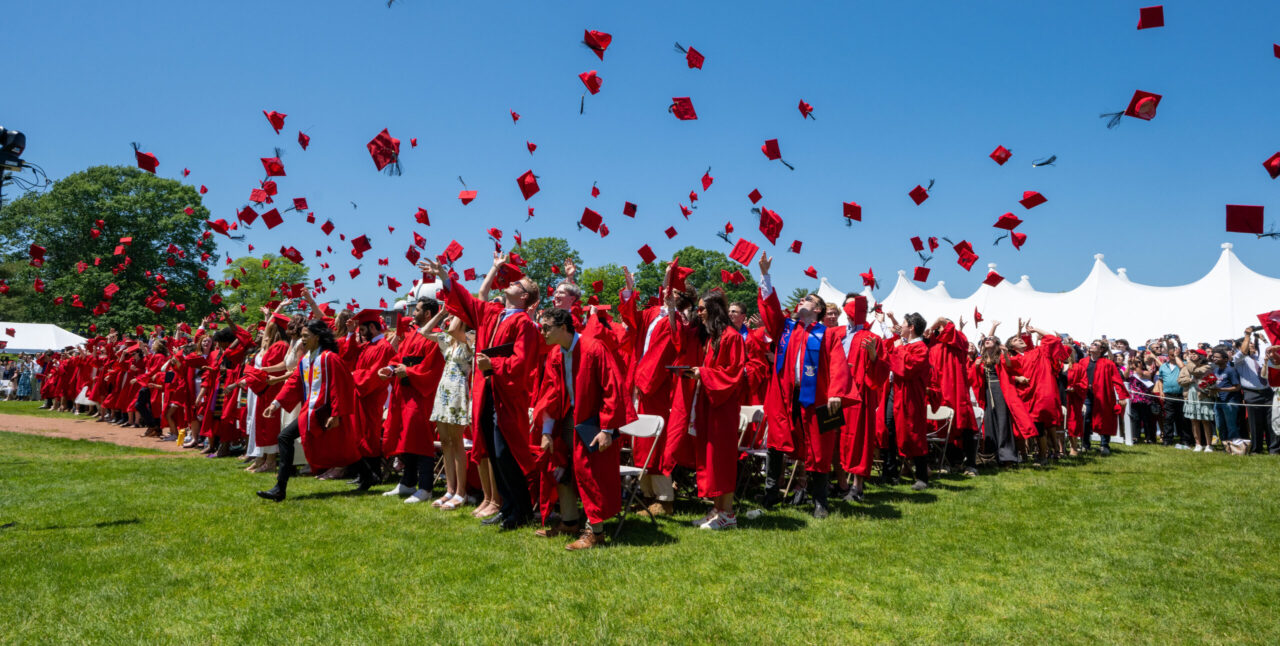 With an eye towards a bright future, the graduates of Wesleyan University's Class of 2023 took their first steps out into the world on Sunday.  
At its 191st Commencement, held on Sunday, May 28, Wesleyan University conferred 756 Bachelor of Arts degrees, 11 Doctor of Philosophy degrees, 39 Masters of Arts, one Master of Philosophy in Liberal Arts, 13 Masters of Arts in Liberal Studies, and four Bachelors of Liberal Studies. 
The University also recognized four inspiring leaders with honorary degrees—Pulitzer Prize-winning historian Annette Gordon-Reed, who delivered the Commencement address; Jennifer Finney Boylan '80, award-winning author, professor, and transgender activist; Larry McHugh, recently retired president of the Middlesex County Chamber of Commerce and longstanding community leader; and Donna S. Morea '76, P'06, an internationally recognized technology executive and Wesleyan University Board Chair Emerita.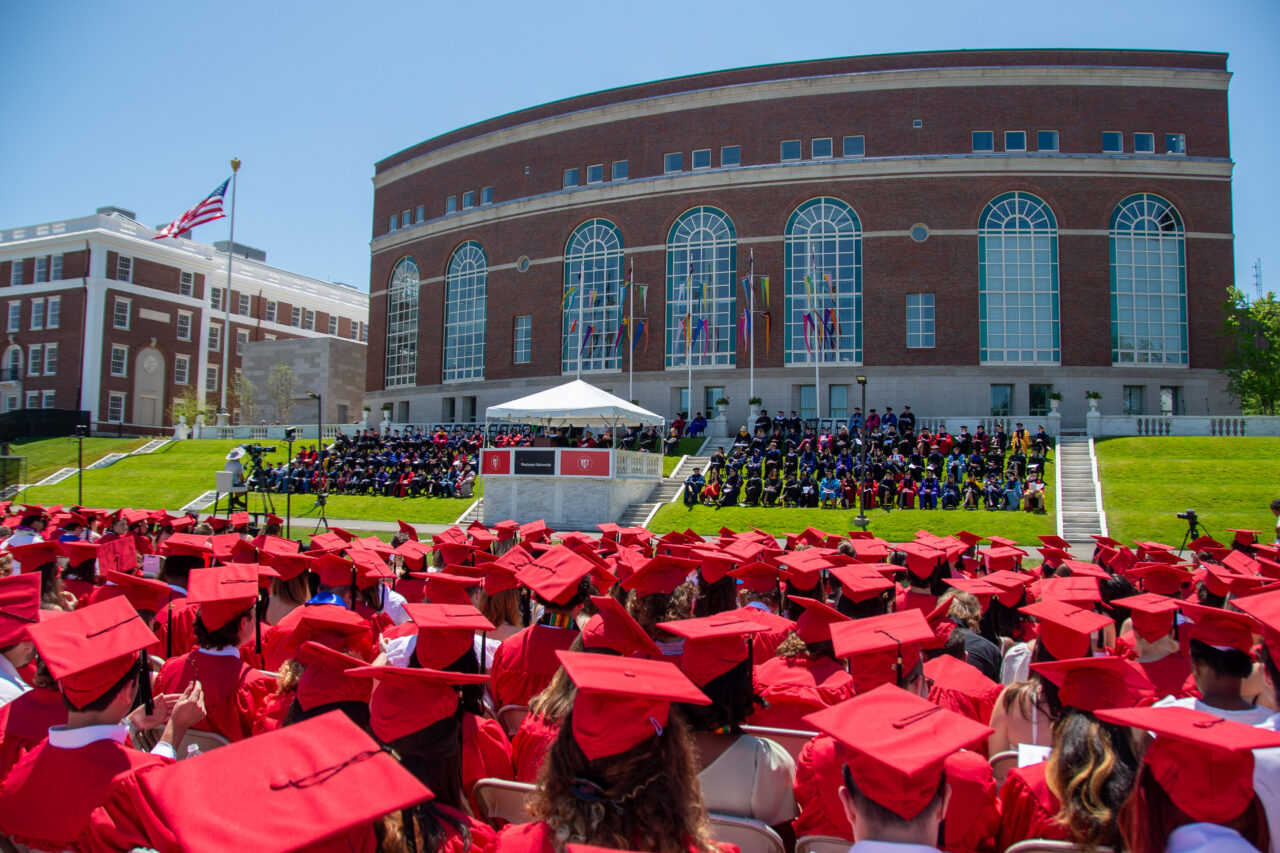 As the graduates met on Foss Hill one last time before the ceremony, their thoughts turned towards what's next.  
"I hope my life's journey resembles an experience like this where I can inspire people to overcome their own biases, hopefully with the result of growing closer together in the end, whether that be politically, socially, or any other way. I think what Wesleyan offers is indicative of the change that happens in a person. I think the next step for a Wesleyan graduate is to see that on a more global scale," said Jerrod Followwell '23.  
"I think that this generation and the generations to follow us are definitely going to do the work of moving the world in the right direction," said Chris-ann Walker '23, who is going into the field of health administration with the goal of making it more efficient and more effective on behalf of vulnerable populations.  
As a first-generation college graduate, Logan Brown '23 hopes to set a positive example for his younger siblings and cousins. "I want to prove that it is possible for them to make it all the way through as well," Brown said.  
The ceremony itself unfolded with the customary pageantry of a Wesleyan commencement. The graduates, clad in Cardinal red, streamed down Foss Hill on a perfect blue sky day to the cadence of African drumming. Professors offered their congratulations as happy family members surged towards their loved ones to take photos.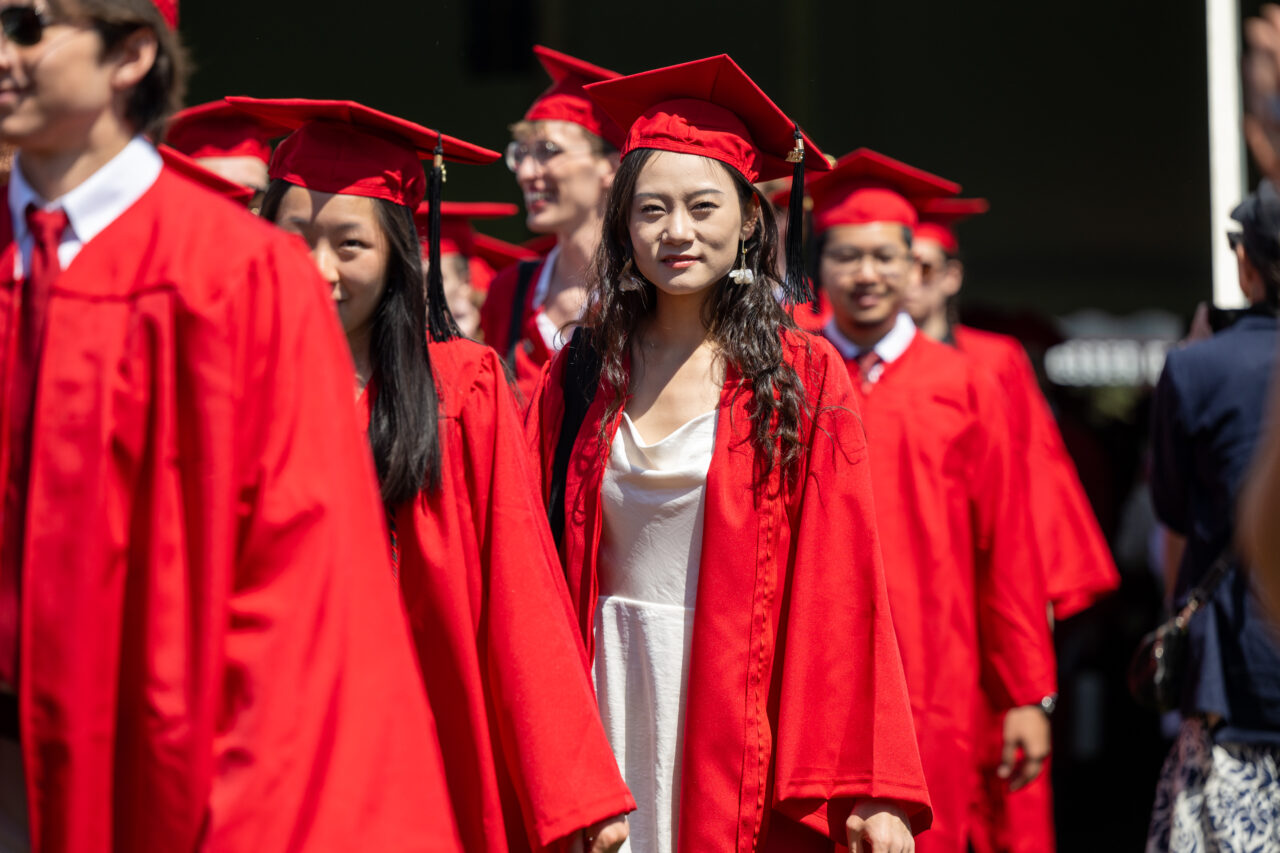 Each speaker, in their own way, urged the graduates towards greater engagement in the world with the goal of making change.  
Annette Gordon-Reed, during her Commencement Address, told the Class of 2023 that they are amidst a moment historians will consider a turning point in society. She said the uncertainty of the past few years has readied this class for the uncharted waters of the future. "That you are sitting here today suggests that you managed those questions and have all the tools you need to navigate the road ahead," Gordon-Reed said. (Read the whole speech here)
Gordon-Reed urged the graduates to continue to take part in the political process through voting, involvement in local government, and protest. Their participation can usher in "a new era" of empathy and anti-racism. "You have been designated a force. I urge you to continue to act as a force," Gordon-Reed said.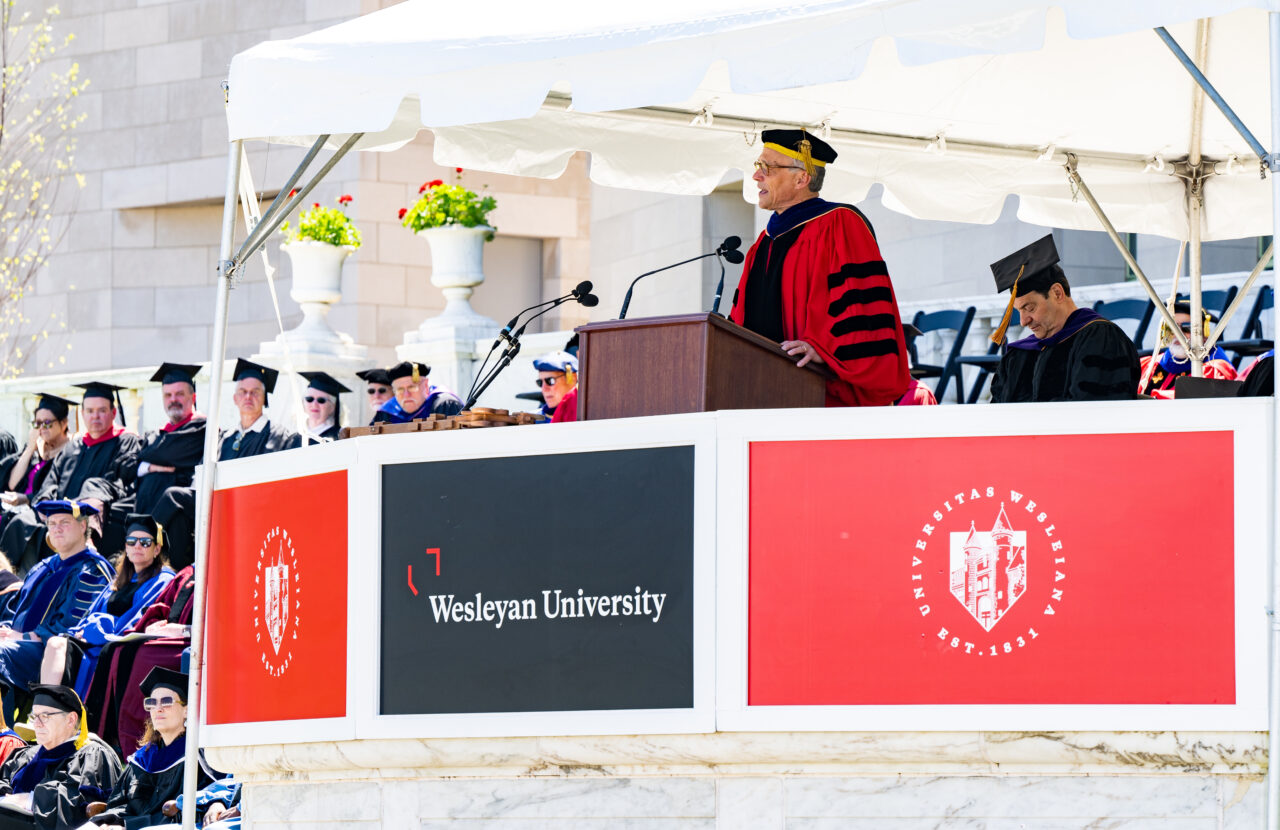 In his address to the Class of 2023, President Michael S. Roth '78 spoke of the important interplay between great teachers and students. Harkening back to the thinking of Ralph Waldo Emerson, who spoke at Wesleyan in 1845, W.E.B. Du Bois, and Jane Addams, Roth said that the most effective teachers prepare students for more than replicating the world as it is. (Read the whole speech here)
"Teachers point students towards experiences and realities that become available through collaborative exploration. Beware of those who are afraid of that exploration; stand up against those who fear fluidity, who ban books, and who are frightened by free expression and creative transformation," Roth said to a round of applause.  
Strong teachers often provoke powerful emotions and can help students become more than spectators in their own intellectual growth, Roth said.  
"By exploring the complexities of the world, students and teachers practice making connections that are intellectual and emotional. And today, when crude parochialism is encouraged under the guise of group solidarity, it is more important than ever for schools like Wesleyan to promote citizenship by helping students increase their powers of aversive thinking, critical feeling, and the sympathetic imagination," Roth said.
Class Speaker Benjamin Levin '23 took longer to grow up than his peers—literally. In sixth grade, he was mistaken for a first grader. He feared that his short stature wouldn't allow him to be taken seriously by anyone. "After just a few days, I realized that I didn't need to worry at Wesleyan," Levin said in his address. (Read the whole speech here)
He met people who were passionate about everything—a student blasting punk rock music while doing math equations on an Exley chalkboard proved to be a potent example of what Wesleyan stood for. Because of the passion around him, he felt he could be his complete self. Wesleyan was weird, it was cool, and the people were kind, he said.  
"This sort of open, honest, kind, passionate student body is what allows each of us to actually figure out who we are. Because when you're constantly worrying about what other people think, you can't take risks and actually leave your comfort zone. It's the passion and openness of the other students that allowed me to find my passions," Levin said.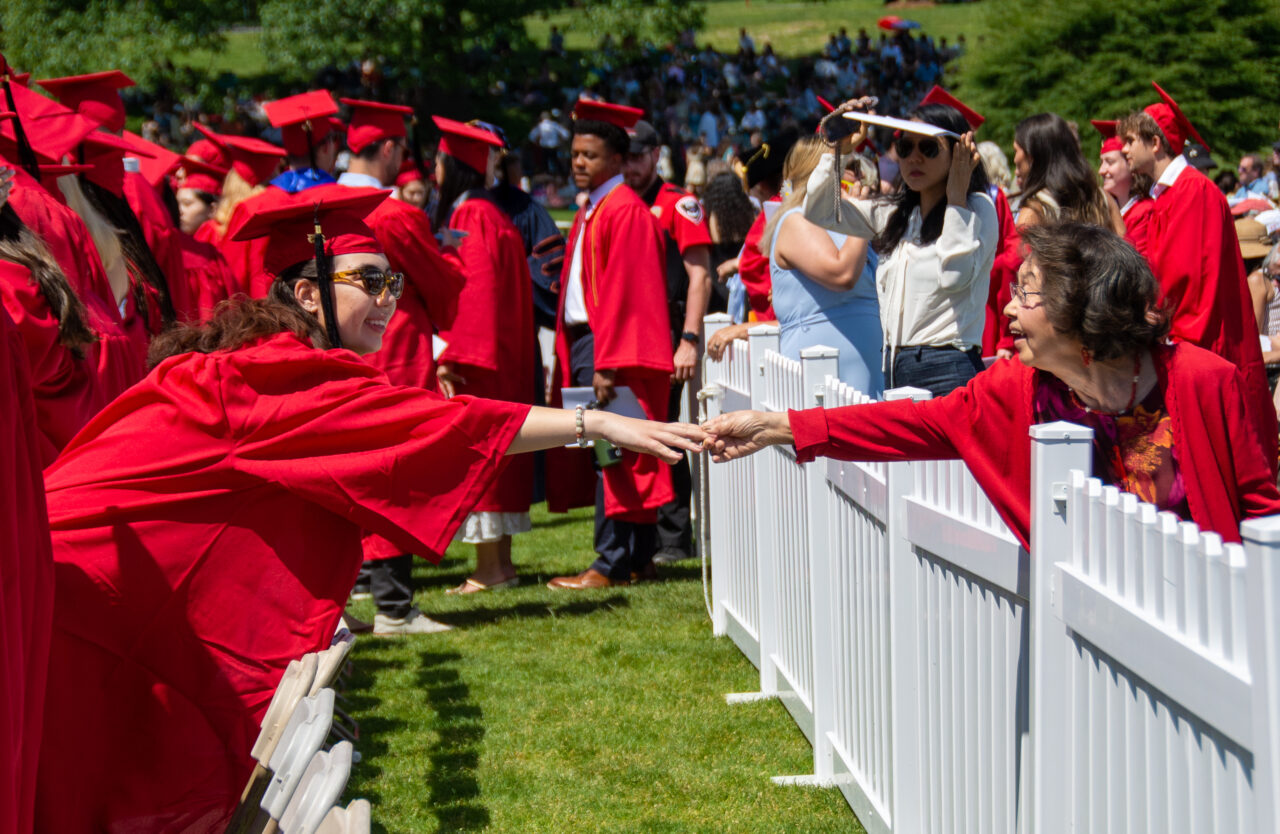 The honorary degree recipients encouraged the Class of 2023 to channel their innate passion into engagement in the world around them.  
Jennifer Finney Boylan '80 focused her talk on change, and how much of the world's trouble at this moment is traceable, in fact, to resistance to change. The nature of the world is for things to evolve, she said, and it would be hard to make things better if we are focused on keeping the status quo. "Changing our country, for instance, by expanding equal rights for one group of Americans should be an occasion for joy, not lamentation," Boylan said. (Read the whole speech here)
For love to prevail, Boylan said, it is necessary to greet the world with fierceness, to push back injustice with both relentlessness and joy, wisdom and ferocity. "Those attempting to turn back the clock to a time when women were denied the right to control their own bodies, to a time when LGBTQ people had to live in the shadows, to a time when people of color could be denied the right to vote—these people need to understand that they have a fight on their hands—but that those of us engaged in the mission of change are motivated not by fear but hope, not by intolerance but justice, not by hate but love," Boylan said.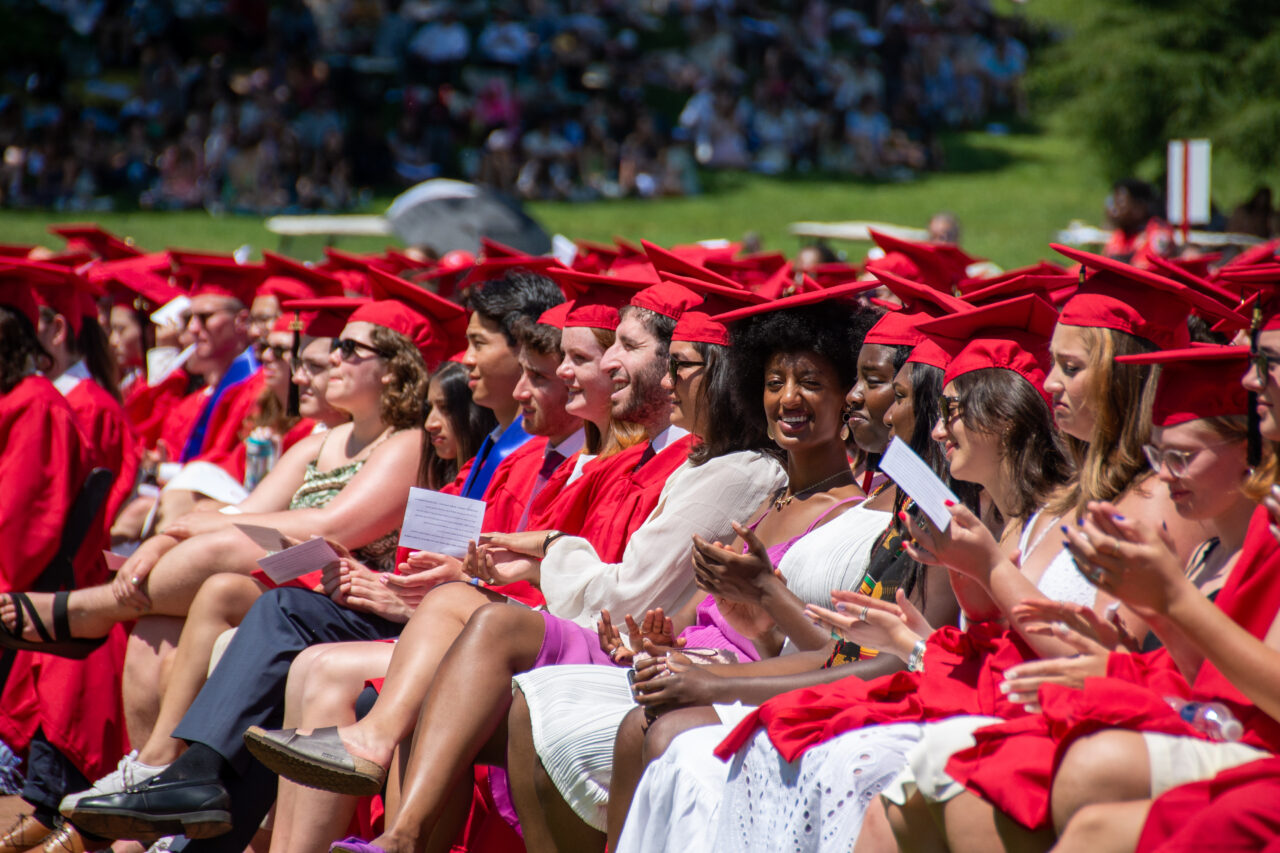 Donna Morea '76, P'06, spent her career in the tech industry and said she asked ChatGPT to help with her remarks. She inquired about the attributes of a Wesleyan graduate: intellectual curiosity, creativity, and a commitment to social justice, ChatGPT replied. She agreed. (Read the whole speech here)
She urged the graduates to think of their careers as a journey and not a destination and reminded them that you don't have to be a genius to make an impact in the world. "Most of us apply our curiosity, creativity, and commitment to make smaller contributions each and every day," Morea said.
McHugh, in thanking the University for his recognition, described the deep connection between Wesleyan and Middletown. "I quickly found out that Wesleyan is not only an outstanding education institution, but also an economic powerhouse, not only generating jobs, but using many of the businesses for products and services in our region," he said. (Read the whole speech here)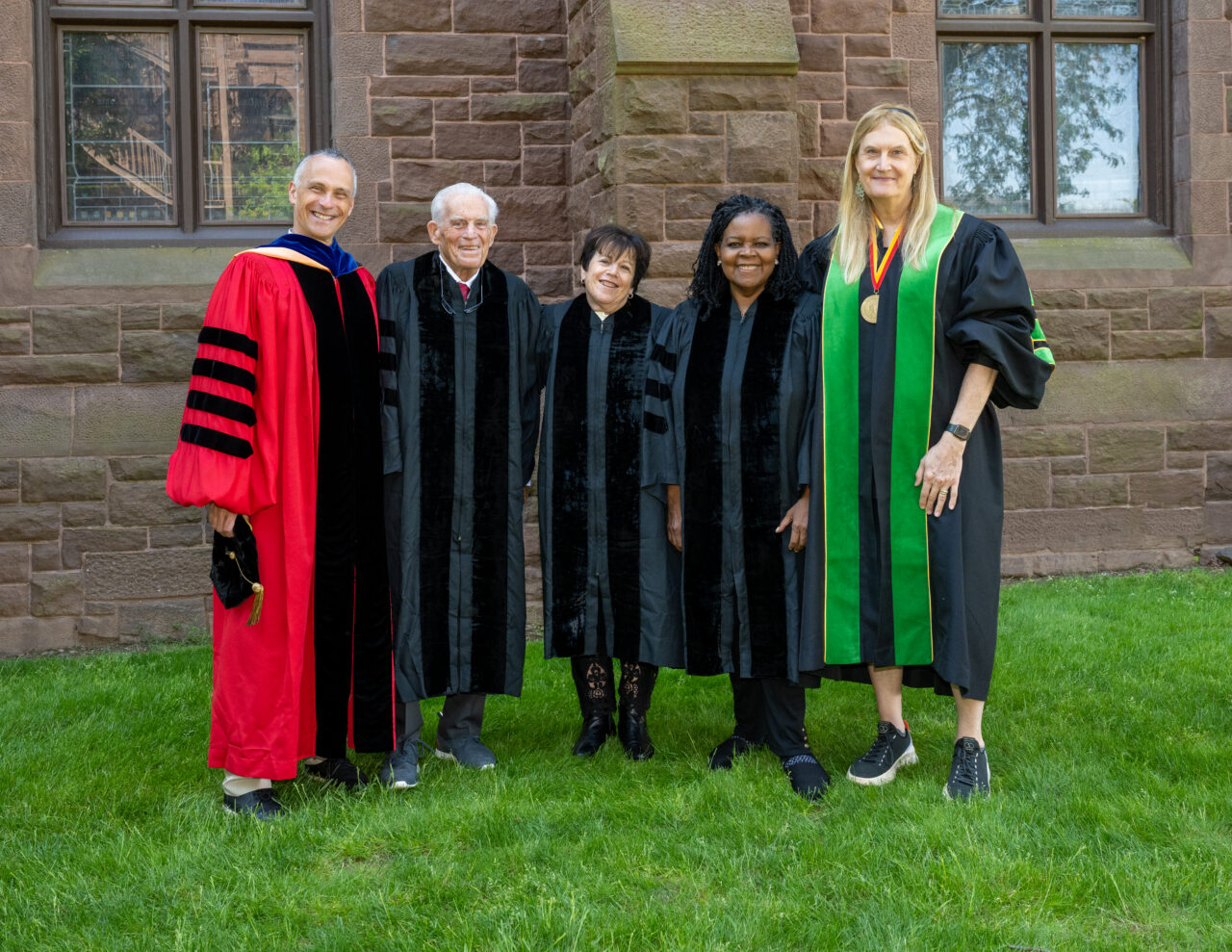 At the end of the ceremony, Rev. Tracy Mehr-Muska, one of the University chaplains, offered a blessing to the graduates, focusing on gratitude and the peace they hope to find within themselves and the world around them.  
"May you contribute meaningfully to the workings of the world in the same ways you have enriched and enlivened this university, with a spirit of hope and possibility, with yearning for self-discovery and clarity of purpose, and with compassion for all living things," Mehr-Muska said.  
Commencement is always a day for hope, for the graduates themselves, and for the accomplishments they plan for themselves and the world around them.  
"Being around Wesleyan students, you see the brightness every day … we have a bunch of high achievers here. I think if anyone is going to change the world, it is going to be a Wesleyan graduate," Followwell said.  
"I am so thankful for the past four years and excited for what's coming," said Lexie Silverman '23. 
The University recognized several faculty members for important moments in their careers. Read more about the retired faculty members here. Read more about the Binswanger Prize winners here.