Alumni Gather for Reunion and Commencement Weekend 2023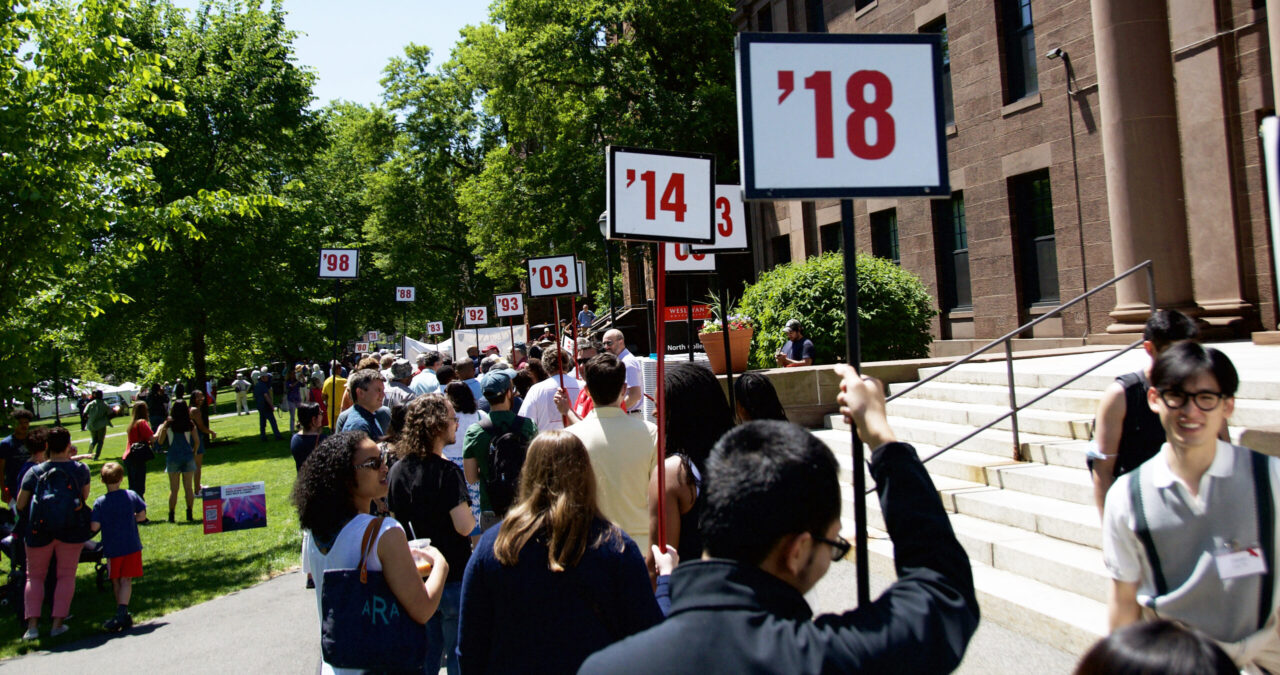 Wesleyan's past, present, and future came together on campus for a weekend of parties, seminars, and performances during the University's annual Reunion and Commencement weekend, taking place May 25 through 28. 
Over 2,300 alumni from the Classes of the '3s and '8s mingled with families and seniors about to complete their Wesleyan experience, sharing stories of their undergraduate exploits and recalling treasured Wesleyan memories.   
"I'm here to see my friends and revisit campus. It's nice to be back here," said Alana Rodriguez '13 as she lined up for the annual Parade of Classes.  
Her classmate, Genelle Faulkner '13 saw it as a welcome step back in time. "I came back because of the people," she said. "It's a chance to reconnect, get out of my everyday life, and relive being here and all the different experiences I've had here. It gets me reenergized."  
The weekend's activities were interspersed with moments of delighted recognition between old friends and remarks about how much is still the same, or conversely, how much has changed, from their time at Wes.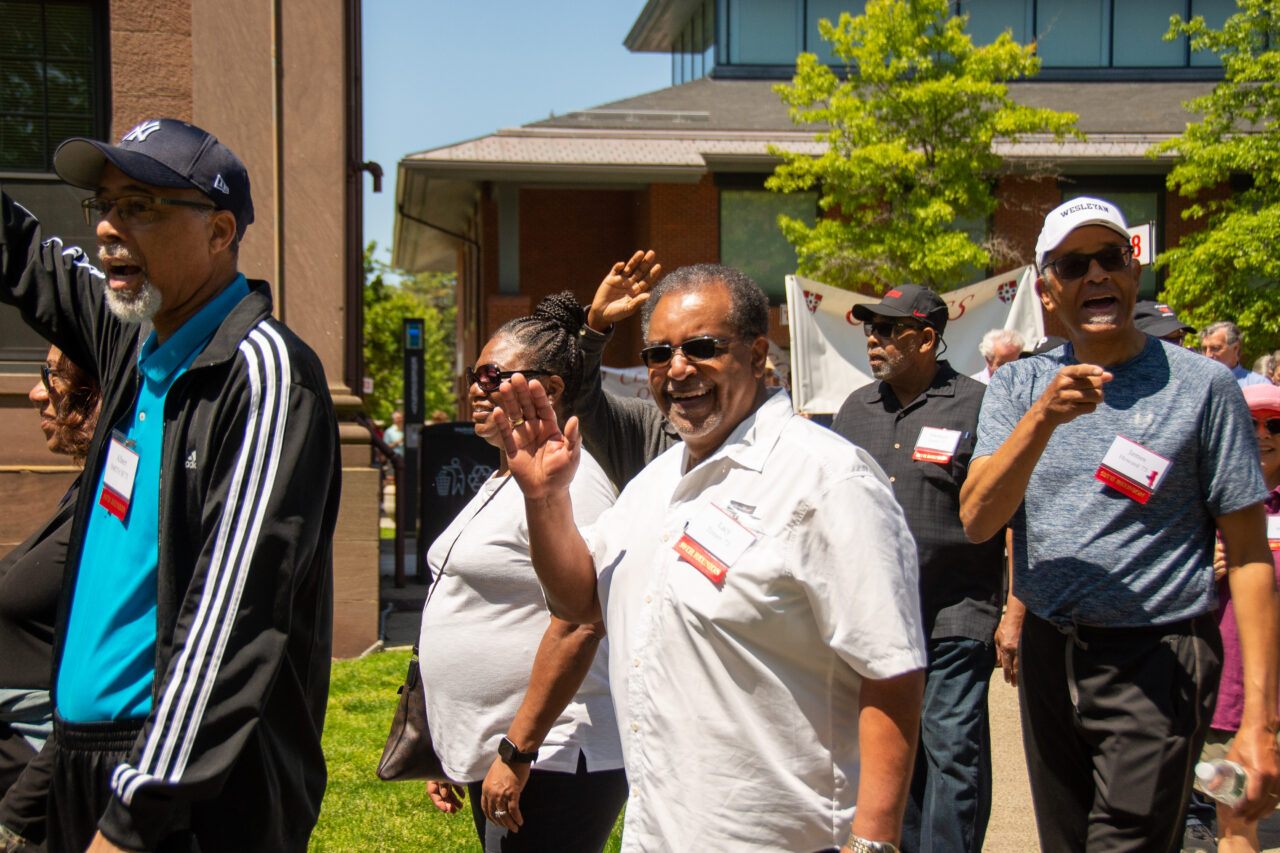 Sandy Van Kennen '66 stopped to congratulate a group of seniors in their Cardinal red caps and gowns taking photos on the steps of South College. He and a group of friends make a point to be back every year. "Coming back is like a vacation. You see some pals, see the school, give everyone gobs of trouble and have a lot of fun," he said.  
Eileen Hammond '78 last attended reunion in 2008, when then-Senator Barack Obama gave the Commencement Address. She believes that her Wesleyan education played an intrinsic role in her four-decade career as a social worker.  
"Being here exposed me to a lot of different ideas, different religions, and different cultures. As I moved through my professional life, I found that having that experience wasn't just helpful in working with individual clients, it also helped me work well with co-workers," Hammond said.  
Kirk Jackson '78 agreed. "It's a unique school. People here are very open to different experiences and different individuals. They seem to have a curiosity about life that you don't find in other places," Jackson said. 
That curiosity was on full display during the well-attended WESeminars, where alumni and families could once again take part in the free exchange of ideas and intellectual discourse that have become an important part of the reunion weekend experience.  
This year, there were conversations on alumni civic engagement, environmental policy (hosted by the newly named Essel '66 and Menakka Bailey College of the Environment), the biotech boom, improv, and the pleasures of Bollywood, among other varied topics.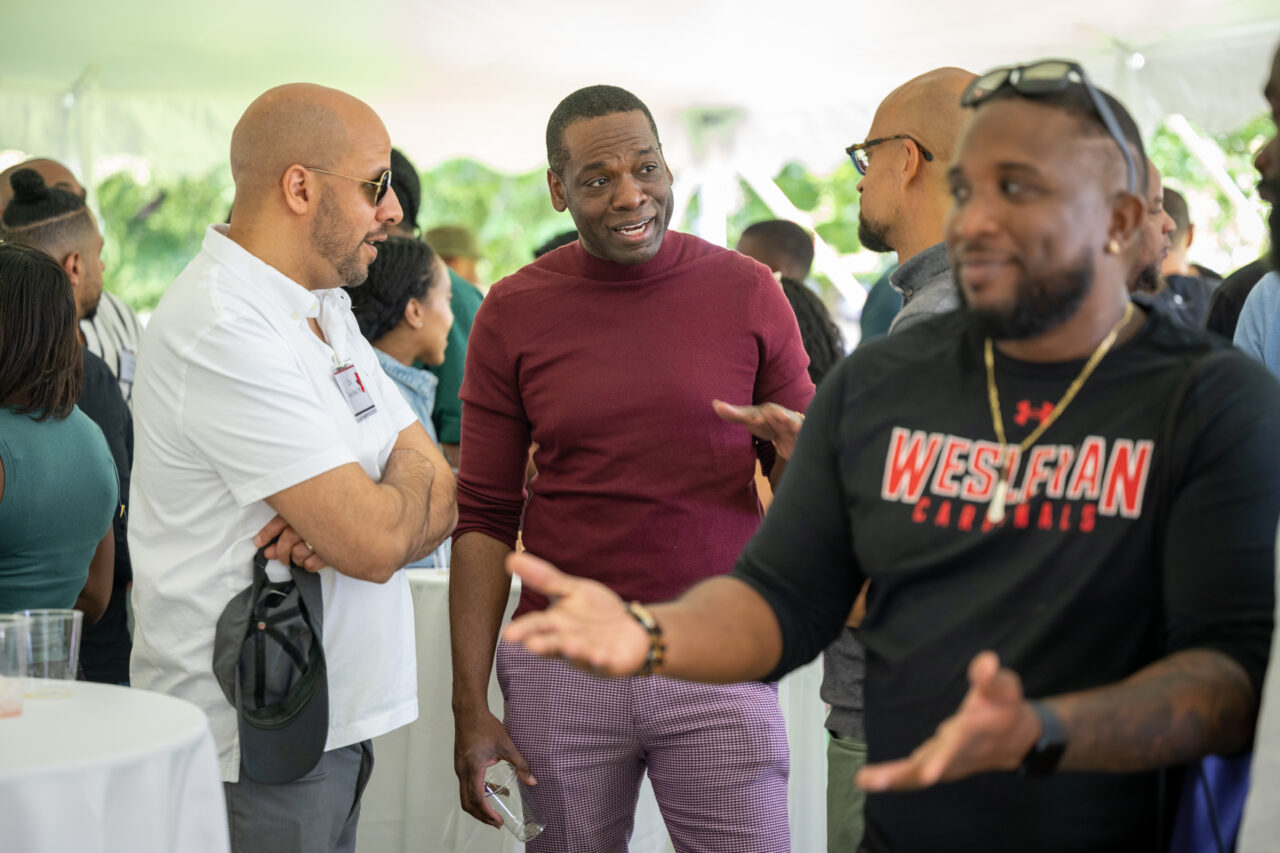 President Michael S. Roth '78 spoke to Wesleyan's rich culture of critical thinking during his speech celebrating the dedication of the Osborne Hazel P'70, GP'03 Quantitative Analysis Center. In praising former trustee Darryl Hazel '70, P'03, he said:  
"Many smart people at Wesleyan are very good at knocking stuff down. I was trained by great professors to know how to knock down an argument and how to show something that was A wasn't really A. And then there are those people who say, 'Wait a minute,' in a way that invites you to construct a better argument and have a better idea and make a more positive difference. That constructive intelligence, that imaginative capacity to make things better has defined Darryl's leadership at Wesleyan."   
Members of the Class of 1998 got together to discuss how their time at Wesleyan helped them in their careers as educators. Over 13 percent of the class made their careers in education and spoke of how the progressive nature of a Wesleyan education inspired them to evolve and become thought leaders in their profession. "It's my cohort of Wesleyan folks that really keep me going," said Aléwa Cooper '98, currently head of school at Foote School in New Haven.  
The 50th anniversary class of 1973 returned to talk about their complicated legacy. It was, in many ways, a tumultuous time at Wesleyan, a fact famously documented in a New York Times profile written at the time.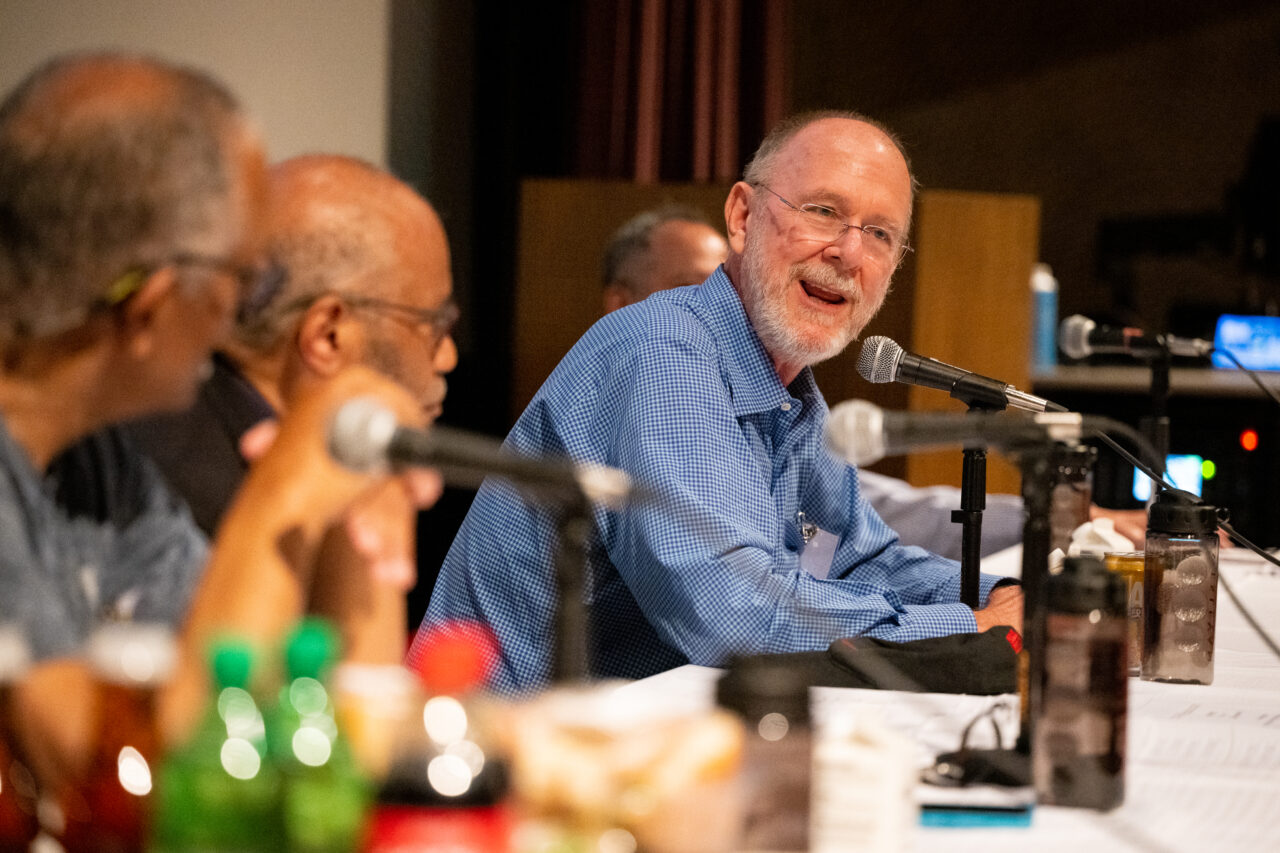 But for alumni like Ron Johnson '73, that was never the whole story. Yes, it was a challenging time, but there were also deep friendships forged and tremendous amounts of growth achieved.  
Johnson pointed to his class's success as an example of the difficulty balanced with good times. "It was an incredible experience that I am so grateful for," Johnson told his classmates.  
While the alumni enjoyed the benefit of hindsight, the Class of 2023 was focused on saying goodbye to friends and getting ready for their next steps in life.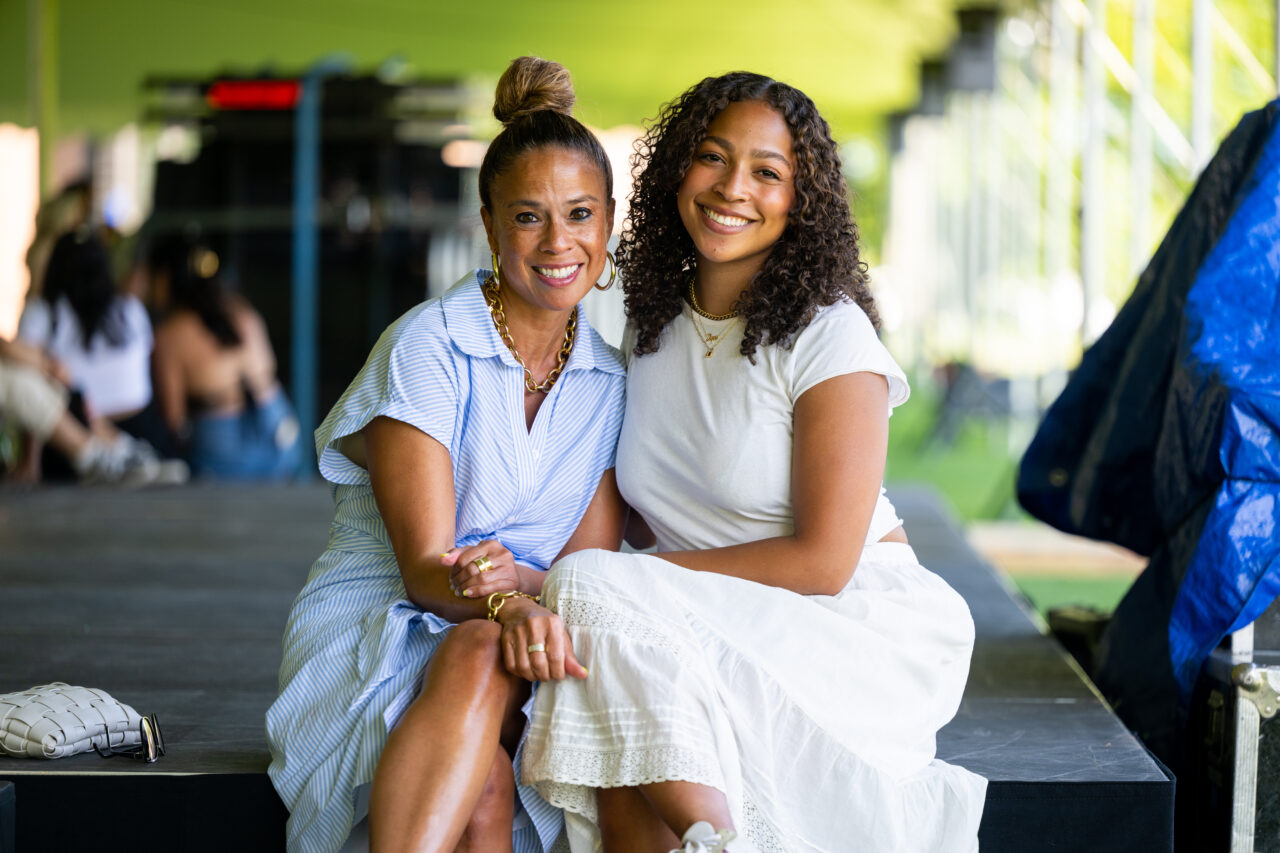 During a champagne reception on Andrus Field, Stephanie Ollie P'23 reflected on the changes she saw in her daughter Cheyanne Ollie '23 during her time at Wesleyan. Like many parents on the eve of their child's graduation, she had mixed feelings. "I am sad and happy at the same time. She has more confidence and has matured. She has developed into a young lady," Stephanie Ollie said. 
Cheyanne Ollie, on the cusp of being an alum, plans to work in the biotech industry. "The biggest thing I learned here is to be true to myself," she said. Whether on the soccer field or in the classroom, she was able to find communities of support—like generations of Wesleyans before her.  
On Saturday night, another cohort of Wesleyan alums and soon-to-be alums came together in a tent on Andrus Field, dancing to hits from the '70s, '80s, and 90s, indulging in the singular joy of celebrating under the stars again at Wesleyan, with friends old and new.