Embodying Antiracism Fellows Share Their Stories During Salon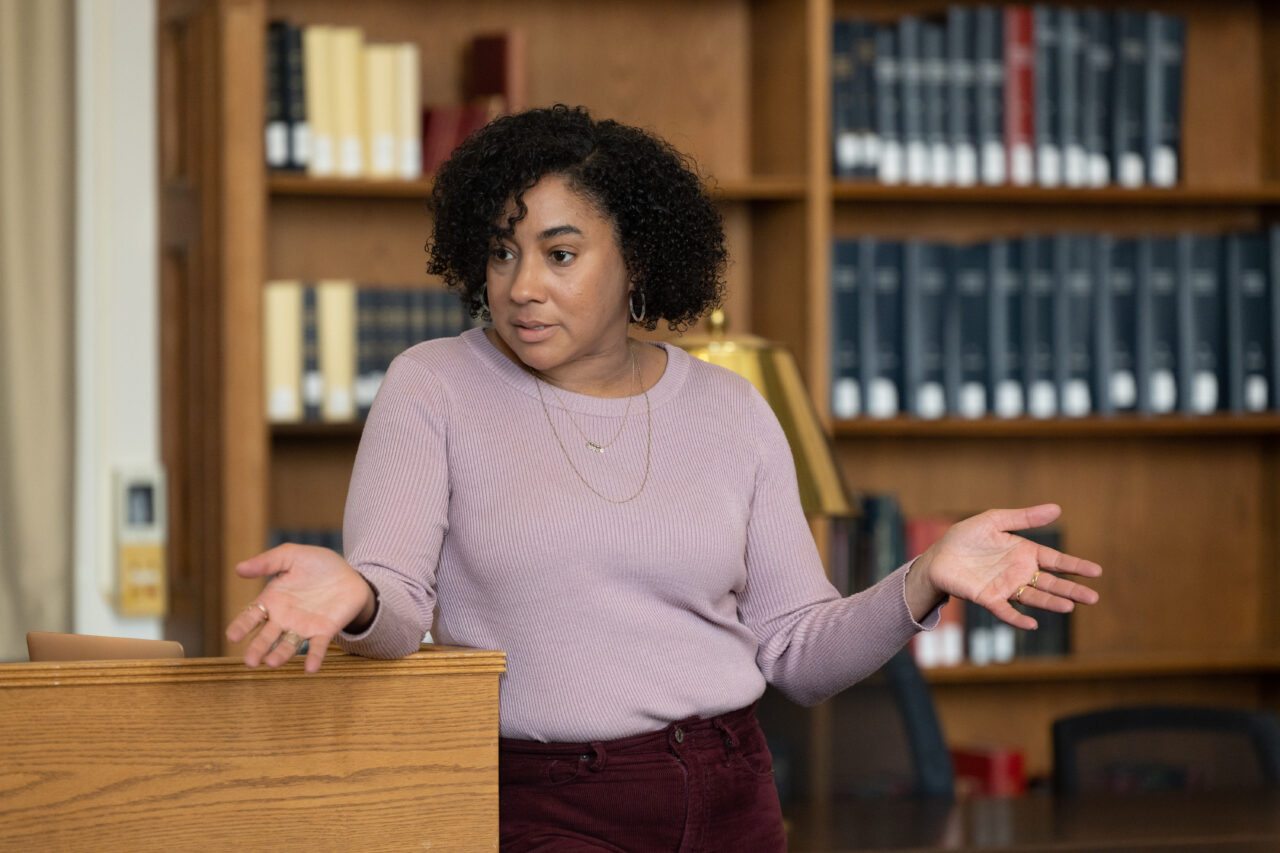 Wesleyan's Embodying Antiracism Initiative Fellows shared stories about their work this academic year during the program's Think Tank at their third and final salon this spring, held in the Library's Smith Reading Room on April 20.
Two previous salons–intimate, informal gatherings looking at works-in-progress and building community–were held in February. The initiative's Summer Leadership Institute, "The Power of We," takes place on campus from June 5 through June 11.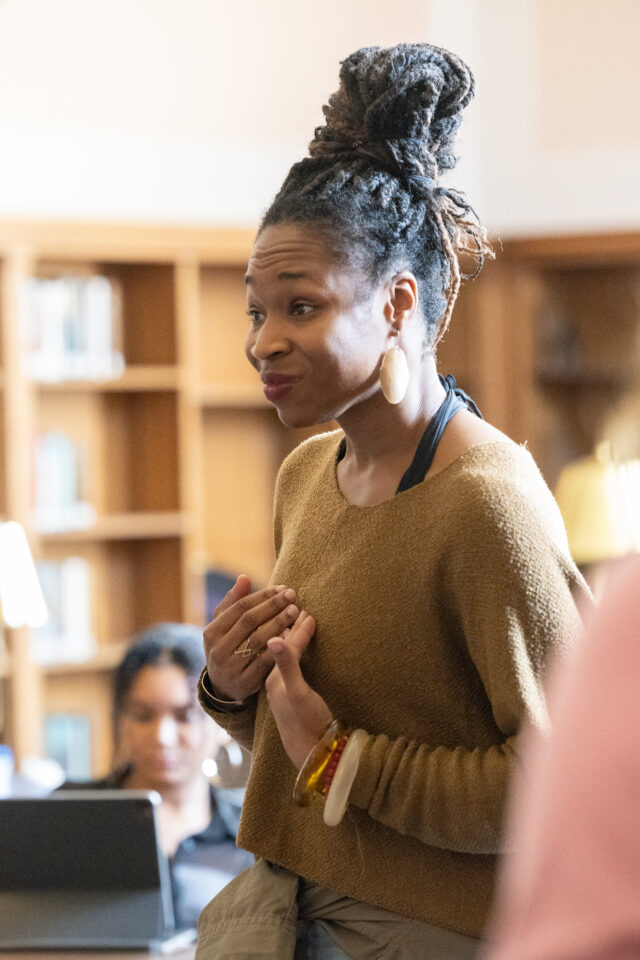 The April salon was facilitated by two Summer Leadership Institute faculty members who have worked with partnering organization Urban Bush Women: choreographer and artist Marjani Forté-Saunders, and movement coach and community practitioner Bennalldra Williams.
Forté-Saunders started the afternoon by saying that telling stories is critical in the wake of a life inherited from the trans-Atlantic slave trade. "We can build a new normal through storytelling," Forté-Saunders said.
Throughout the afternoon, Forté-Saunders continued to stress the importance of being heard, and the power of witnessing and reflecting on the testimony of others–being the net that catches their stories. "Public gathering is a chance for change that happens in small spaces," Forté-Saunders said.
Community Fellow Sacha Armstrong-Crockett, a former pre-kindergarten assistant teacher turned luxury realtor who has sold over $30 million in inventory, spoke about the institutional racism she has faced as a wife, mother, and organizer in the Middletown community. Growing up in the suburbs of Connecticut, she felt she had to shrink to fit in, and said there has to be a new way. "I feel is it less possible to move things in the right direction due to white supremacy," Armstrong-Crockett said.
She has been afraid to bring other Black women into some spaces that were meant for community building in Middletown, fearing they would not be safe, and might be re-traumatized with feelings of pain.
Seeking equity of information and education, Armstrong-Crockett founded the Connecticut Home Collective and created Foundations, a restorative approach to fair-housing education for clients struggling with homebuying due to other systemic trauma and targeting. The free curriculum focuses on learning, healing, and acting with thoughtful community engagement around housing for all.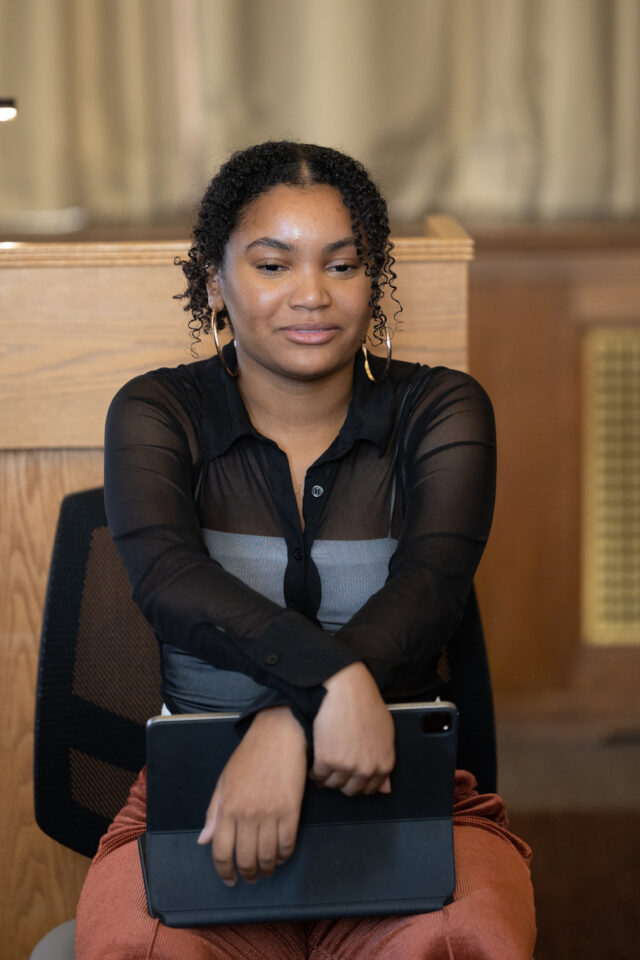 Student Fellow Courtney Joseph '25, a prospective pre-law triple major in American Studies, Education Studies, and Theater, presented a theatrical monologue about her life as a Black woman, which she previously shared during New Student Orientation. She said other people second-guess and try to invalidate her experience as a Black woman, claiming to be antiracist while using offensive words and humor. "It's never too late to listen, think about your actions, and change your way of thinking," Joseph said.
Joseph thrives when pursuing and performing theater and dance. For her thesis on revolutionary political Black theater, she plans to stage works with casts that feature all women of color, including plays she read last fall in "Staging Blackness: African American Theater," taught by Associate Professor of English, Theater, and African American Studies Rashida Z. Shaw McMahon. "Plays have the power to frame relationships," Joseph said.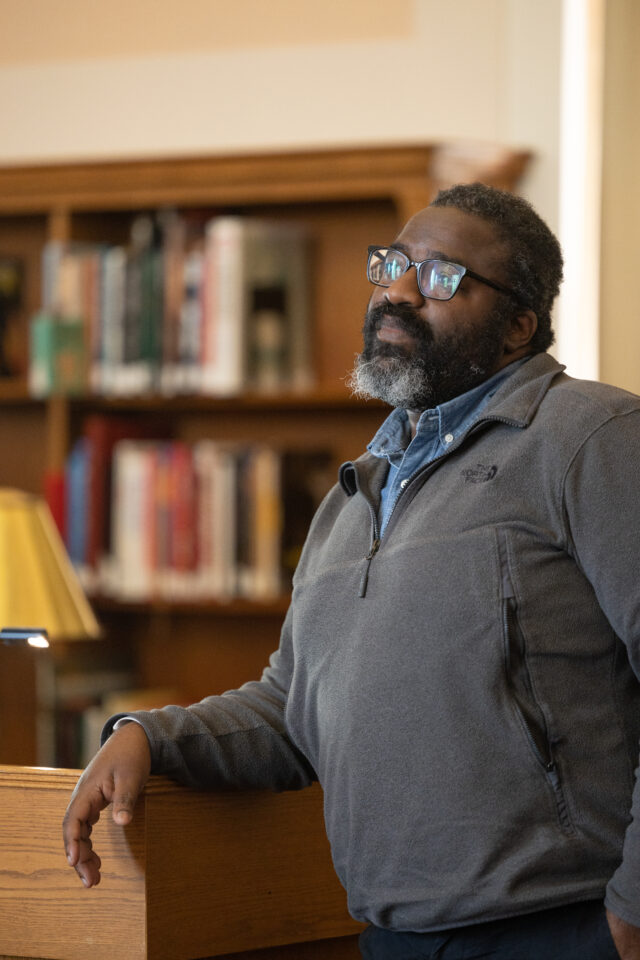 Faculty Fellow and Assistant Professor of Economics Karl Boulware said he sometimes feels isolated in spaces that are extremely hostile to talking about race in the field of economics. He is trying to find a constructive pathway that explains what people of color are dealing with. At Wesleyan, he is helping to create an antiracist community through mentorship and support of students, and praised the work of various campus spaces, including the Resource Center and the Library.
"We are all facing a lot of the same things," Boulware said of the stories he heard from the other fellows.
Boulware then presented his current research interest combining macroeconomics and race,  including stratification economics–which attempts to explain the drivers of inequality outside of individual choice. "The paradox is, capitalism led to higher standards of living, but also the destruction of other cultures that were more sustainable," Boulware said.
He is trying to define gentrification within neighborhood revitalization after long-term urban decay, and the related demographic transitions involved, including changes in class, race, and ethnicity. "Why do Blacks suffer more in recessions and benefit more in expansions?" Boulware said, describing the topic of his next paper.
Boulware is also exploring why people of color are under-represented in the field of economics, and talked about how the discipline will have to adjust in order to support current and future Black and Hispanic economists.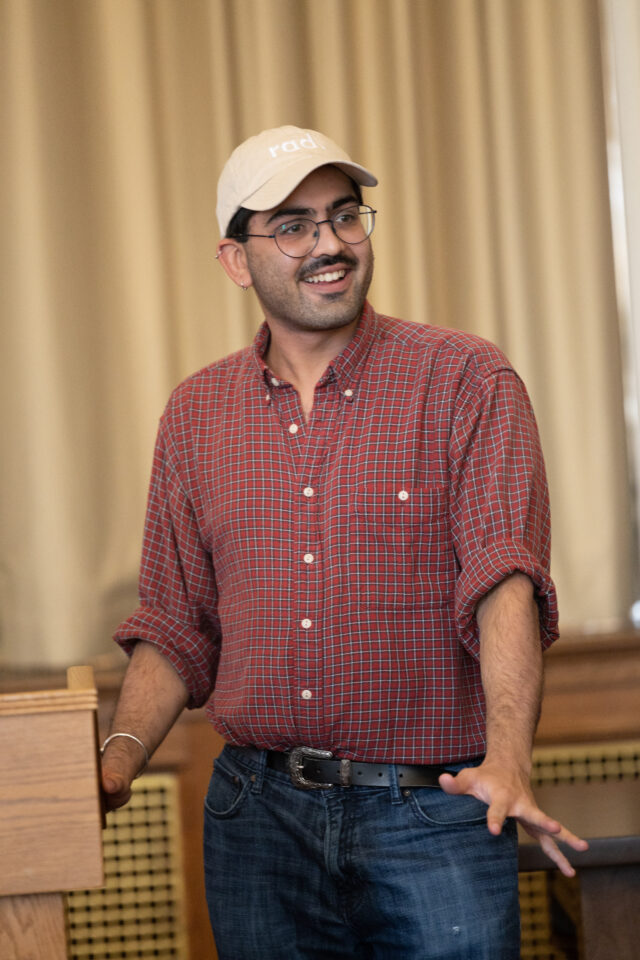 Visiting Guest Artist Fellow Ryan Dobrin '18 talked about his collaborative work as one of the four Producing Artistic Leaders of The Movement Theatre Company in Harlem, where he initially interned after studying Theater and Italian at Wesleyan. Dobrin was also a co-founder of the student of color theater collective SHADES. The Movement Theatre Company has a concept of universal leadership. "Everyone has an equal investment in enacting decisions and making choices," Dobrin said.
The Movement Theatre Company's recent production "What to Send Up When It Goes Down" by Aleshea Harris examined police brutality and state-sanctioned violence against Black people. The production was a space for Black audiences to enter and heal, while non-Black audience members could support and witness that ritual. Work like this requires a special level of thought, Dobrin said. "Care needs to be taken," Dobrin said.
Armstrong-Crockett, like the other fellows at the salon, hopes to build something better in the community, and for there to be an organic, sustainable partnership established between the Wesleyan campus and the people of Middletown. "We need help," Armstrong-Crockett said. "We can't do this by ourselves."
All photos courtesy of Wesleyan University's Center for the Arts. Images by Sandy Aldieri of Perceptions Photography.