Arts, Ideas, and Activation: Embodying Antiracism Fellows Share Creations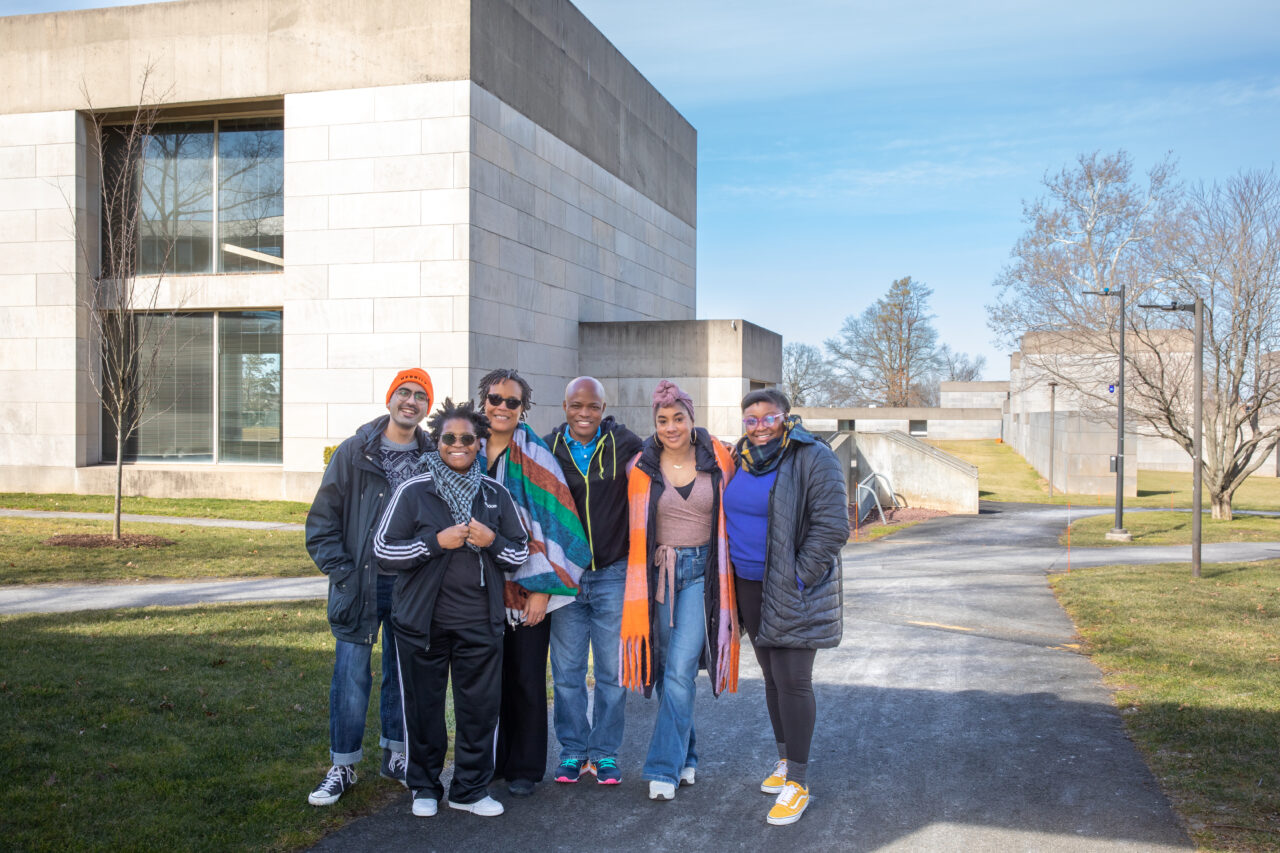 Through a series of intimate and informal salons, Wesleyan's Embodying Antiracism Initiative Fellows shared some of the work they have created this year during  the program's Think Tank.
The salons are mini-festivals of arts, ideas, and activation, looking at works-in-progress and building community, said Stephanie McKee-Anderson, Executive Artistic Director of partnering organization Junebug Productions and Special Advisor to Provost Nicole Stanton.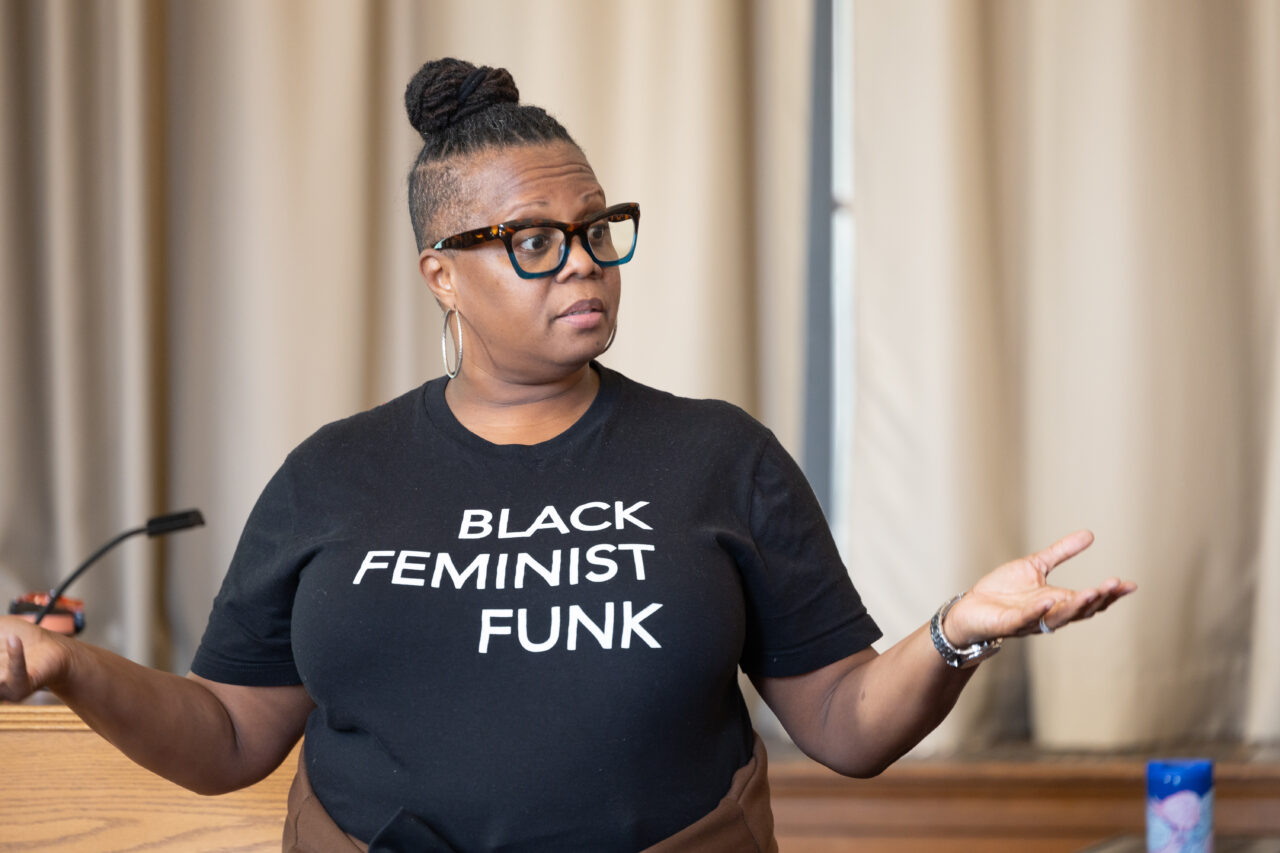 A Fellow might have the seed of a creation, so a salon could be a helpful place to dialogue about that idea, while the others might act as thought provocateurs. "What questions make a creator more excited about their work and ask more questions of themselves?" asked McKee-Anderson.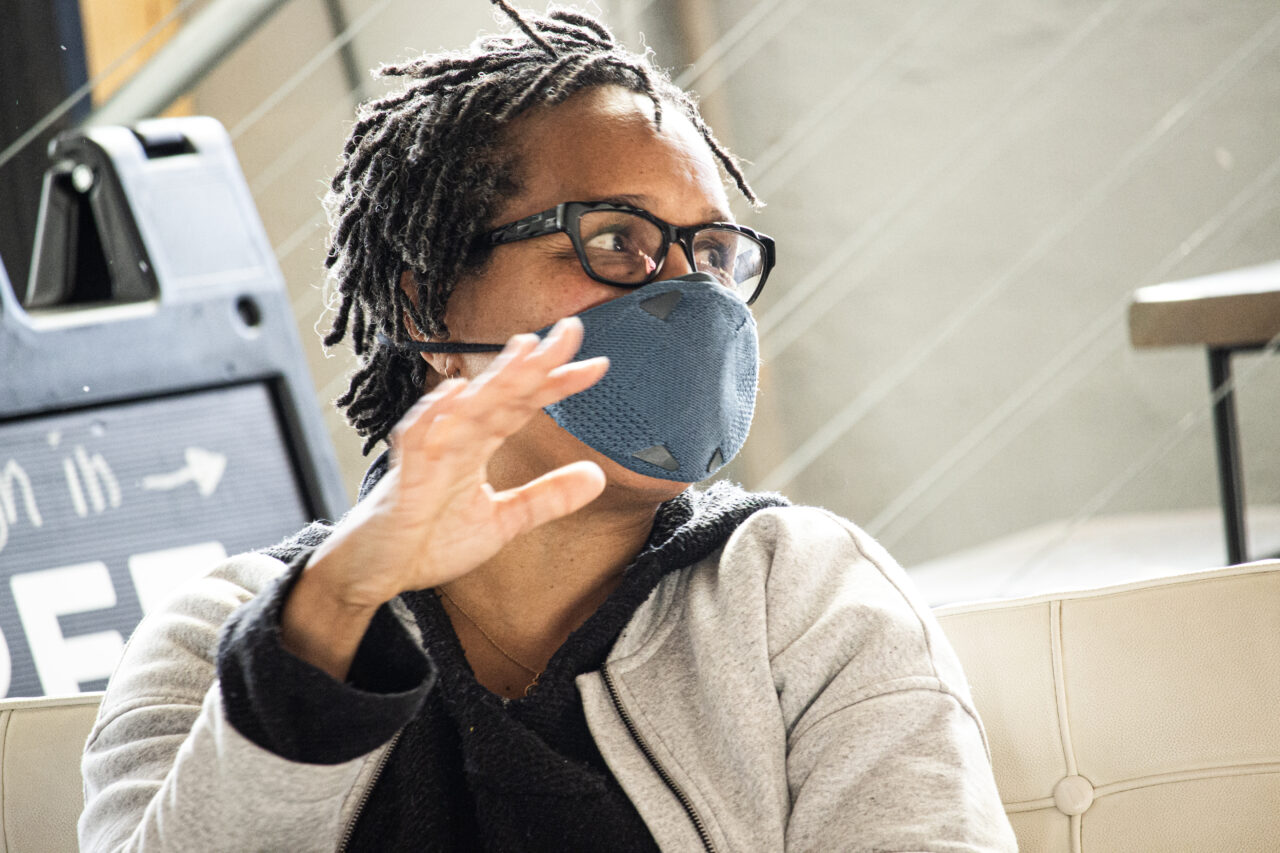 The first salon was held at The Free Center in Middletown on February 2. Faculty Fellow Tracy Heather Strain highlighted two sections of her recently released film, "Zora Neale Hurston: Claiming A Space," in which Hurston faced unfair gatekeeping around her academic pursuits. The film is available to stream for free until 2026.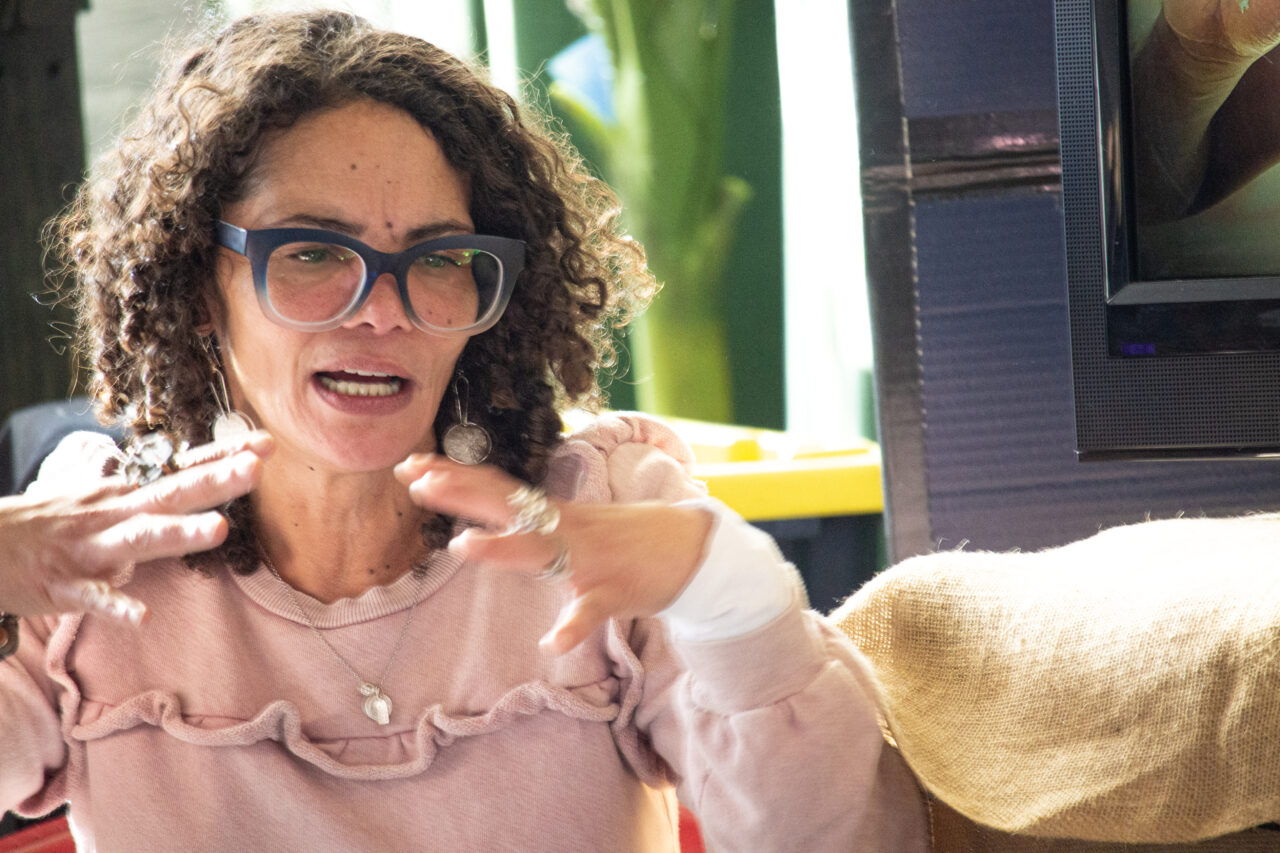 Community Fellow Kerry Kincy talked about her work as Director of The Free Center. Over the past three years, the space on North Main Street has hosted events at the intersection of art, culture, and wellness, including the inaugural performance of Toshi Reagon's artist residency at Wesleyan. The center's programming model, which started at their New Britain Avenue location in Hartford, can be replicated in other communities, allowing for strategic and meaningful collaborations with other institutions, Kincy explained.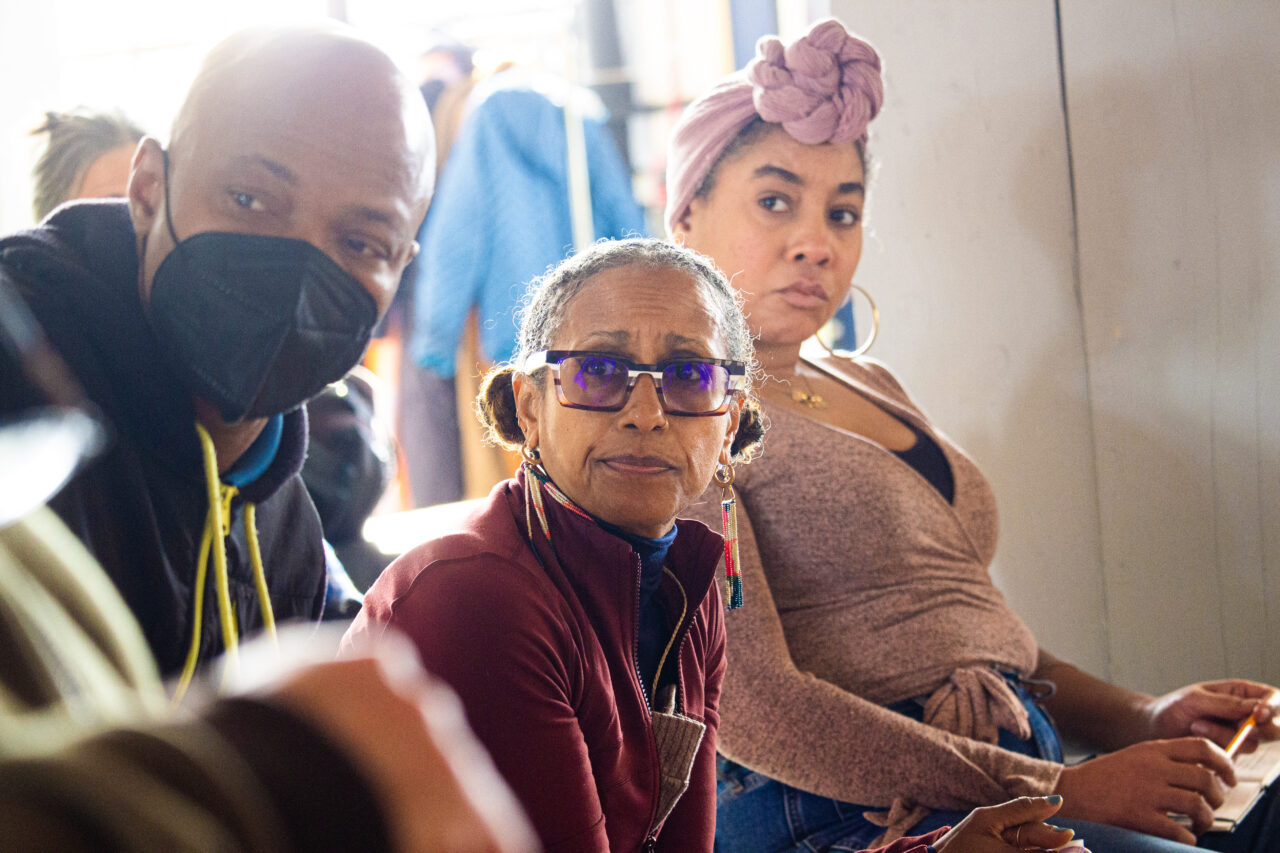 After leading a movement exercise, Visiting Guest Artist Fellow nia love updated the group on the development process for her work "UNDERcurrents." The multi-media installation, which premieres at Harlem Stage from May 4 through 6, looks at the trans-Atlantic slave trade's relationship to ecology. She is collaborating with architect and Visiting Guest Artist Fellow Jerome Haferd to reimagine the Clotilda, the last known ship to bring captives from Africa to the United States. "Do bodies reach the bottom of the ocean?" asked love, whose choreography is based on her experiences with water.
The second salon was held in the Library's Smith Reading Room on February 24.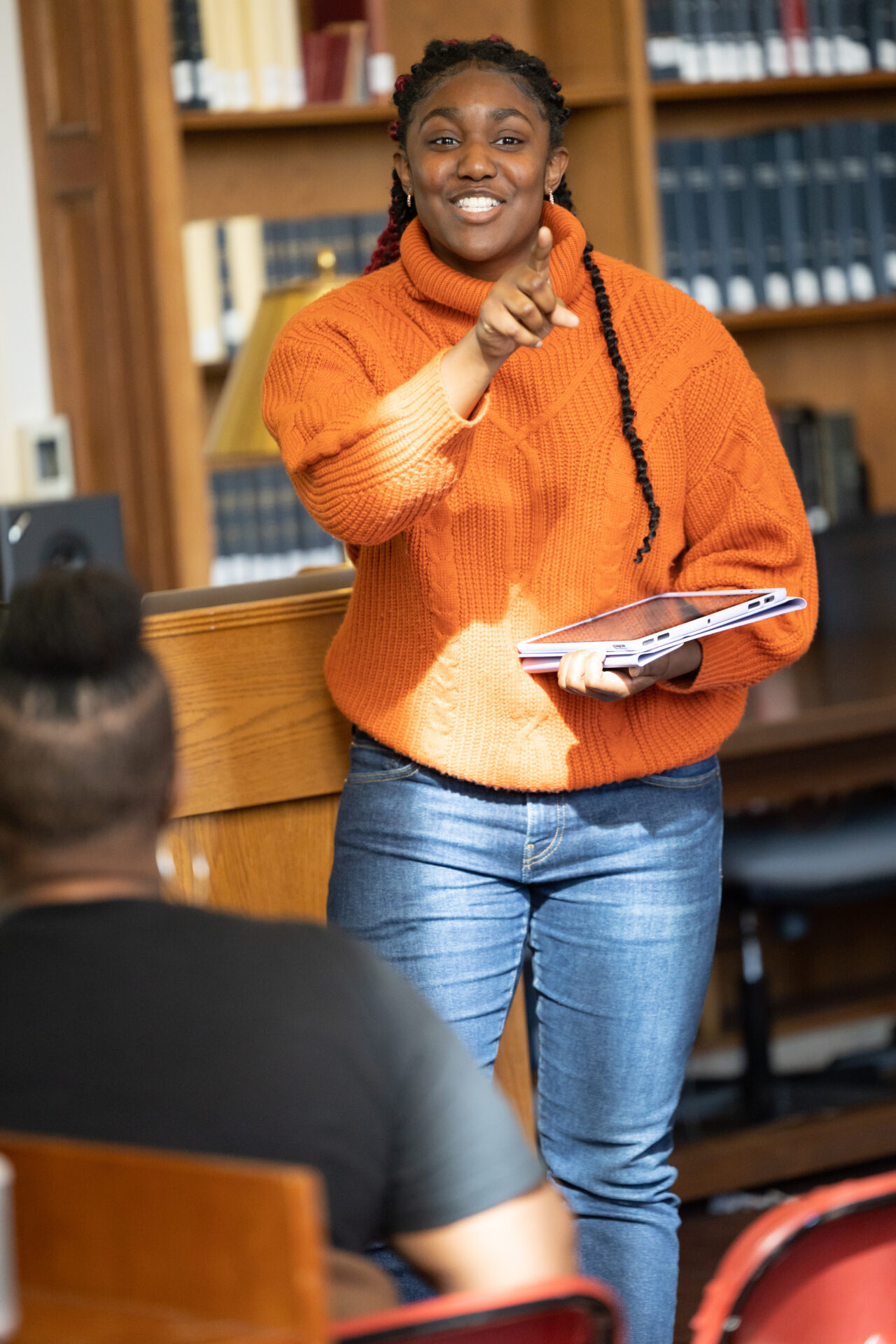 Student Fellow Olivia Adams '23 detailed the fantasy drama television show she has been writing as part of her senior thesis for Film Studies. Her main character struggles to fit in with the other immortal gods portrayed in the series, amplifying universal themes of purposelessness, loneliness, and death. "Often, we feel like 'what are we doing here?'" said Adams.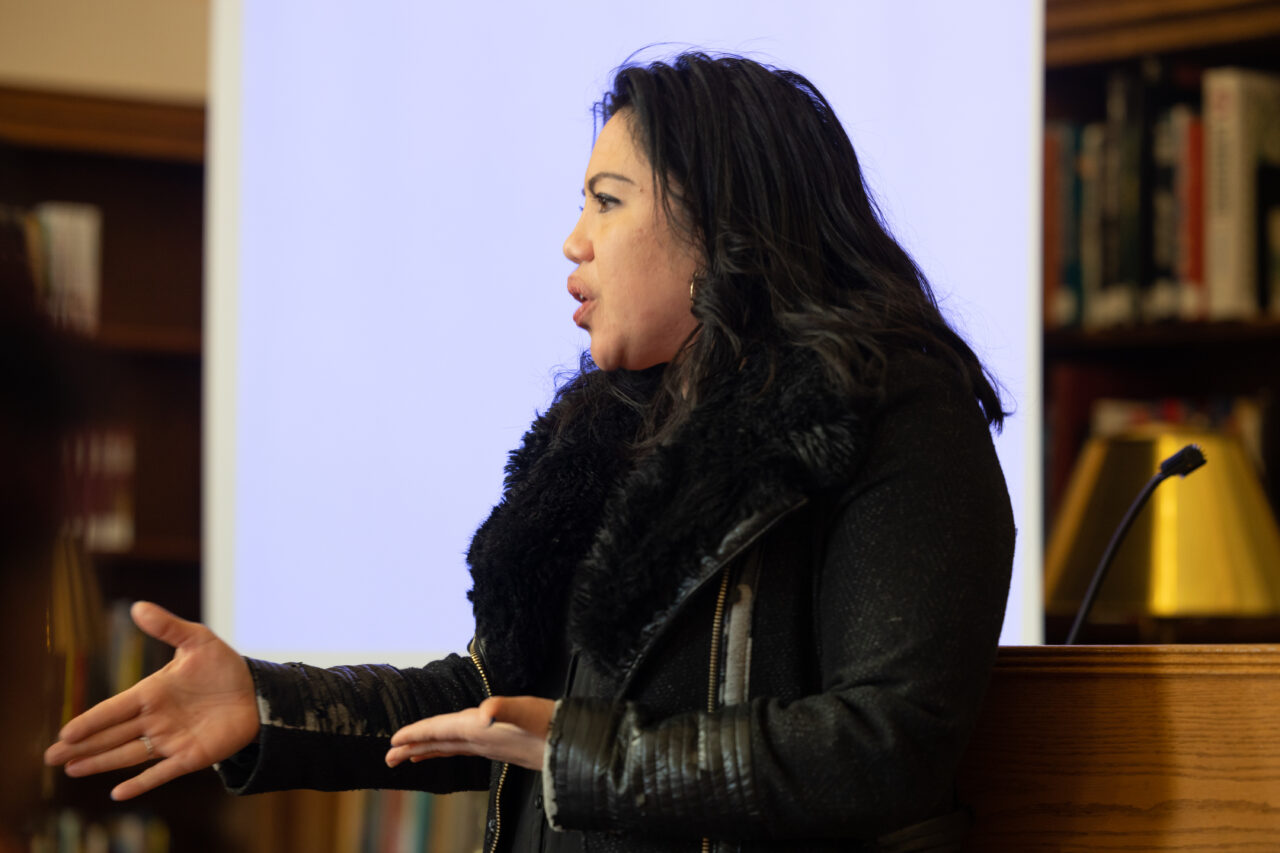 Faculty Fellow Maria-Christina Oliveras, who had recently finished a run in "Between Riverside and Crazy," talked about teaching the acting class "It's All Greek to Me" this semester, in which her Wesleyan students examine and adapt classical texts. McKee-Anderson noted that classics can be reshaped to reflect the contemporary culture.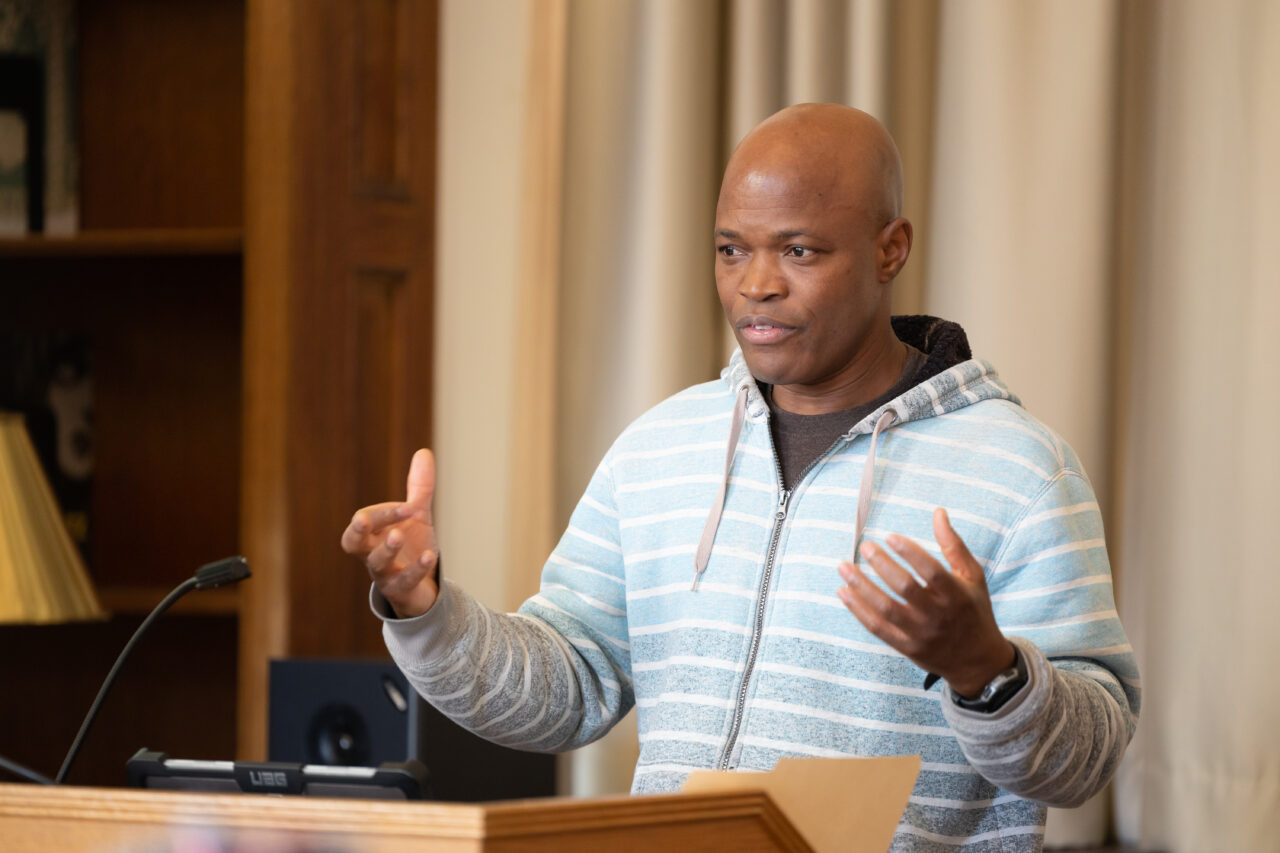 Faculty Fellow Iddi Saaka led a movement exercise before he presented video excerpts from a rehearsal of the collaborative work "Red Line," which later premiered to a capacity crowd on March 4 in the Cross Street Dance Studio. The democratic environment created by Saaka allowed the six scholar-artists to interrogate how one's place of origin can either open or close doors of opportunities. The group shared their dynamic stories, committing to three-hour rehearsals every Saturday morning starting in September 2022. "We had deep, difficult, not easy conversations," said Saaka.
The common themes that came up from their experiences included confusion, perseverance, complacency, and joy in the midst of pain and mourning, topics they further explored in rehearsal. The resulting 40-minute public performance of "Red Line" the next weekend included spoken word and singing by guitarist Kwamena Blankson.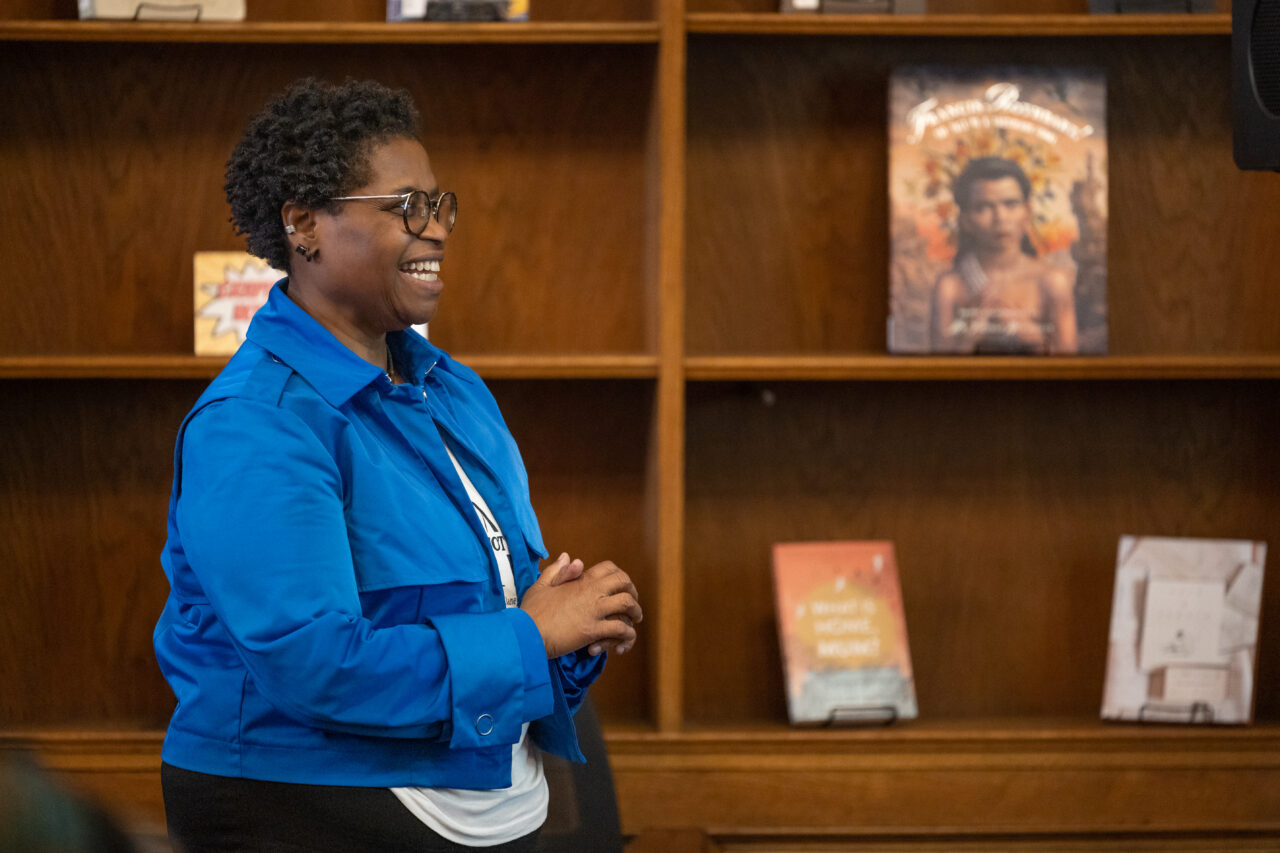 Community Fellow Barbara McClane presented a public book talk about her new memoir, "Blessed Not Bitter: The Barbara McClane Journey," in the Smith Reading Room, the same venue in which the salon had taken place earlier that afternoon. She read excerpts detailing her efforts to work through various traumas, including mental, physical, and substance abuse­–from being a foster child and an underage runaway in New York, to going into a treatment program.
"Trauma is not a straight line," said McClane. "There are no straight lines … I survived. I'm only here by God's grace, and I know that."
Following the book talk, McKee-Anderson asked McClane what advice she would give to someone who wants to write something that might speak to someone else. The best advice McClane received was to just write it and get it out, since you're not writing for you—you are writing for someone else. "Everyone has a story, and their story is just as important as mine," McClane said.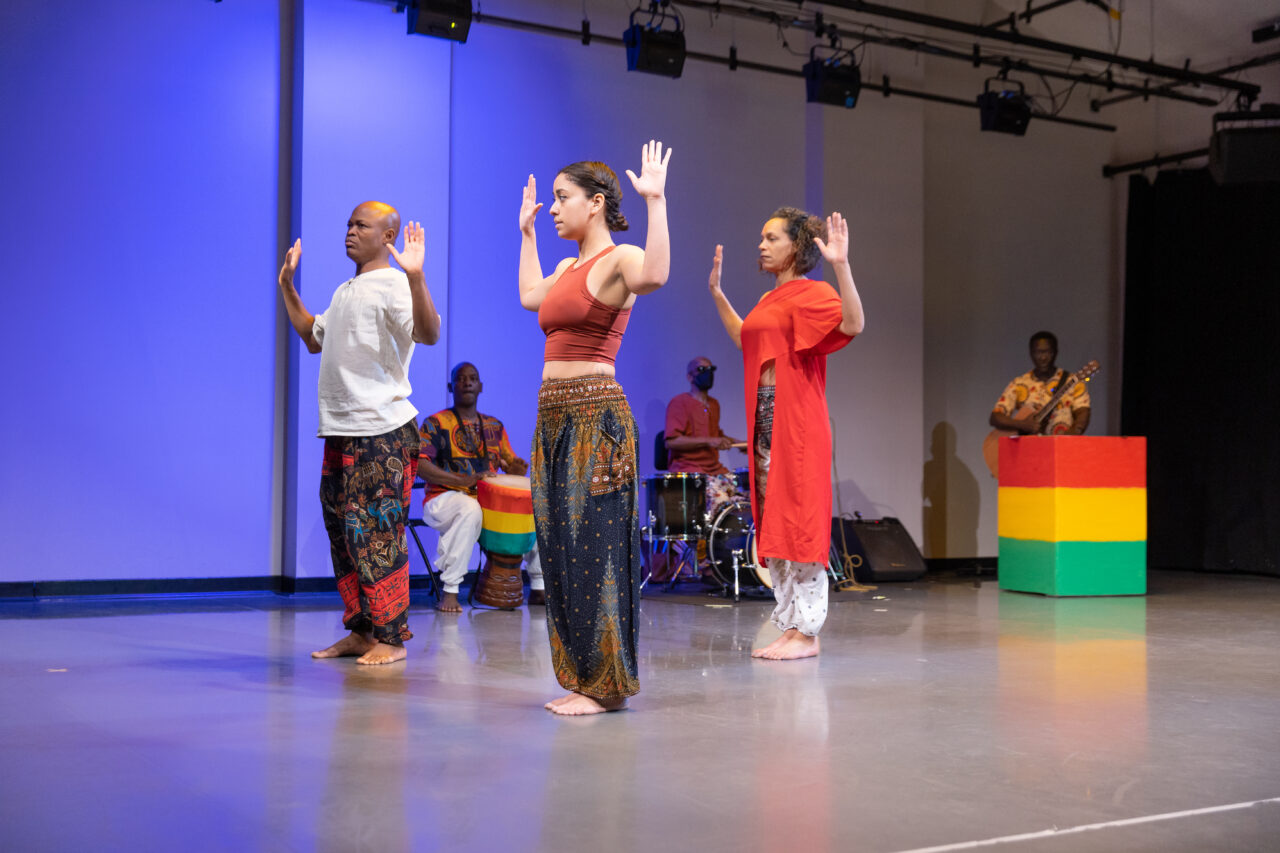 The salon setting allowed the Fellows the chance to discuss sensitive—and crucial—topics. For example, Oliveras brought up representation, and the range of narratives available to playwrights based on race. Film director Strain mentioned the respectability politics faced by both Hurston and playwright Lorraine Hansberry, who Strain profiled in the 2017 film "Sighted Eyes/Feeling Heart." Architect Haferd said he has felt the need to "code switch"—when an underrepresented group adjusts their language, behavior, or appearance to fit into the dominant culture—his queerness, even in spaces that are predominantly people of color, to fit patriarchal norms.
In all instances, the salons were a safe place for exploration, creativity, and the opportunity to think about a more just and inclusive world.
The Embodying Antiracism Initiative's Summer Leadership Institute, "The Power of We," will take place on the Wesleyan campus from Monday, June 5 through Sunday, June 11, 2023. Applications are due on Monday, April 3, 2023. For more information and to apply, please visit: https://www.wesleyan.edu/embodyingantiracism/summer-leadership-institute.html