Seven Faculty Members Announce Retirements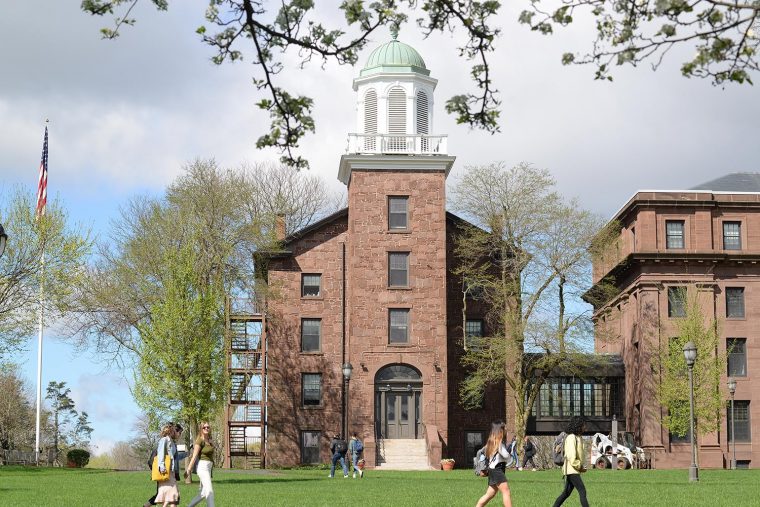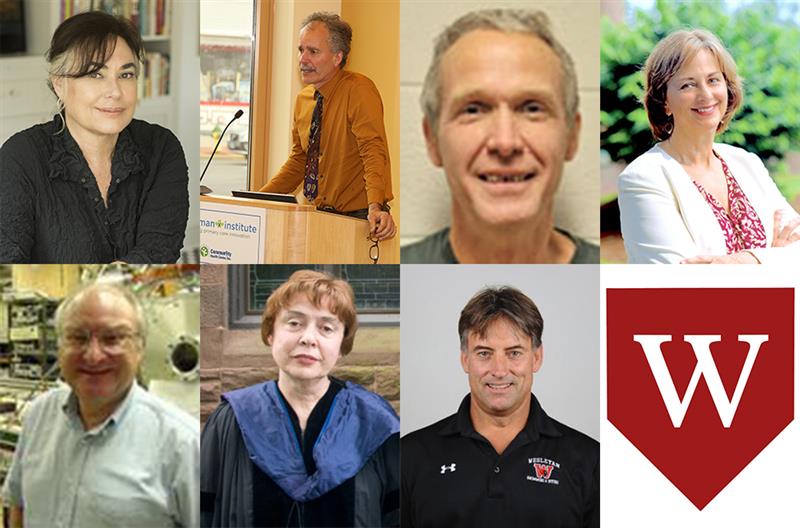 For many of the faculty members retiring from Wesleyan this year, representing over two centuries of academic experience, the joy of their time at the University comes down to their work with students.
Amy B. Bloom '75, Shapiro-Silverberg Professor of Creative Writing; Stephen Henri Devoto, professor of biology; Fred M. Ellis, professor of physics; Janice R. Naegele, Alan M. Dachs Professor of Science; Stewart E. Novick, Joshua Boger University Professor of the Sciences and Mathematics; Irina M. Russu, E. B. Nye Professor of Chemistry; and Peter Gordon Solomon, adjunct professor of physical education announced their retirements and will receive emeritus status at Wesleyan's 191st Commencement, to be held May 28.
Bloom, who joined the University in 2010 after a brief period as a visiting writer in the mid-1990s, recalled both her warm welcome from Elizabeth Willis, a poet and professor in the English department, and her final class, which she celebrated on her back porch. In between those two markers in time, she found a community where students were creative, challenging, surprising, and fully present. It is what she believes to be the ethos of the Wesleyan classroom experience. "I came to Wesleyan to teach, and I came to Wesleyan to be as much of a support as I could and to be a persuader on behalf of the creative writing community," said Bloom, a New York Times best-selling writer and director of the Shapiro Writing Center.
Ellis spent his academic career engaged in experimental investigation of exotic wave systems, macroscopic quantum phenomena, thermodynamics, acoustics, and electronics. "Looking back on my career, I think I'm most satisfied with the opportunity that I had to share my love of nature, physics, math, and philosophy with a younger generation of students. From impressionable third graders to eager graduate students, I have always considered this as the best repayment for my own good fortune, similarly enabled by those who influenced me in my own youth," Ellis said.
Naegele has held multiple roles at Wesleyan since she joined the institution in 1991. As a biologist and neuroscientist, her main area of research has focused on the problem of brain injury, studying mechanisms of cell death, and stem cell therapies for replacing damaged neurons in epilepsy. As dean of natural sciences and mathematics, she was proud of being instrumental in an institutional effort to achieve greater faculty diversity at Wesleyan.
"I'm most proud of the many studies that my research group has published that have revealed the incredible regenerative potential of neural stem cell transplantation for repairing brain injury to treat epilepsy. It has been a thrill to do this research with nearly 100 Wesleyan undergraduates and graduate students. Many of these exceptional students have stayed in touch over the years. I love hearing from them about their careers and milestones in their personal lives," she said.
Devoto also pointed to important research as a hallmark of his career at Wesleyan. "My PhD students published seminal research papers that profoundly advanced our understanding of embryonic muscle development. I'm proud that the Devoto Lab at Wesleyan was one of the top labs in the world working on zebrafish muscle development," he said.
Peter Solomon has had plenty of success over the past 11 years as Men's and Women's Swimming & Diving Head Coach, including coaching 10 NCAA Qualifiers and bringing six women to the 2019 NCAA Championships. "What I will miss the most are the day-to-day interactions with the swimmers and divers, as well as the relationships that I have enjoyed over the years with so many supportive parents, and alumni who have become some of my closest friends," he said.
For some of the professors, a life of the mind is hard to put away. For example, Bloom is working on two books for her "very patient publisher." Naegele will be organizing an alumnae symposium at Wesleyan in neuroscience and behavior and continue to serve as a faculty mentor. "Beyond that, my husband Paul and I are planning to travel and do some hiking in the Southwest," Naegele said.
Still others are looking forward to the calm. Ellis plans to devote time to his family after balancing the passion of his academic career with his family life. Solomon is an avid hiker, runner, and cyclist and hopes to get back into training. "With plenty of adventures left on my bucket list, and a life birding list that is just shy of 500 species seen in North America, I will have no problem keeping busy in the years ahead," Solomon said.
FACULTY EMERITUS BIOS
Amy B. Bloom '75
SHAPIRO-SILVERBERG PROFESSOR OF CREATIVE WRITING (2016 – 2023)
Professor of the Practice in Creative Writing (2016 – 2022)
Distinguished University Writer-in-Residence (2014 – 2016)
University Writer-in-Residence (2010 – 2014)
Visiting Writer (1994 – 1995)
Amy Bloom is the author of four novels: White Houses, Lucky Us, Away, and Love Invents Us; and three collections of short stories: Where the God Of Love Hangs Out, Come to Me (finalist for the National Book Award), and A Blind Man Can See How Much I Love You (finalist for the National Book Critics Circle Award). Her first book of nonfiction, Normal: Transsexual CEOs, Crossdressing Cops and Hermaphrodites with Attitudes, is a staple of university sociology and biology courses. Her most recent book is the widely acclaimed NY Times bestselling memoir, In Love. She has written for magazines such as The New Yorker, The New York Times Magazine, Vogue, Elle, The Atlantic Monthly, Slate, and Salon, and her work has been translated into fifteen languages. She is the Director of the Shapiro Center at Wesleyan University.
Stephen Henri Devoto
PROFESSOR OF BIOLOGY (2012 – 2022)
Associate Professor of Biology (2004 – 2012)
Assistant Professor of Biology (1997 – 2004)
Devoto works on the basic biology of muscle stem cells and the development of the spine. His work is relevant to congenital spine defects, to muscle repair following injury, and to environmental effects on embryonic patterning.  He uses the zebrafish as a model organism. He and his labmates identified the embryonic origin of the muscle stem cells that underlie all muscle growth during post-embryonic life and muscle repair following injury. They are testing the role of a gene regulatory network involving TBX6, RIPPLY1, and MESP-B in the development of these embryonic muscle stem cells. Mutations in these genes are found in patients with congenital spine defects, and the Devoto lab is characterizing spine development in wild type and mutant zebrafish exposed to environmental stress, to understand the relationship of genes, environment, and abnormal patterning.
Devoto moved to Northern California a few months after being born in Cambridge Massachusetts to a Dutch mother and a Californian father. His early education was in California, Bavaria, and Georgia. He always wanted to understand how complicated devices work, and aimed for medical school to gain an understanding of the complex human organism.  At Haverford College, he learned how wonderful and complicated cells are, and that understanding them was not the province of medicine. He earned his PhD at The Rockefeller University, working on the development of the brain. He then trained at Duke University, working on the molecular biochemistry of a protein involved in cancer. He did further training at the University of Oregon, where he began working on muscle development. Devoto came to Wesleyan in 1997. He lives on a 5-acre hobby farm in Middletown, raising turkeys, chickens, and pigs for meat, and bicycling to work. Devoto is very active in municipal politics and government, he was elected to the Middletown Planning and Zoning Commission in 2013, and has been its Chair since 2016.
Fred M. Ellis
PROFESSOR OF PHYSICS (1997 – 2023)
Associate Professor of Physics (1991 – 1997)
Assistant Professor of Physics (1984 – 1991)
Fred M. Ellis' research revolves around experimental investigation of exotic wave systems, macroscopic quantum phenomena, thermodynamics, acoustics, and electronics. Of particular interest is the study of superfluid 4He films, where all of these categories overlap. Using acoustic waves known as "third sound" supported by the film as a probe, he studies the properties of quantized vortices and their relation to wave-induced persistent currents.
Similar experimental techniques used have also led to recent advances in using simple electronic or electromechanical systems to demonstrate novel physics associated with more complex wave and optical phenomena. In these systems, dynamics related to either inherent or radiative loss can be exploited for some of their unique features rather than treated as imperfections to be eliminated.
Influenced by dedicated and talented teachers in his own upbringing, Ellis' passion for scientific inquiry was always coupled to a responsibility to close the loop. The unique combination of graduate research and a liberal arts philosophy attracted him to Wesleyan University after studying physics at UMass, Amherst, and a postdoc at the University of Washington.
Janice R. Naegele
Dean of the Natural Sciences and Mathematics
ALAN M. DACHS PROFESSOR OF SCIENCE (2017 – 2023)
PROFESSOR OF BIOLOGY (2006 – 2023)
Associate Professor of Biology (1998 – 2006)
Assistant Professor of Biology (1991 – 1998)
Janice R. Naegele, Alan M Dachs Professor of Science in the Department of Biology and Program in Neuroscience and Behavior, is a neuroscientist whose research seeks to identify novel treatments for epilepsy and brain damage. She has published extensively on applications of stem cell transplantation for neural repair, including articles on embryonic stem cell therapy for treating epilepsy and the synaptic mechanisms underlying seizure suppression by fetal inhibitory neuron transplants. Current work focuses on understanding how endogenous neurons in the hippocampus are altered after transplanting developing mouse or human GABAergic progenitors into this region of the brain, which is vital for forming new memories. Dr. Naegele recently co-authored a review on synaptic dysfunction in neurological diseases including epilepsy. In the Naegele laboratory a team of graduate students, working with undergraduates and technicians, investigated the therapeutic effects of stem cell transplantation through experimental approaches including behavior, electrophysiology, immunohistochemistry, viral-mediated gene overexpression, and optogenetics.
Naegele is a graduate of Mount Holyoke College. Professor Naegele received her Ph.D. from Massachusetts Institute of Technology in Neuroscience and did her postdoctoral research at Rockefeller University in the lab of Torsten Wiesel, where she worked with Colin Barnstable. After a three-year appointment as an Associate Research Scientist in the Department of Ophthalmology and Visual Science at Yale University School of Medicine, she joined the tenure-track faculty at Wesleyan University in 1991. She served as the Chair of Biology (2006-2009), Director of the Center for Faculty Career Development (2013-2016), Vice Chair of the Faculty (2016-17) and Chair of the Faculty (2017-2018).  Professor Naegele became the Dean of the Natural Sciences and Mathematics Division at Wesleyan University on July 1, 2020. Her research was supported by Connecticut Innovations (formerly the Connecticut Regenerative Medicine Research Fund, the National Institutes of Health, and CURE Epilepsy. She is a member of the Connecticut Academy of Science and Engineering.  Additional honors include the Louise Hansen Marshall Mentoring Award from the Society for Neuroscience (2015) and the Connecticut Women of Innovation award for Academic Innovation and Leadership.
Stewart E. Novick
JOSHUA BOGER UNIVERSITY PROFESSOR OF THE SCIENCES AND MATHEMATICS (2017-2023)
PROFESSOR OF CHEMISTRY (1993 – 2023)
Associate Professor of Chemistry (1985 – 1993)
Assistant Professor of Chemistry (1978 – 1985)
The major thrust of Novick's work is the study of "exotic" molecules. These can include highly reactive free radicals; ions; high temperature species; short-lived "intermediates"; and very weakly bound complexes, van der Waals, and hydrogen bonded molecules. The free radicals and carbenes studied are important in the chemistry of the interstellar medium.
A detailed understanding of the nature of these systems has a fundamental impact on a host of chemical and physical problems including: transition state structures and dynamics, hydrogen bonding selectivity and directionality, crystal structures, reaction mechanisms, catalysis, and surface interactions.
Irina M. Russu
L. B. NYE PROFESSOR OF CHEMISTRY (2017-2023)
PROFESSOR OF CHEMISTRY (2000 – 2023)
Professor of Molecular Biology and Biochemistry (1997 – 2000)
Associate Professor of Molecular Biology and Biochemistry (1993 – 1997)
Assistant Professor of Molecular Biology and Biochemistry (1986 – 1993)
Russu's research focused on the structure and dynamics of nucleic acids; human hemoglobin: structure and function; and NMR spectroscopy.
Peter Solomon
Men's & Women's Swimming & Diving Head Coach
ADJUNCT PROFESSOR OF PHYSICAL EDUCATION (2012 – 2023)
Peter Solomon joined the Wesleyan staff in the fall of 2012. During his 29-year NESCAC tenure, Solomon has been selected Conference Coach-of-the-Year 9 times (1995, 1996, 1999, 2002, 2005, 2008, 2010, 2017, and 2019).
While at Wesleyan, his recruiting efforts have doubled the size of the team in recent years with close to 40 men and 40 women on the 2022-2023 team roster. Additionally, he has been involved in fundraising efforts responsible for many of the recent facility improvements. Solomon worked closely with contractors and Facility Management personnel during the pandemic to help complete a comprehensive renovation of the natatorium. These facility updates continue to keep The Webster Family Natatorium a premier aquatic complex in the NESCAC Conference and in the Northeast Region.
In addition to his coaching responsibilities, Solomon teaches Physical Education classes (Beginning Swimming & Lifeguard Training) and hires and supervises the lifeguarding staff. Other university involvement includes serving as a Pre-Major Academic Advisor (2020-2022), and working on Wesleyan's Smoke, Tobacco, & Vape-Free Policy Workgroup (2020-2022), as well as the university's Alcohol and Othe Drug (AOD) Committee (2018-2021). He also serves as the Swim Lesson Program Coordinator on campus. In 2020, Solomon finished up a five-year term with the NCAA on their Swimming & Diving Rules Committee (2015-2020).
Some of the coaching accolades that Peter has amassed over the past 11 years at Wesleyan include coaching 10 NCAA Qualifiers and bringing six women to the 2019 NCAA Championships, Wesleyan's largest National Swimming & Diving Team in the program's history. That year, Wesleyan hosted the 2019 Women's NESCAC Championship in one of the most amazing meets in Solomon's storied career, as swimmer-after-swimmer enjoyed personal best times which helped propel the Cardinals to a 6th place team finish, Wesleyan's highest NESCAC team standing ever. In that same competition, Caroline Murphy '20 won the 50- & 100-yard backstroke events and established the Conference Record in the 50-yard backstroke while setting the Championship Meet Record in the 100-yard backstroke. When all was said-and-done, nine new school records were established and Wesleyan qualified six women for national championships.
In 2018, the national team of Zoe Kerrich '18, Caroline Murphy '20, Hannah O'Halloran '20, and Grace Middleton '20 became Wesleyan's first relay team to qualify and final at the Division III NCAA Championships in over 2 decades. Their relay performance along with Caroline Murphy's All-American accolades in the sprint backstroke events helped Wesleyan to a 17th place team finish at the NCAA Championships.
In Solomon's final season of his career, the Cardinals finished in fine form by setting 12 new varsity records with stellar performances from senior Richard Ettinger (200 IM), senior Eric Tran (400 IM), junior Mason Polaner (100, 200, & 500 Free), sophomore Harrison Hong (50 & 100 Fly, 100 Back), NCAA qualifier and freshman, Izzy Paez (200 Fly), and relay records for the men's 400 & 800 Free Relays, as well as the men's 200 Medley Relay.