Senior Thesis: Koral '23 Highlights Community Abortion Care Network in México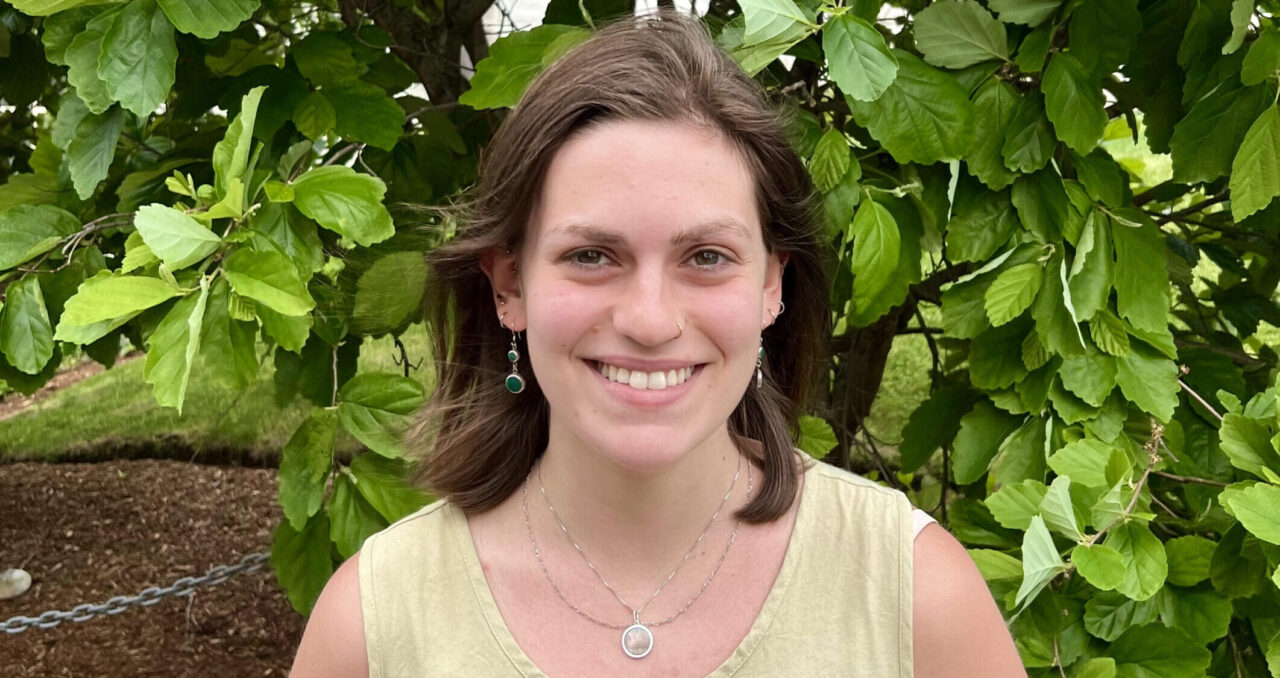 A patient sits on a cold, hard table under fluorescent lights while a doctor prepares to do their work. Acknowledging that there are limits to what medical practitioners can do, Isabel Koral '23 said the experience of an in-clinic abortion often seems impersonal. Intentional or not, there's always a barrier between the medical professional and patient, she said.
Koral, a Science in Society and Hispanic Literatures and Cultures double-major, has held a longstanding interest in Reproductive Justice, and during a study abroad experience in Mérida, México, Koral learned a new approach. There is a thriving culture of collectives and caretaker networks of people called acompañantes, who help patients get through self-managed abortions. She decided to inquire further, interviewing eight acompañantes virtually for her senior thesis.
Her hands-on involvement in the field started at WesFest before her freshman year at Wesleyan, she said. Koral stayed with a student who was a member of the Wesleyan Doula Project at the time. The Wesleyan Doula Project (WDP) is a student-run abortion doula collective that provides free and compassionate support to people receiving surgical abortions.
"When I come here, I really want to do that," Koral said at the time. "So, I did."
The Wesleyan Doula Project offered her an entrance into the field that she thought would be more personal than, for example, law or politics would. She now works as an abortion doula and co-coordinator for the project. However, Koral noted that through WDP, all her engagement with patients occurs only within medical facilities, making her role as a support person somewhat limited.
Through her thesis, Koral found that in México people who need abortions can find access to a warmer support system outside of biomedical institutions. Acompañantes, Koral writes, "are individuals who offer informational, practical, and emotional support, virtually or in-person, to people getting self-managed medical abortions (acompañadas)." They often provide patients with information, help supply them abortion pills, offer emotional support, and other services in Mexico. Many collectives partner with medical professionals to ensure the accuracy of their information and safety of their care, Koral said.
Some acompañantes will house patients in their homes and feed them a meal at night before bed to make them comfortable. Others will privately message patients and coach them through the often scary and secretive process. They can serve as advocates, friends, and supporters in their patient's time of need, she said.
"Having someone there present with you in a very horizontal way is just like you're experiencing that together. Having that person there with you to facilitate your own experience with your body is really important. It's very different from any kind of care that you'd receive in a biomedical facility."
Like in the United States after the Supreme Court's Dobbs v. Jackson Women's Health Organization decision which struck down the federal right to an abortion, abortion legislation varies among the country's 31 states, with it de-criminalized in 11 states up to 12 weeks of pregnancy. Self-managed abortions make up nearly all the reported instances in México, but getting accurate data is almost unattainable considering the stigma surrounding the practice, Koral said. Helping to shield a patient from stigma that may come with an abortion is another major part of working as an acompañante, she said.
Learning about this kind of community-based care is what was important to Koral—a type of care where the patient is met where they are in their personal journeys. She views her thesis project as a celebration of communities and autonomous networks of care that arise in different environments, particularly in those hostile to abortion.
"Personal comfort, autonomy, and warmth, all of which acompañantes prioritize, point to a more individual conception of safety and frame abortion as an act of care or love rather than a medical crisis," Koral said.
Koral may venture into a career in nurse-midwifery at some point in her life. If she does, she plans to take her research and conversations with acompañantes with her. That way her future patients will only feel the cold from the doctor's office table, not the person providing them with the care they need.
"Our vision for the future is that we can pass the baton and that we will not be the only acompañantes, but that all women are acompañantes," Ari, an acompañante Koral interviewed, said. "And this model of acompañamiento rooted in compassion, horizontality, autonomy, independence, empowerment is not only for abortion or activism, but is used day-to-day in all relationships with all people, especially women."