Ben Levin '23: "Pushed and challenged by passionate people"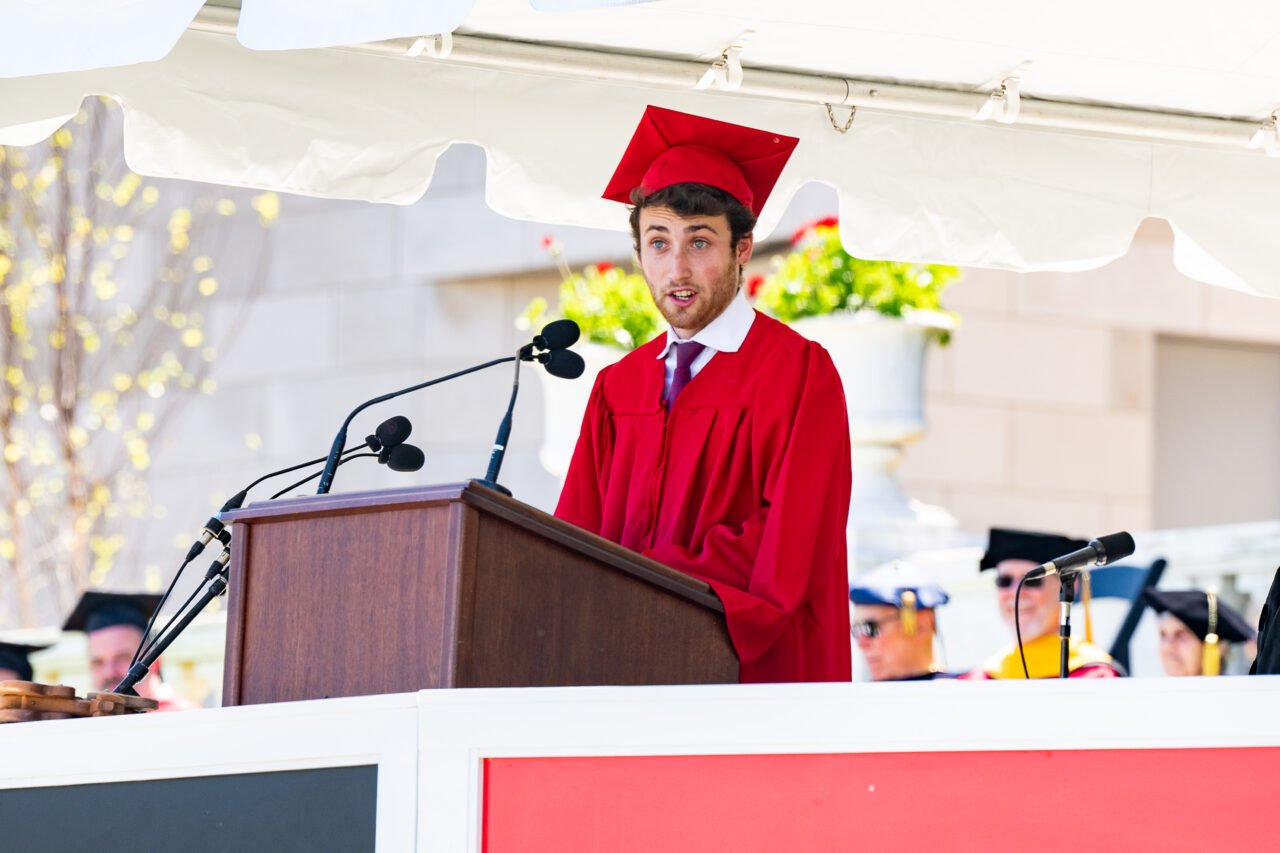 Benjamin D. Levin '23, the Class of 2023 Commencement Speaker at Wesleyan's 191st Commencement Ceremony, shared the lessons from his University experience: in an environment where people are free to be themselves without fear of judgment, they are empowered to shed their insecurities and embrace their interests.
"This sort of open, honest, kind, passionate student body is what allows each of us to actually figure out who we are," Levin said. "Because when you're constantly worrying about what other people think, you can't take risks and actually leave your comfort zone. It's the passion and openness of the other students that allowed me to find my own passions."
Levin, a government and education studies double major from Nyack, New York, was a senior interviewer and tour guide for the Office of Admission, a teaching apprentice, and a member of Wesleyan's mock trial team, the club tennis team, and the Mazel Tones a cappella group. In 2023, he collaborated with Paul Tractenberg '60, professor of law emeritus at Rutgers Law School and founder of the Education Law Center, with research for a project centered on education clauses in state constitutions and education equity. In August, he will travel to the Czech Republic to teach English on a Fulbright Scholarship.
Levin made the following remarks during Wesleyan's 191st Commencement Ceremony on May 28:
I was a late bloomer.

On the first day of sixth grade, a classmate came up to me and told me I was in the wrong place. She said: "The first grade is over there."

In high school, I had to see a specialist about growth hormones. Apparently, you keep growing until your "bone age" is 16. Even my bones seemed young for their age.

When I got to Wesleyan, I was more than a little trepidatious. I didn't want to be perpetually mistaken for a younger sibling on a college tour. I always felt like my short stature meant I would be judged or not taken seriously, and I took that fear with me to college.

But after just a few days, I realized I didn't need to worry at Wesleyan. I figured out fast that people here wouldn't judge me off my "youthful" appearance. And because no one was coming up to me with condescending looks, I also no longer felt like that little kid who looked five years younger than his age. It definitely helped that I came to Wes knowing only two people from my high school; that I was coming in with a completely clean slate. But nonetheless, people here were just nice.

I work in Admissions, and I end my tours by talking about why I chose Wesleyan. I tell a funny story from the spring of my senior year in high school when I visited an old friend who was a current student. It was probably 11 p.m. on a weekday, past what would've been my bedtime, and he took me into Exley Science Center. We walked into a classroom and a friend of his was doing math on a chalkboard, blasting punk rock music into his headphones. He noticed us, took his headphones off, and started talking to us about the math he was doing. As someone who has no interest in math, I did not expect to be interested in what he had to say. But the way he talked about what he was learning was really unlike anything I had seen. He was just so passionate, and I knew I wanted to be around those kinds of students.

But what I loved the most about this whole experience was that it was just kind of weird, and that that was cool. I loved that my friend, Andrew, heard this dude preach about some random equations and just went along with it. There was NO judgment. In high school, it became second nature to expect an eye-roll behind your back, or a stare, if you expressed having any sort of quirk or niche interest. In that moment I knew there was something different about Wesleyan.

After four years of similar stories, Wesleyan has restored my faith that people can just be good people, and most importantly, themselves. For me, that means I'm able to be my weird, passionate, and slightly obsessive self—whether it's pretending to be an attorney in mock trial or singing in a Jewish a capella group. Not only is weird embraced, it's expected.

And this sort of open, honest, kind, passionate student body is what allows each of us to actually figure out who we are. Because when you're constantly worrying about what other people think, you can't take risks and actually leave your comfort zone. It's the passion and openness of the other students at Wes that allowed me to find my own passions.

So here I am, speaking to you as a fully-grown young adult. I never ended up needing that growth hormone. But I did need other people to encourage me to try out as a vocalist for burlesque. I needed to be pushed and challenged by passionate people in order to grow in all facets of my life. According to my doctor, I've even grown a half inch in the past year. Thank you.

But the truth is in different ways we've all grown, and we have Wes to thank for that.

There's no doubt that this class, the Class of 2023, is going to do amazing things. We've got future educators, international leaders, academics, psychologists, a long list of hundreds of future plans. We all obviously took different paths to getting to Wes and will take different paths when we leave. But one thing we all have in common is our passion for helping people. In the same way that this passion got us here, it's going to stay with us long after we leave.

Congratulations everyone, Go Wes! And as the boys of 8 Warren say, "Let's ride!"