Wesleyan University Awarded Gold Status for Sustainability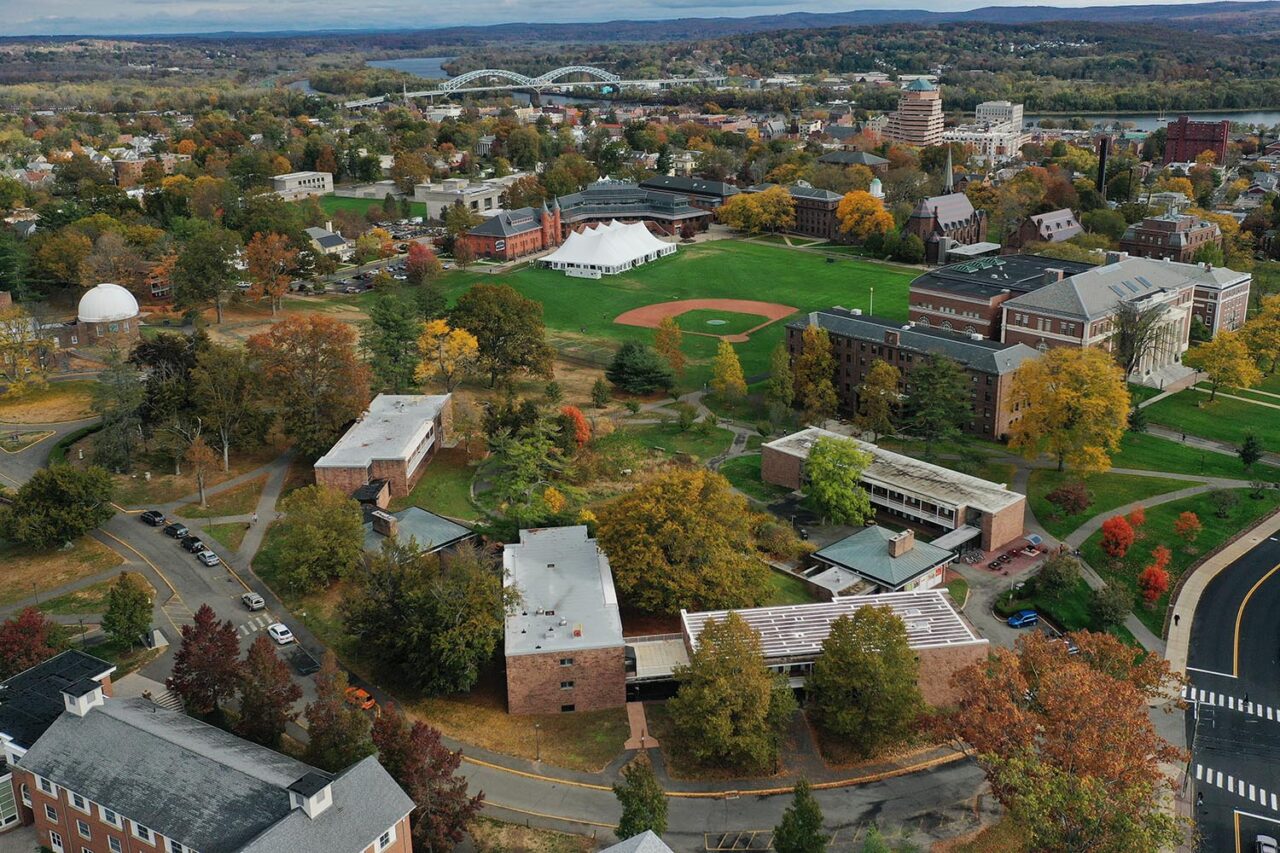 Wesleyan University's campus sustainability efforts have been awarded Gold status by the Association for the Advancement of Sustainability In Higher Education's Sustainability Tracking, Assessment & Rating System (AASHE STARS), a self-reporting framework for colleges and universities to measure their sustainability performance.
Wesleyan had been at a silver status since first tracking its sustainability performance in 2013. However, there had been incremental improvement at the end of each three-year tracking cycle. Jen Kleindienst, Wesleyan's sustainability director, attributed the leap to Gold status to the University's Sustainability and Environmental Justice Pedagogical Initiative, a concerted effort to seed these topics in all aspects of the curriculum.
"Wesleyan is a small school in a small state—it is hard to have a large impact on our overall carbon footprint. Where we can have an outsized impact is in what students learn and what they take away that might influence their future careers and their personal lives," Kleindienst said.
This particular year, Kleindienst and her team sought to increase participation from departments with few or no Sustainability and Environmental Justice courses. Kleindienst and Anthony Hatch, Professor of Science in Society, have successfully led this initiative.
Almost 90 percent of all academic departments have at least one course that has integrated environmental sustainability and justice into the material presented. Fifty current faculty members have participated in the initiative. In addition, the number of employees and academic departments doing research on sustainability matters has increased, according to Wesleyan's STARS report.
Almost 70 classes ranging from "An Introduction to Collaborative Documentary Filmmaking" to "Theorizing Religion with Zombies" now have a sustainability component. "Our goal is to have students engage with these ideas regardless of their chosen field of study," Kleindienst said.
The University receives high marks in other areas, including campus engagement, innovation, planning, and leadership. "We have made incremental changes in a lot of areas, but curriculum is where we made the biggest jump," she said.
Wesleyan is upgrading its infrastructure and plans to become carbon-neutral by 2035. "As we've done more things in the area of sustainability, people are more open to the idea that it is just part of what we do," Kleindienst said. "There are still some areas of challenge, but we are making improvements … this is a really meaningful accomplishment."