Wesleyan Sponsors First Juneteenth Parade in Middletown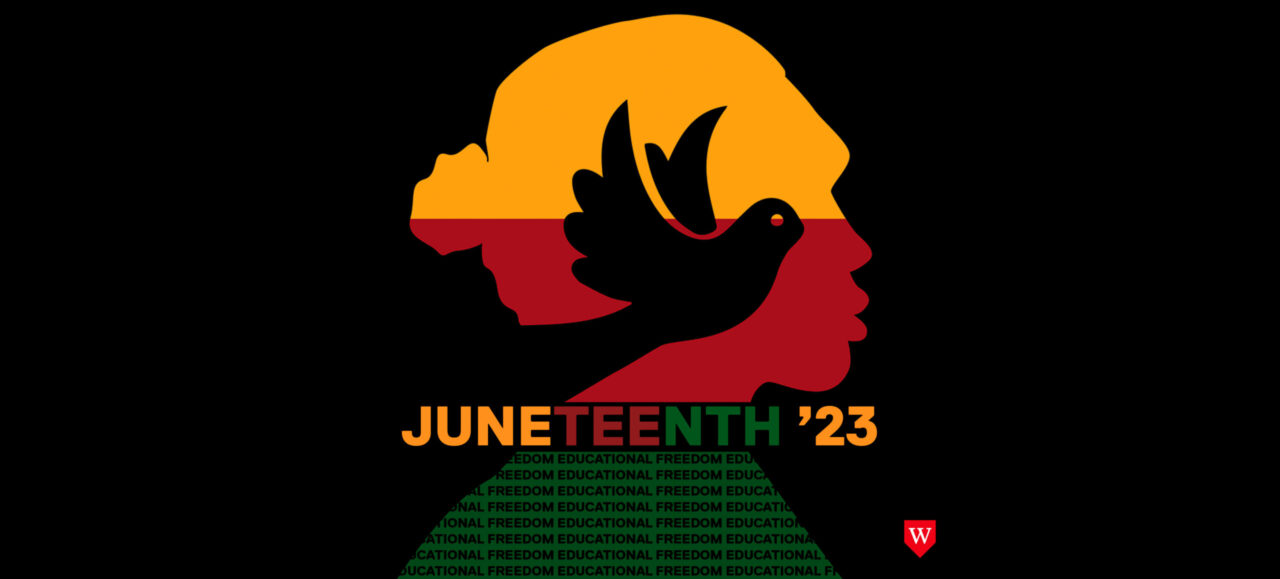 Strawberry soda and red velvet cake. They are two foods rich in flavor and in history tied to the celebration of Juneteenth—their red color represents the blood spilled by the last enslaved people freed more than two years after the Emancipation Proclamation. They are also the theme of Wesleyan's table at Middletown's third-annual Liberation Day Festival and first Juneteenth Parade on June 19 celebrating the hallmark occasion.
One year after establishing Juneteenth as a campus-wide holiday, Wesleyan is excited to have been a sponsor of the event and have representatives walking in the parade—which will start on North Main St. and venture to the South Green. Along with the parade, there were several drum, dance, and drill performers and educational opportunities available for attendees.
"I think this is a way for Wesleyan to be better neighbors and more involved with the community," Briana Bellinger-Dawson, Coordinator of Community Participation in the Jewett Center for Community Partnerships, said. "This is a way for Wesleyan and Middletown to grow together. The fact that this is the first parade, that's monumental."
Wesleyan's table representatives read children's books about the holiday, helped to provide the history surrounding strawberry soda and red velvet cake's significance in accordance with Juneteenth, and provided information on the history of the day.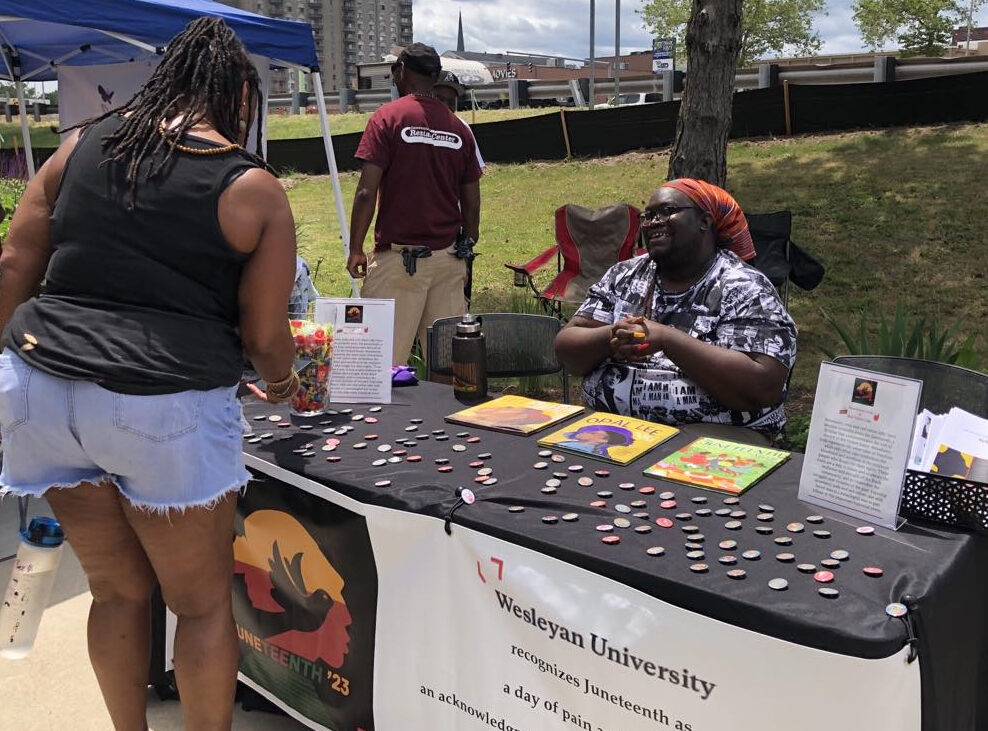 Bellinger-Dawson grew up in a household that always celebrated Juneteenth. Her family drank strawberry soda and ate red velvet cake and watermelon in recognition of the holiday.
"It was one of the first things that they had to celebrate. They had strawberry soda and red velvet cake, and it was supposed to represent the resilience and strength that they endured for the last two and a half years when they were actually free," Bellinger-Dawson said.
She first introduced these hallmark food items to Wesleyan's planning committee earlier this year. She said everyone's ears perked up when she explained the history behind the red foods. It was quickly decided that Wesleyan's theme for their table would be strawberry soda and red velvet cake.
Juneteenth is a holiday commemorating the end of slavery in the United States. Enslaved people were declared free in the Emancipation Proclamation of 1862. However, following the Civil War there were still enslaved people in the United States until June 19, 1865. Union Major General Gordon Granger arrived in Galveston, Texas on that day to inform enslaved people of their freedom, more than two years after they were declared free. Juneteenth, also called "Emancipation Day" or "Freedom Day," has been celebrated since the late 1800s, but was officially declared a federal holiday in 2021.
Wesleyan was closed on June 19 in commemoration of the holiday. This was also the first year that Connecticut will consider it a state holiday.
The history of Juneteenth is not a part of many school curriculums. As a result, some of Wesleyan's staff members had not known much about the holiday before engaging with Middletown's celebration, but they are now making strides to continue spreading awareness to others.
"It is not something that a lot of people are aware of, and we just want to bring it to light," Evelyn Bozeman, Administrative Assistant in the Office of Equity and Inclusion, said.
Bozeman said she grew up in Hartford hearing about the Wadsworth Atheneum's celebration of Juneteenth but did not quite know what the celebration of the day meant. She now works to help bring awareness to the history and celebration of the event.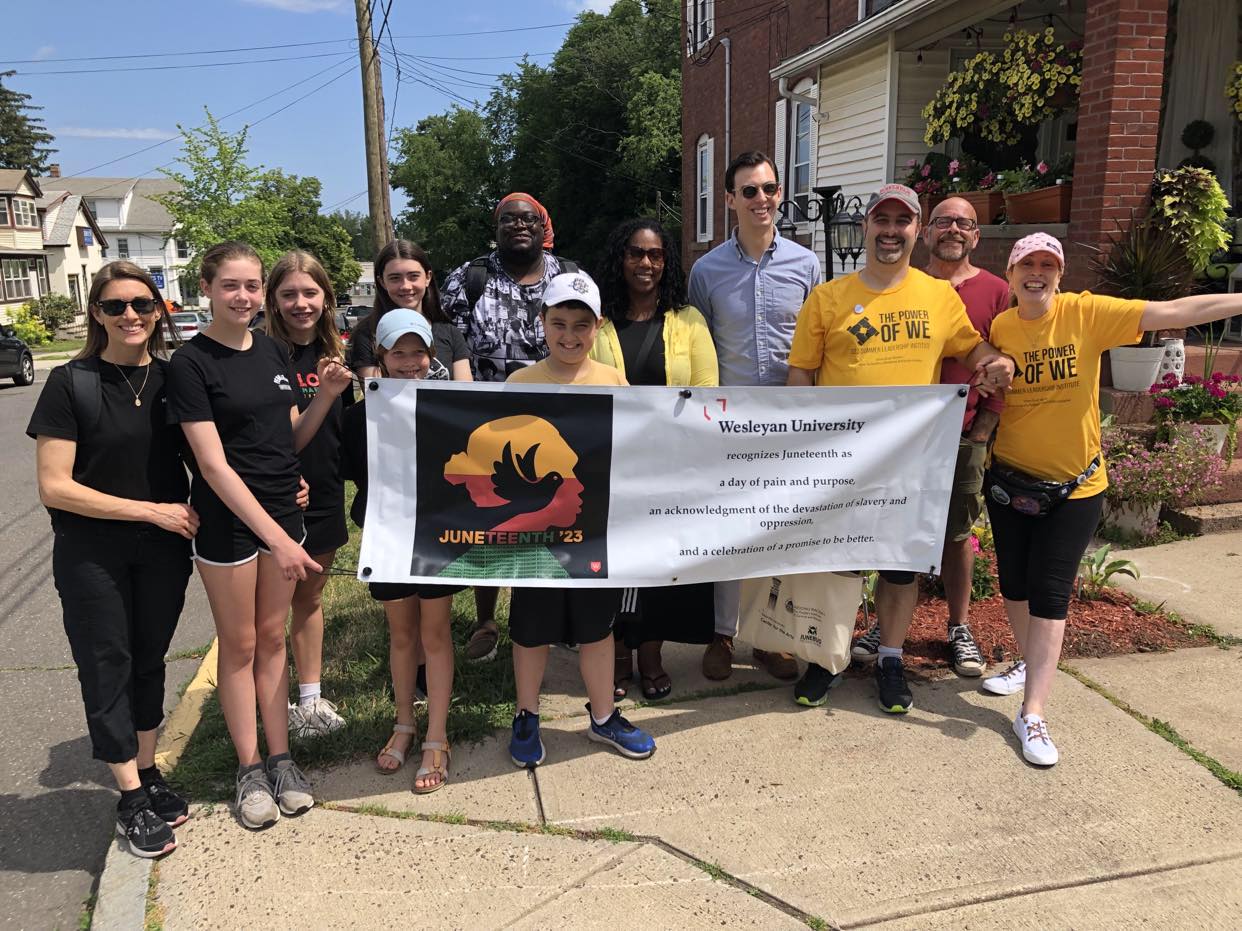 "Juneteenth is a major event in Black history, which makes it a major event in our history, and yet I didn't learn about it in school or college or even grad school," Debbie Colucci, Assistant Vice President for Equity & Inclusion and Title IX Coordinator, said. "Like many people, I continue to learn about it from my friends and colleagues."
Colucci said that Wesleyan has been a financial contributor to the City's event since the first year and is continuing to "grow both the partnership as well as our participation."
"I think Wesleyan is taking the right steps along with Middletown, to bridge a better future and to educate all," Bellinger-Dawson said.