Wesleyan's Newest Class Shares a 'Common Moment' with Collaborative Dance Experience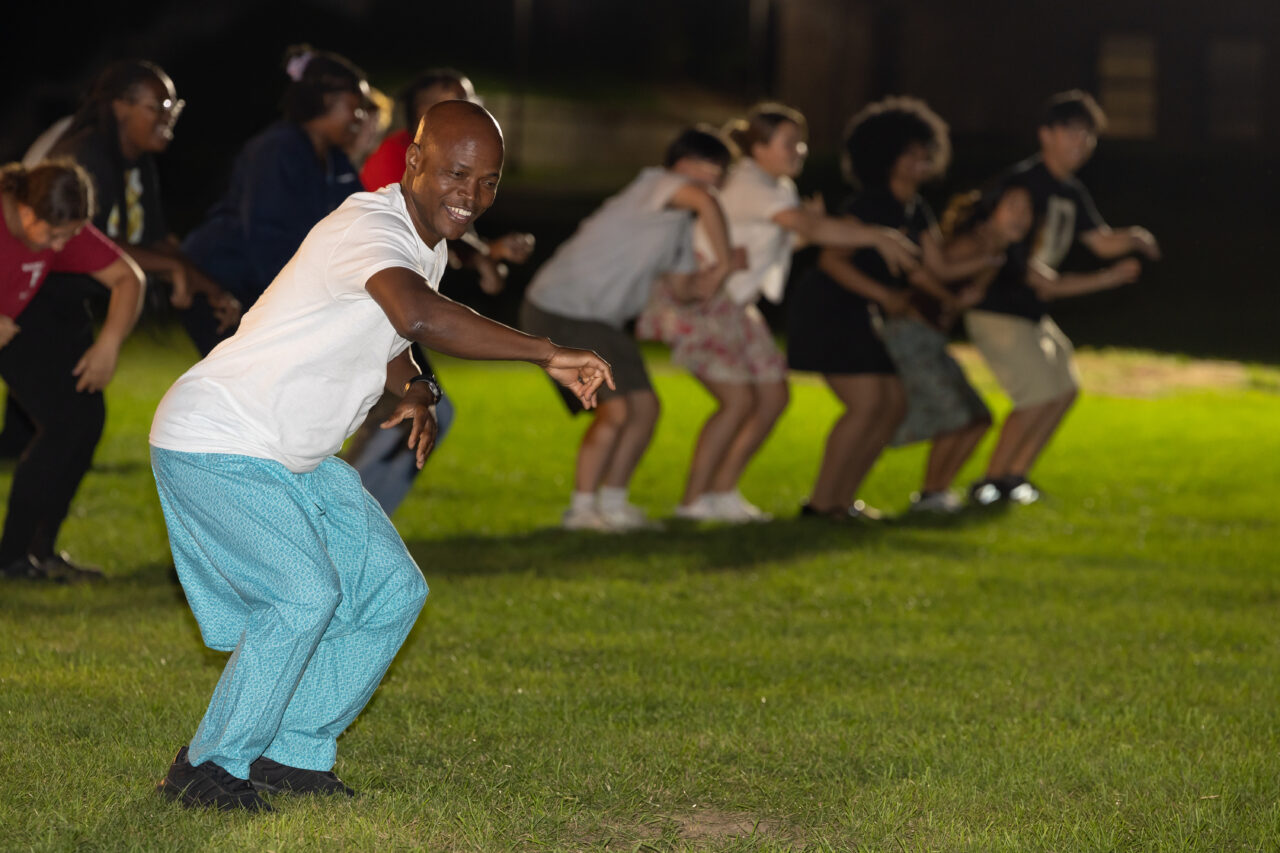 The day after arriving on campus, the Class of 2027 gathered on Andrus Field for a celebration of embodied practice—using your body to know the world.
On Thursday August 31, over 700 first year students took part in the 16th annual "Common Moment" as part of new student orientation. The celebration also included new transfer students from both the Class of 2026 and the Class of 2025.
Five faculty members from the Dance Department gave new students an opportunity to learn the eclectic and diverse world dance traditions taught at Wesleyan, and then to have fun performing those energetic dances for their peers.
Joshua Lubin-Levy '06, Director of the Center for the Arts, thanked the faculty and welcomed three choreographers from Urban Bush Women to campus for a collaboration at "Common Moment." The Brooklyn, New York-based dance company has been one the University's partners in the multi-year Embodying Antiracism Initiative.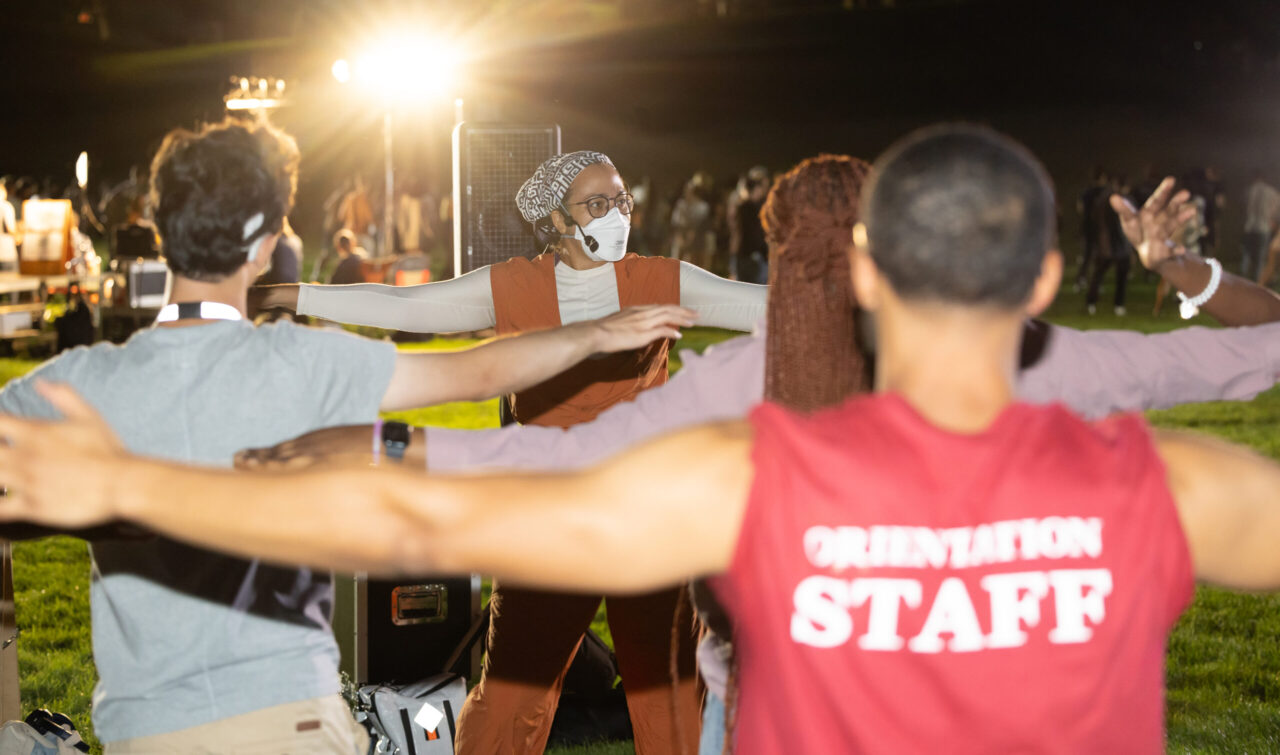 Assistant Professor of Dance Iddi Saaka, who has helped shape the gathering since 2008, led a brief warm-up set to Nigerian music by Flavour before students were split into six groups by birthday month. The groups had a half hour to learn a three-minute dance, which they would then perform for each other.
The members of Urban Bush Women taught Wesleyan students choreography from their work "Batty Moves." Movement coach and community practitioner Bennalldra Williams was amazed by the enthusiasm of all the Wesleyan students wholeheartedly participating in the ideas of the "Common Moment"—risk-taking and community building. It's a way for students to both cognitively and viscerally experience the event. "This is such a fruitful place to start," said Williams.
University Professor of Dance Patricia Beaman returned for the "Common Moment" for a second year, teaching students the 1975 disco line dance "The Hustle." This semester, Beaman teaches the first-year seminar "Dance as Cultural Knowledge: World Dance Cultures," along with "Introduction to Dance" and a ballet course.
The "Common Moment" is one of Professor of Dance and Feminist, Gender, and Sexuality Studies Hari Krishnan's favorite moments at Wesleyan. He started choreographing at the event in 2018. This year, he led students in an exuberant global dance aesthetic inspired by South Asia and set to a song from the Bollywood film "Happy New Year." "The dance I taught encourages students to let go of bodily inhibitions, to celebrate themselves, and to engage with dance as the feeling of abandon and joy," said Krishnan, who is teaching "Bharata Natyam," an introduction to South Indian classical dance, and "Queering the Dancing Body: Critical Perspectives on LGBTQ Representation."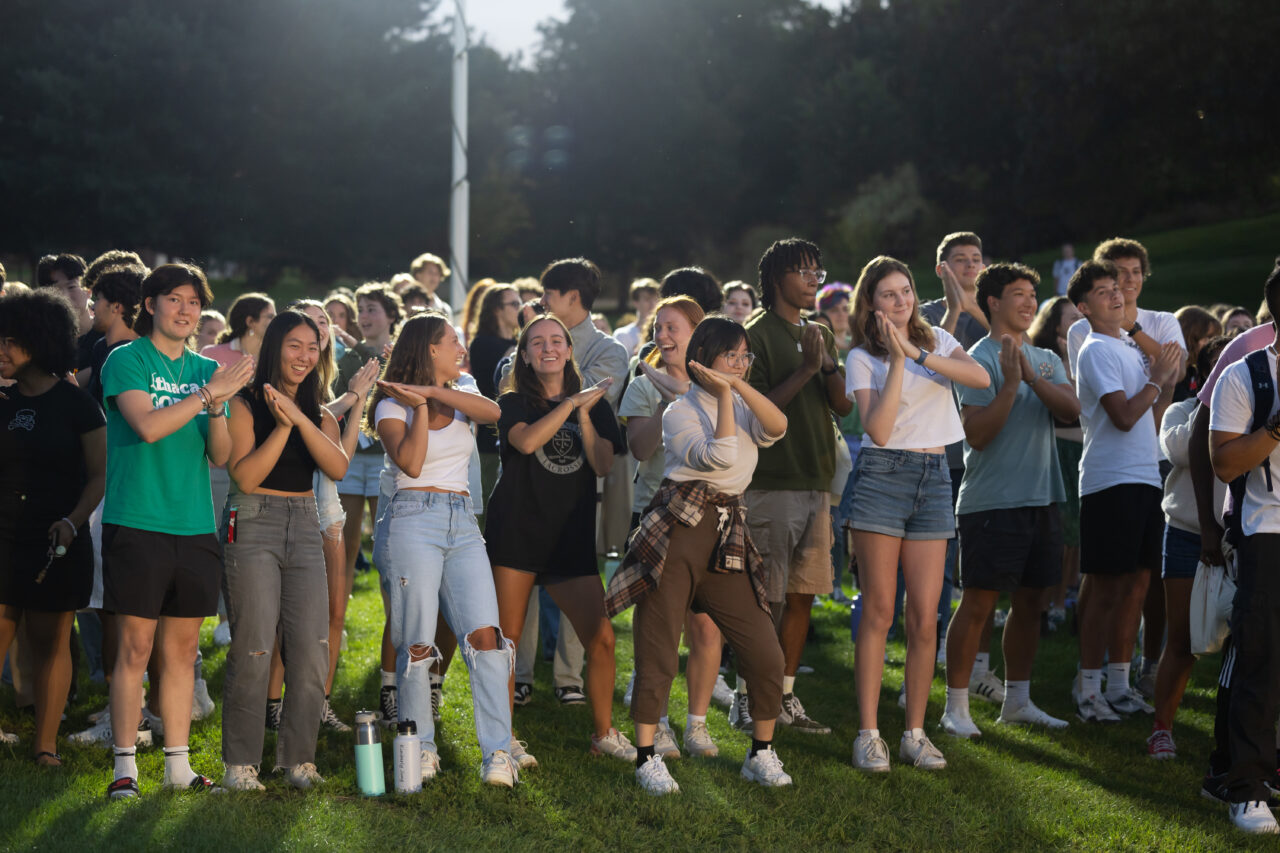 Associate Professor of the Practice in Dance Doug Elkins, who is teaching hip hop dance and a choreography workshop this fall, set his group's dance to a song by Japanese hip hop artists Tee and ¥ellow Bucks.
For her third "Common Moment," Assistant Professor of the Practice in Dance and African American Studies Joya Powell led her group in an Afro-Brazilian dance rooted in the rhythms of samba and set to a song by Tchakabum from Rio de Janeiro. Her classes this semester include Afro-Brazilian dance and "Making Dances I: Solo Work," a laboratory course for students interested in diving deeply into body-based artistic practice.
Saaka taught his breakout group short choreography from a Ghanaian recreational dance known as "Kpatsa." The piece emphasized the intricate connection between movement and the live drumming from Assistant Professor of Music John Dankwa and graduate music student Reginald Thompson, and the key roles of polyrhythm and repetition. This fall, Saaka is teaching West African dance and "Introduction to Dance" courses. "Dance can be a powerful tool for fostering a sense of community," said Saaka.