University Announces Endowed Professorships, New Faculty Leadership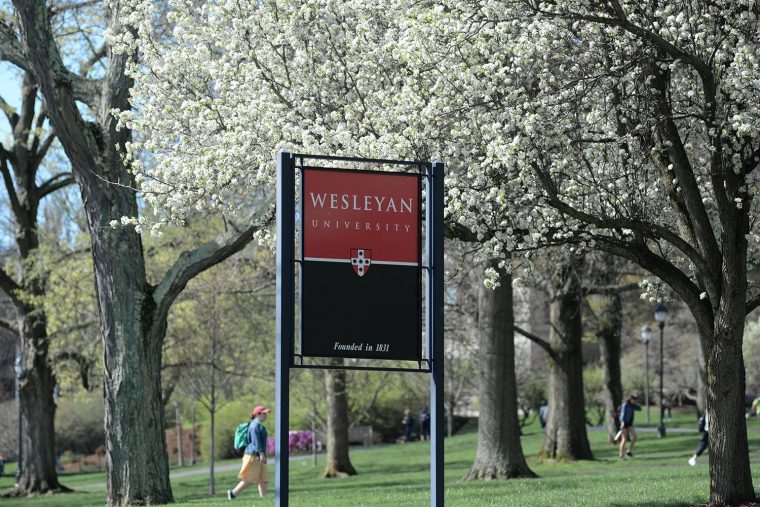 President Michael S. Roth '78 and Provost and Senior Vice President for Academic Affairs Nicole Stanton recently announced the faculty members who, in recognition of their career accomplishments, have been appointed to endowed professorships, effective July 1, 2023:
Merve Gul Emre, former distinguished writer-in-residence, received the Shapiro-Silverberg University Professorship of Creative Writing and Criticism, established in 2008.
James W. McGuire, professor of government, received a John E. Andrus Professorship of Government, established in 1981.
Brian Hale Northrop, professor of chemistry, received the E. B. Nye Professorship of Chemistry, established in 1908.
Dana Royer, professor of Earth and environmental sciences, received the George I. Seney Professorship of Geology, established in 1880.
Sonia Sultan, professor of biology, received the Alan M. Dachs Professorship of Science, established in 2011.
Robyn Autry, associate professor of sociology, will also serve as director of the Allbritton Center for the Study of Public Life and Peter S. Gottschalk, professor of religion, will serve as academic secretary.
Brief biographies appear below.
Endowed Professorships
Merve Gul Emre was born in Adana, Türkiye. She earned a BA from Harvard University and a PhD from Yale University. She is the author of Paraliterary: The Making of Bad Readers in Postwar America (University of Chicago Press, 2017) and The Personality Brokers: The Strange History of Myers-Briggs and the Birth of Personality Testing(Doubleday, 2018), which was selected as one of the best books of 2018 by The New York Times, The Economist, NPR, CBC, and The Spectator, and was adapted by CNN/HBO Max as the documentary film Persona. She is also a co-author of The Ferrante Letters: An Experiment in Collective Criticism (Columbia University Press, 2019), which received the PROSE Award for Literature. She is a contributing writer at The New Yorker. Her essays, criticism, and interviews have appeared in numerous publications, including The New York Review of Books, Harper's, The New York Times Magazine, The Atlantic, and London Review of Books. In 2021, she was awarded The Robert B. Silvers Prize for Literary Criticism and the Nona Balakian Citation for Excellence in Reviewing by the National Book Critics Circle. In 2022, she served as a judge for the International Booker Prize. She serves on the boards of Words Without Borders and the Hawthornden Foundation.
James W. McGuire received a BA from Swarthmore and a PhD in political science from the University of California, Berkeley. His research and teaching focuses on democracy, social welfare policies, and public health, especially in Latin America and East Asia. He is a member of Wesleyan's Latin American Studies program, a recipient of the Binswanger Prize for Excellence in Teaching, and the author of three books. Peronism without Perón (Stanford University Press, 1997) related the Peronist movement's organizational structure to Argentina's late 20th century political instability. Wealth, Health, and Democracy in East Asia and Latin America (Cambridge University Press, 2010) showed how democracy and basic health service provision help to explain why some countries do better than others at lowering infant mortality. It won the 2011 Stein Rokkan Prize for Comparative Social Science Research. Democracy and Population Health (Cambridge University Press, 2020) explored how democracy has affected population health and how population health has affected democracy. McGuire's most recent publications are "The Trump Vote and Covid-19 Vaccination Across US States, US Counties, and Connecticut Towns" (Regional and Federal Studies, 2023) and "Autocratization and Health Outcomes," Routledge Handbook of Autocratization (in press).
Brian Hale Northrop joined Wesleyan's Department of Chemistry in 2009 after receiving his BA from Middlebury College and his PhD from University of California, Los Angeles. His research focuses on physical organic and materials chemistry, particularly the design, synthesis, and analysis of new π-conjugated organic molecules, theoretical and experimental investigations of pericyclic reactions, and mechanistic details of thiol-Michael reactions. He is the recipient of several awards including a National Science Foundation CAREER award, American Chemical Society Petroleum Research Fund Doctoral New Investigator grant, and Thieme Chemistry Journals Award, and was a 2019 recipient of the Binswanger Prize for Excellence in Teaching.
Dana Royer came to Wesleyan in 2005 after receiving his PhD from Yale University and completing a post-doctoral fellowship at Pennsylvania State University. He studies fossil plants as a window into their ecology and climate, publishing over 80 papers on these topics. His extensive reconstructions of temperature and atmospheric CO2 over the last 450 million years of Earth history have gained traction with groups such as 350.org and the Intergovernmental Panel on Climate Change (IPCC). He currently co-leads a community-wide project for standardizing and improving the deep-time paleo-CO2 record; this multi-institution project is funded by the National Science Foundation. He regularly teaches courses on soils and Earth history and rotates through multiple introductory courses and the department capstone senior seminar. He has served Wesleyan as department chair and as Board of Control member at the Connecticut Agricultural Experiment Station.
Sonia Sultan earned a BA at Princeton and a PhD at Harvard and was awarded a 3-year Postdoctoral Fellowship at the University of California's Center for Population Biology before joining Wesleyan's Biology faculty. Sultan's research focuses on the developmental interplay between genetic and environmental influences and the evolutionary implications of this complex interplay. Alongside experimental publications, she has addressed these issues in influential theory and review papers and in her monograph Organism and Environment: Ecological Development, Niche Construction, and Adaptation (Oxford University Press, 2015), which was short-listed for the year's Royal Society of Biology book award. Sultan has been a Resident Fellow at the Institute for Advanced Study in Berlin and the KLI in Austria and a Visiting Scientist at the Liggins Institute and the University of Otago in New Zealand. She has presented over 45 invited symposium talks and keynote lectures across Europe and in Canada, Mexico, Israel, and Japan as well as numerous research seminars in the United States. She teaches in the areas of evolution, ecology, and biological causation.  Sultan has served as chair of Advisory and of the Biology Department and directs the Research Greenhouse.
New Faculty Leadership
Robyn Autry is a writer and sociologist with broad interests in racial identity formation, Blackness, collective memory, public history, and the politics of beauty. Her writing on representations of racial violence at museums has appeared in several journals, including Visual Studies, Theory, Culture, & Society, Social Identities, Theory & Society, and Museum & Society. Her first book, Desegregating the Past: The Public Life of Memory in the US and South Africa was published by Columbia University Press in 2017. She is currently completing a book manuscript, tentatively titled Looking Black: A Stylebook. She was winner of the University of Toronto's Public Humanities Fellowship at the Jackman Humanities Institute (2020-21). Her public scholarship has appeared at MSNBC, Salon, Psyche, Aeon Magazine, NBC NEWS, The Atlantic, Black Perspectives, and Public Seminar. 
Peter S. Gottschalk received his BA from College of the Holy Cross, his MA from University of Wisconsin-Madison, and his PhD from the University of Chicago. He has served as professor of religion at Wesleyan since 2002. He also belongs to Global South Asian Studies, the College of Education Studies, Muslim Studies, and the Science in Society Program. Most recently he has published Religion, Science, and Empire: Classifying Hinduism and Islam in British India (Oxford University Press, 2012) and the revised edition of his co-authored Islamophobia and Anti-Muslim Sentiment: Picturing the Enemy (Rowman & Littlefield, 2018). In the past year, he held a Fulbright Fellowship at the University of London, an ICAS Fellowship at the Max-Weber-Kolleg at the University of Erfurt, and a residency in the Max Planck Institute for Human Development in Berlin.