Wesleyan in the News: September 2023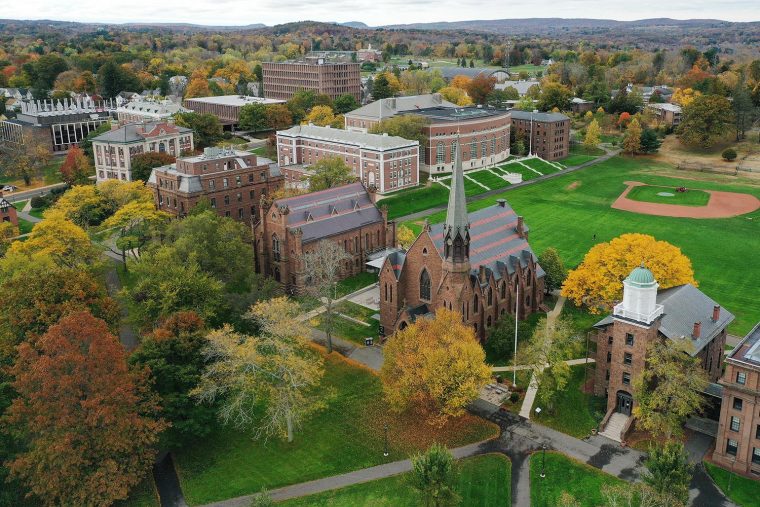 Two Wesleyan alumni were hired in key roles at the White House by the Biden-Harris Administration in September. Ed Siskel '94 started his new role as White House Counsel and Rob Wilcox '01 joined the administration as a Deputy Director of the new Office of Gun Violence Prevention.
Siskel, the nation's top attorney, was called a seasoned lawyer who could "hit the ground running as a key leader on my team," by President Joseph R. Biden in a statement, according to The New York Times. Siskel will be tasked with guiding Biden through an impeachment inquiry spearheaded by Speaker of the House Kevin McCarthy.
The White House announced that Wilcox, alongside two other major gun violence prevention advocates, would help to lead a new effort to end the rampant gun crime in the United States. He will also serve as a Special Assistant to President Biden, according to the White House. Wilcox had previously served as the Senior Director of Federal Government Affairs at Everytown for Gun Safety, one of the leading efforts preventing the use of weapons in the nation.
"The Office will include Stefanie Feldman, who has capably led my Administration's gun violence prevention efforts and been a trusted aide for more than a decade, alongside leading experts Greg Jackson and Rob Wilcox whose own lives and families have been touched by the tragedy of gun violence," Biden said in a statement. "They have turned their pain into purpose and dedicated their careers to being advocates for change—that important work will continue as they join my team in these new roles."
Wesleyan University President Michael S. Roth '78 published his book The Student: A Short History, (Yale University Press), on Sept. 12. The book discusses what it has meant to be a student over time, going back to the time of Confucius, Socrates, and Jesus through the 21st Century. In conjunction with the publication of his book, Roth wrote several pieces on the different ways to be a student for major news outlets, including The New York Times, Los Angeles Times, Boston Globe, and Wall Street Journal. He also did a Q&A with the Wesleyan Connection.
For The New York Times on Sept. 12, Roth wrote about perpetual students and the value of continuing to learn past the end of a formal education. Roth said "Perpetual students, like all of us, have the potential for freedom. They embrace this potential, exploring the world, absorbing its lessons and creatively responding to them. To be a student is to be alive to the world and to oneself. Why would anyone want to graduate from that?"
Roth took a look into the history of student protests, from academic protests at the University of Virginia when it was founded by Thomas Jefferson to the civil rights protests of the 1960s, for a piece for the Los Angeles Times on Sept. 9.
Roth touched on the nature of the student—either as an imitator of their teacher, or as a free thinker—in his piece for The Boston Globe. He called back to the works of Confucius, Socrates, and Ralph Waldo Emerson to establish the ways a student should absorb the teachings of their mentors. "Great teachers help those they work with become better students, people who are free enough to learn on their own alongside others," Roth wrote.
For the Wall Street Journal, Roth called for faculty and administrators to keep working to cultivate intellectual diversity and "set a foundation for lifelong learners, people whose openness to ambiguity will enable them to navigate in our world with integrity, humility and compassion." The story, which touches upon the long tradition of freedom-seeking students, argues against the idea that students are coddles and closed-minded.
The Student: A Short History, which was reviewed by The Washington Post on Sept. 13. The Post said, "Roth makes clear … sharing what you love to do with others, that's the true hallmark of the best learner, even if it is the most difficult to test." His book was also referenced in a piece on education's relationship to religion in Inside Higher Ed.
Roth joined Washington Post Live on X (formerly known as Twitter) on Sept. 5 to discuss the University's decision to end legacy admissions in July. Roth advocated for improved funding for public K to 12 schools, community colleges, and public universities. He also talked about Wesleyan's Democracy in Action and free speech on college campuses initiatives.
Roth appeared on CNN's "The Assignment with Audie Cornish" podcast alongside Roslyn Clark Artis, president of Benedict College, to discuss Wesleyan's commitment to free speech on college campuses and both president's partnership with the Institute for Citizens & Scholars.
Wesleyan's decision to end legacy admissions was referenced in a story on the practice by CNN. The news outlet quoted Roth's appearance on "CNN This Morning" in July, when he said, "it was clear we should get rid of it. The Supreme Court's decision saying we shouldn't consider the groups with which students are identified—racial groups—made it even more clear to me that it was indefensible to give preference to the children of alumni."
Wesleyan Media Project Co-Director Erika Franklin Fowler was quoted in a CNN preview of the 2024 Presidential Election. Franklin Fowler said that viewers in the few true battleground states will not be able to escape political advertisements. "I'd be hard pressed to put a number on it, but the citizens there no matter what screen they are on – whether they are on a mobile device, tablet, television, gas pump – they will be seeing ads everywhere," she said.
Franklin Fowler was also quoted in a Bloomberg story on Republican presidential candidates Mike Pence, former Vice President, and Nikki Haley, former Governor of South Carolina, who saw a rise in primary campaign polling despite limiting campaign spending. Franklin Fowler called the policies an effective strategy.
Shapiro-Silverberg University Professor of Creative Writing and Criticism Merve Emre said writer Lars Iyer is "a truly dialectical writer" in Washington Post piece on his work.
NPR spoke to Jonathan Cutler, associate professor of sociology, for a story on labor talks for auto workers and the consideration of a four-day work week. Cutler wrote a book on the United Auto Workers labor union called Labor's Time: Shorter Hours, the UAW, and the Struggle for American Unionism. Cutler also spoke to Morning Brew for a story on the UAW's pursuit of a 32-hour work week. Cutler said the union initially pursued a similar plan in the 1940s following a reduction to a 44-hour work week in the 1938 but opted to prioritize a peaceful relationship with the carmakers at the time.
Attorney Rusty Hardin '64 is serving as the lead prosecutor alongside lawyer Dick DeGuerin in an impeachment case of suspended Texas Attorney General Ken Paxton, as detailed in The New York Times. The trial is the first impeachment trial of a statewide official in Texas in over 100 years.
Portland, Maine mayoral candidate Justin Costa '06 was profiled by Portland Press Herald. Costa, who worked in former President Barack Obama's "Yes We Can" program following graduation, is no stranger to city government, having previously served for 12 years between the Portland School Board and City Council.
Kidcity Children's Museum celebrated its 25th Anniversary this month. The Middletown institution was created by Jennifer Alexander '88, Hon '09, P '15, '16, who dreamed of starting a center to serve the community's children with fun and educational programs, Roth wrote in a blog post on Sept. 26.
Two of Wesleyan's own were featured in a photography series by the CTMirror in which they are photographing and interviewing one Connecticut resident from each of the 21 Asian ethniticities as defined by the U.S. Census Bureau. Associate Professor of English Rachel Heng, a native of Singapore, was interviewed and photographed in a piece on the Southeast Asian diaspora. Assistant Director of International Student Engagement Dari Jigjidsuren, who was born in Mongolia, was interviewed and photographed for a piece on the East Asian diaspora in Connecticut.
The Connecticut Post interviewed Pastor Marichal Monts '85 for a story on Monts' efforts, alongside two other Hartford natives, to bring life back to Barbour Street in Hartford. Monts told the Post that when he went to Wesleyan, his fellow members of the Black Student Union made it clear it was their responsibility to make their neighborhoods better. "I took them seriously," Monts said.
Huffington Foundation Professor of Economics and Environmental Studies, Emeritus, Gary Yohe wrote an op-ed in The Messenger calling for Americans to "vote climate" and seek candidates who will lead on the climate crisis.
Professor of Government Peter Rutland was quoted in a Business Insider story on Russian oligarchs, saying that oligarchs are willing to sacrifice their personal holdings abroad in order to maintain their influence and power in the eastern European nation. "You would immediately lose all your assets inside Russia. Your allies and family would be liable to arrest. There's no ambiguity to the downsides. And the upside is you can continue to make a lot of money in Russia," Rutland said.
Rutland wrote about his personal experiences with the Russian Federal Security Service (FSB) while on a research trip in 2002 for NYU's Jordan Center for Advanced Study of Russia following the arrest of Wall Street Journal reporter Evan Gershovich in March.