Center for the Study of Guns and Society Explores History's Growing Role in Understanding Firearms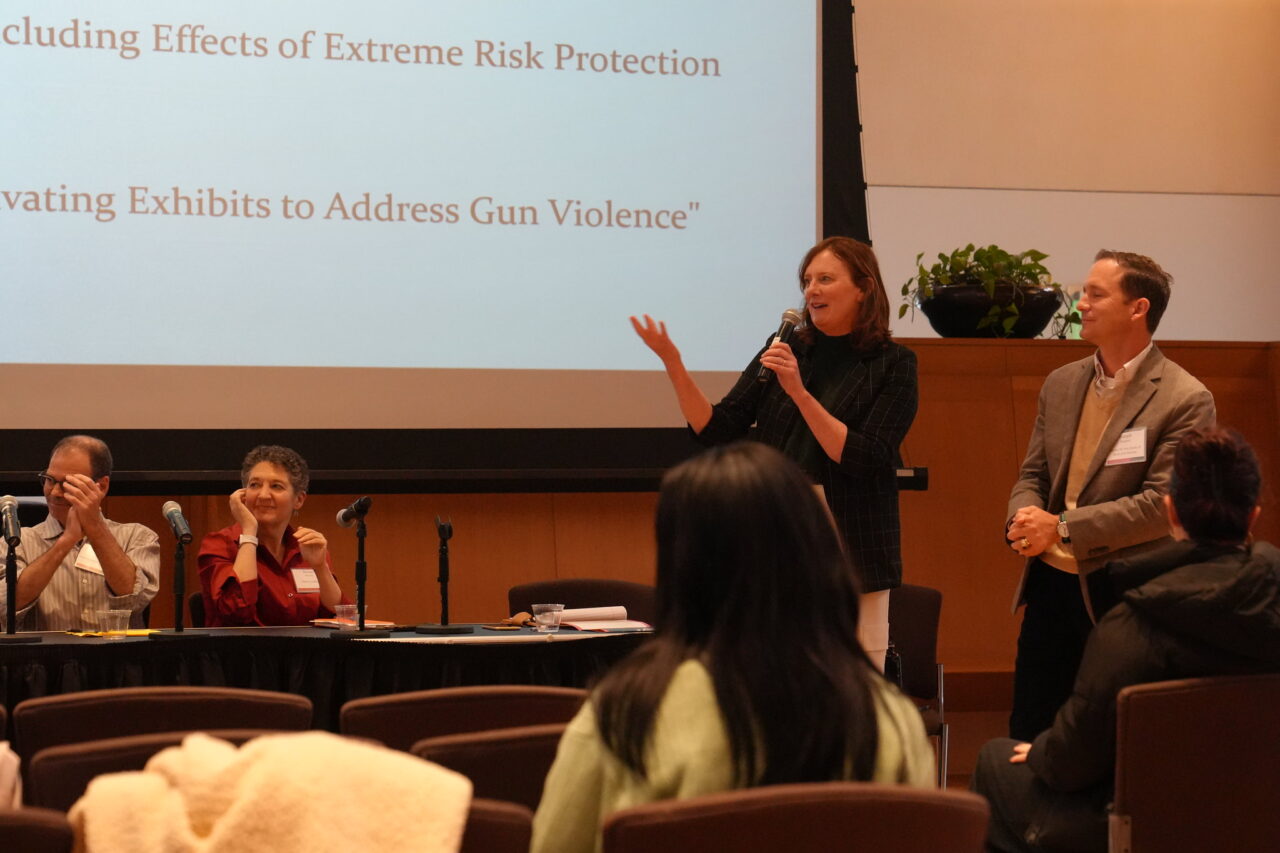 The Center for the Study of Guns and Society at Wesleyan brought together historians, museum curators, legal scholars, journalists, filmmakers, and other subject-matter experts for the Center's second-annual flagship conference, Current Perspectives on the History of Guns and Society, which took place October 13-14. Through panel discussions, a film screening, and other sessions, the conference shed fresh light on the ever-expanding role of history in America's contemporary gun discourse.
"How have the uses and meanings of guns changed over time?" asked Jennifer Tucker, professor of history and the Center's founding director. "How does historical knowledge inform how we grapple with questions about firearms in society, culture, and courts of law? Today, as never before, there is a great contemporary demand for this kind of rigorous historical analysis."
"Wesleyan's Center for the Study of Guns and Society is doing unique and vital work to enrich our national conversation on firearms. The Center's annual conference connects experts from a huge range of backgrounds so we can learn from one another," said Brian DeLay, the Preston Hotchkis Chair in the History of the United States in UC Berkeley's History Department.
The history of firearms use, regulation, and place in American culture is a largely neglected academic subject. Yet since the Supreme Court handed down its watershed NYSRPA v. Bruen decision in 2022—and, in effect, began requiring modern-day firearms restrictions to have regulatory counterparts in early American history—professional historians have become increasingly common in courtrooms that hear Second Amendment cases. On a panel entitled "Use and Abuse of History in Second Amendment Litigation," historians spoke of logging seven-day workweeks in the wake of the Bruen decision, applying their expertise in cases pertaining to high-capacity firearm magazines, self-assembled weapons colloquially known as ghost guns, and other present-day issues without easy precedents.
"The way that I have tried to approach it as an expert witness and a historian, instead of just trying to answer the basic question—'what's an analogous law to firearms on a subway?'—is to step back and ask a broader question and try to show the court the change over time that's happened," said Brennan Gardner Rivas, a historian and independent scholar. "That context can make a big difference in sorting out some of the arguments that are just silly."
In another session moderated by CNN's Richard Galant, a panel of working journalists drew on their own experiences to share the global resonance of America's relationship with guns as well as the ways in which reporters approach covering gun violence, from conveying its public health dimensions to weighing whether to publish images of its consequences.
"There's a deep, deep problem in gun culture in the United States that has little to do with law-abiding gun owners," said Mike McIntire, a Pulitzer Prize-winning reporter at The New York Times (and an avowed gun owner), who in 2013 co-authored a series of investigative stories on gun violence in America. "It gets into a whole milieu of overlapping things—not just ideology but also the psychology behind why people desire certain kinds of guns to begin with, the marketing, the commercial aspects of it. In some ways, it's kind of this unholy merging of the free market and politics and ideology."
As in the Center's 2022 inaugural conference, this year's event examined firearms from a range of atypical angles, from the intentional design behind firearms exhibits in museums, to a deeper exploration of the role of faith in firearms history, to a screening of the 2023 film Good Guy with a Gun.
Discussions at the conference covered a variety of subjects related to guns in U.S. history from the colonial era to the present, including presentations by 15 eminent historians. For example, Jonathan Obert (Amherst) spoke on the markets and manufacture of 19th century small arms; Antwain Hunter (UNC Chapel Hill) discussed firearms, race and community in antebellum North Carolina; and Lindsay Schakenbach Regele (Miami University) explored some of the myths and realities of guns and westward expansion.
In another session, historians Jessica Dawson (West Point), Michael Grigoni (Wake Forest), and Jenny Legath (Princeton)—all of whom are doing cutting-edge research on how religious identities shape individual's relationship with firearms—provided much-needed historical and sociological context. "I did not realize the degree to which the NRA utilized religious rhetoric to reshape its advocacy of firearms in the latter half of the 20th century," said Joseph Slaughter, assistant professor of history and associate director of the Center for the Study of Guns and Society.
Historian Caroline Light (Harvard), whose research has traced the entwinement of the nation's ideals of armed citizenship and concepts of race and gender, and Brian DeLay (UC Berkeley), a leading historian of the U.S. arms trade, presented research on the historical record of guns in 19th and 20th century U.S. history and law. 
The conference also offered a glimpse of firearms-focused research underway at Wesleyan. Maryam Gooyabadi, assistant professor of the practice in quantitative analysis, detailed a range of firearms data analysis projects at the Hazel Quantitative Analysis Center (QAC) in collaboration with the Center for the Study of Guns and Society. Projects include analyzing representations of firearms in media; marshalling data from different federal agencies to explore the factors influencing gun deaths; and tracking technological advances in firearms by examining patent records.
The conference closed with a roundtable discussion on current and future initiatives with presenters and attendees, including presentations by epidemiologist Matthew Miller (Northeastern/Harvard's Firearm Injury Prevention Center) on current public health research relating to the effects of extreme risk protection orders, and historian Renee Romano (Oberlin), on a new effort to activate exhibits to address gun violence.
As the Center's most recent conference showed, our reckoning with firearms is as old as the Republic and as recent as today's front page. "I don't think we need to wait for some sort of far-out moment in the future where you can look back into the mists of time to understand what's going on," said McIntire, the Times reporter. "It's happening to us right now."