Community Views the Solar Eclipse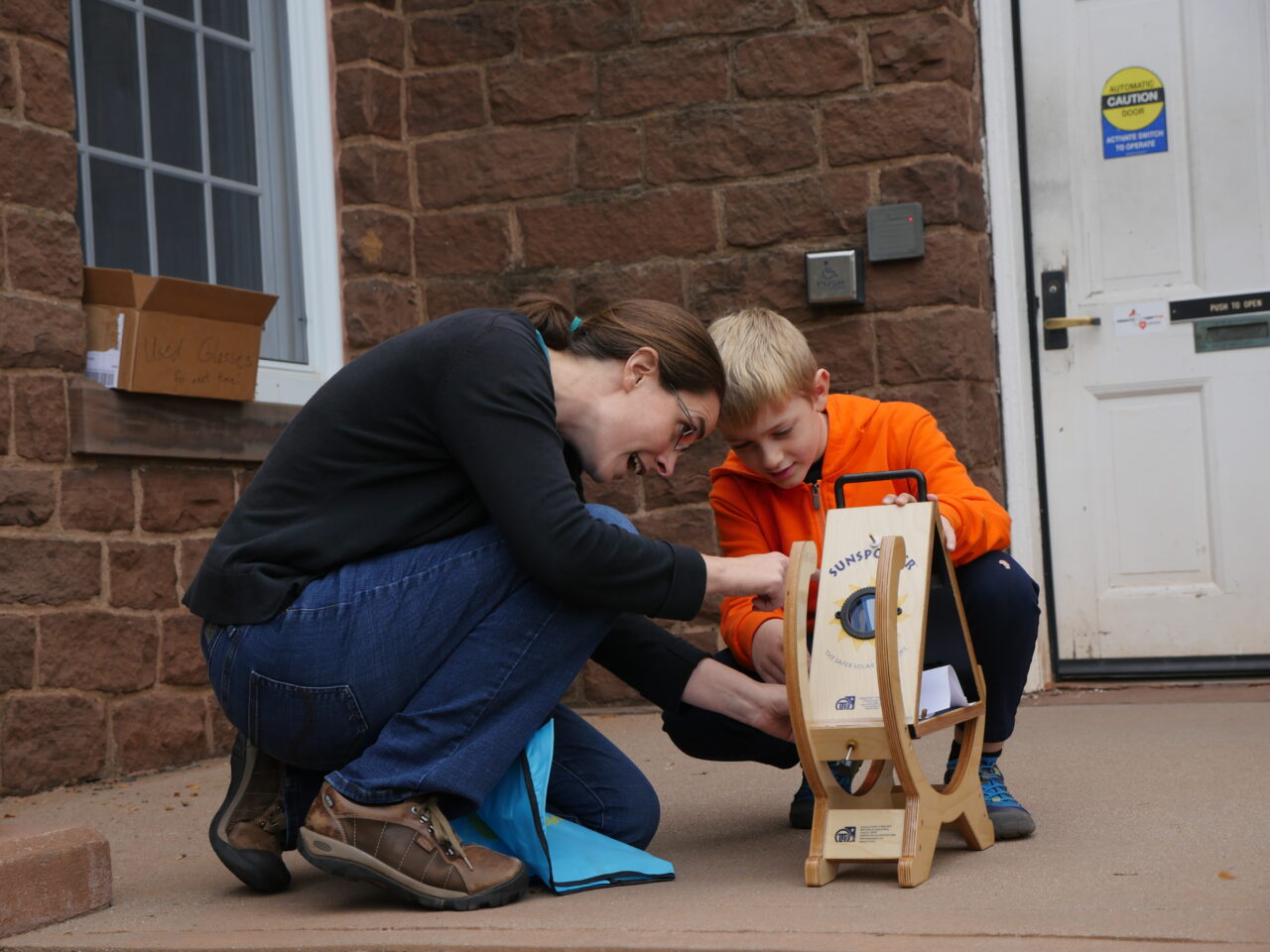 By Rose Chen '26
Students and members of the community gathered at Van Vleck Observatory (VVO) on the afternoon of Saturday, Oct. 14 for solar eclipse and astronomy-related fun. Despite the cloudy weather, attendees received eclipse glasses for safe future viewings and a planetarium show, as well as books available to check out from Russell Library and demonstrations in both English and Spanish from graduate students in the astronomy department.
"I think, of course, everybody was disappointed that the clouds didn't cooperate today," Associate Professor of Astronomy and Integrative Sciences Meredith Hughes said. "But it's never cloudy in the planetarium, and never cloudy on NASA TV… It's great that so many people still came out to enjoy the eclipse and to get excited about space."
The event was a joint collaboration between Wesleyan's astronomy department and Middletown's Russell Library, where Amy Slowik, Head of Youth and Family Learning, worked with Hughes to obtain 2000 solar eclipse glasses through the NASA@ My Library project and the STAR Library Network.
"The more partnerships you have, the more likely you are to get the maximum amount [of eclipse glasses]," Slowik said. "Not too long after that, they were again advertising through the library channels that they want to reach communities with large Hispanic populations by providing bilingual materials and telescopes and sun viewers. So again, we applied and with Meredith's help, we were able to get materials."
Van Vleck Observatory's partnership with Russell Library has been growing over a number of years, including during the pandemic when libraries collected questions from the public and astronomy students chalked the answers on the sidewalk in front of the local library. In addition, the astronomy department often brings their inflatable planetarium down to the library and to local public schools for presentations.
Graduate student Katie Ciurleo helped run Saturday's planetarium show, using a live feed to demonstrate how the annual solar eclipse would look from Middletown on the day of if there wasn't cloud coverage and how the next full solar eclipse would look on April 8, 2024.
"Astronomy a lot of the time is a science that depends on the weather," Ciurleo said. "I'm really grateful for how many people showed up to come hear about the solar eclipse from the astronomy department, watching it with us on the live stream and having some fun in the planetarium."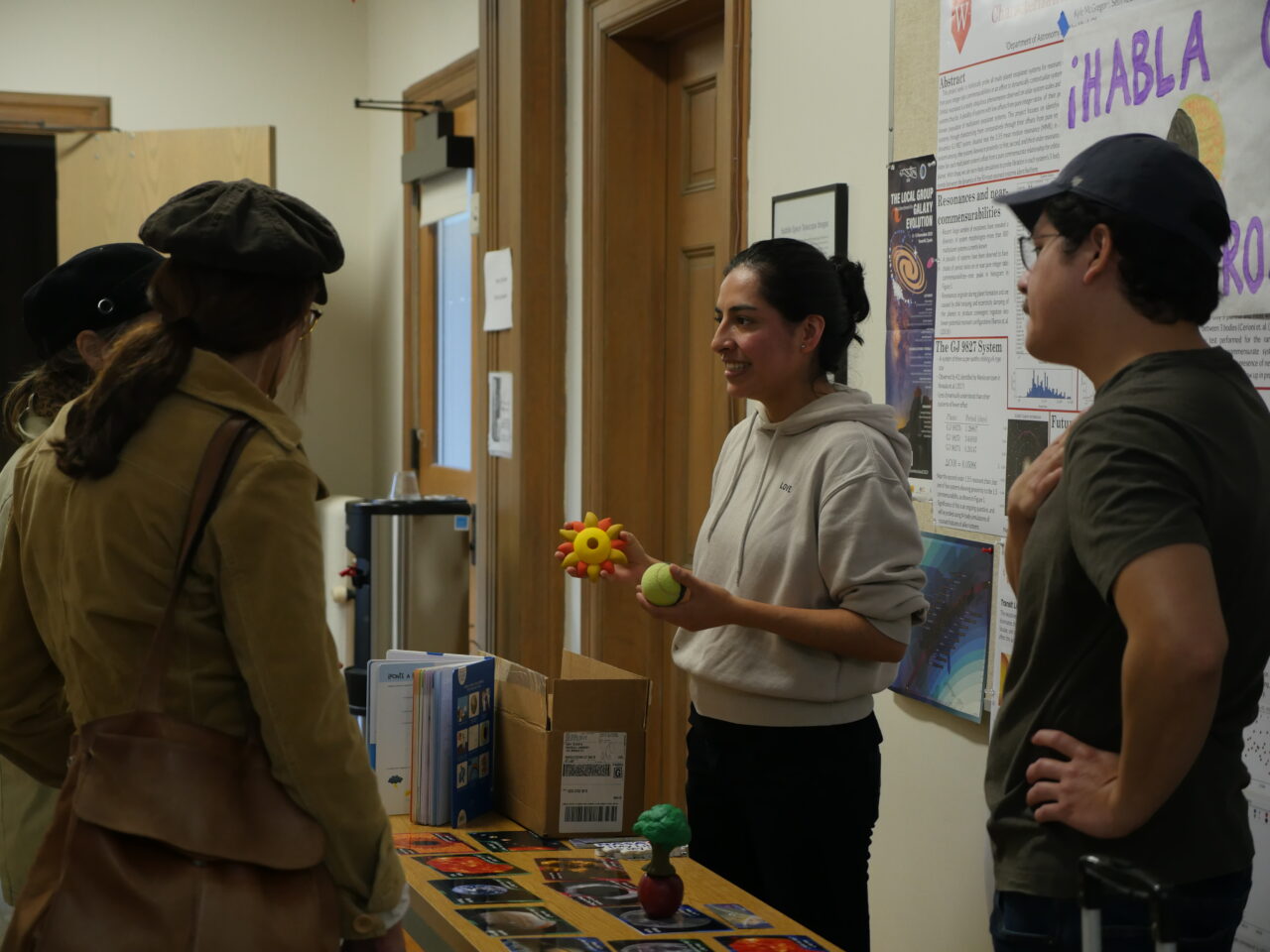 For the first time, there was also a table for Spanish speakers, run by graduate student Lisseth Gonzales Quevedo and Carlos Ordonez '25. Gonzales Quevedo reiterated how excited she was that astronomy department events are incorporating bilingual students to reach more of the community, and how much she appreciated being able to speak with visitors and give information about eclipses.
"One of the things that we're excited about for the spring is that we've been starting to work with some of the English language learners in Middletown and some of our Spanish speaking students who are really excited about doing bilingual outreach in in astronomy," Hughes said "We're going to bring our planetarium to even more of the local schools to do bilingual planetarium presentations."
Many elementary school students were in attendance, including Middletown second-grader Nate, who knows he wants to be a scientist but isn't sure which kind.
"That telescope is my favorite," Nate said, pointing to the Fisk Telescope on display in the observatory and holding several books about the moon and stars. "Space is really cool."