31st Annual Dwight L. Greene Symposium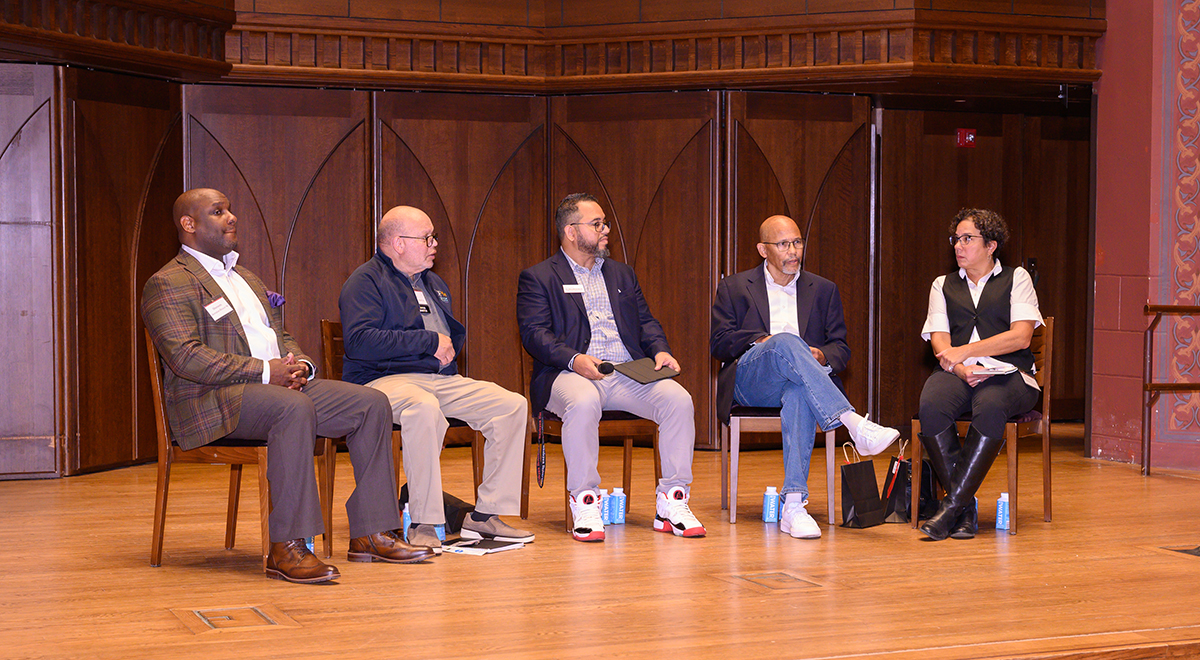 The Supreme Court ruling on SFFA v. Harvard and SFFA v. UNC may have ended affirmative action in college admissions this past June, but Wesleyan will continue to recruit a racially and economically diverse applicant pool.
This year's 31st Annual Dwight L. Greene Symposium on Oct. 28 invited several distinguished alumni in the fields of law, civil rights, and admissions, to discuss access and opportunity in higher education, a topic that has been at the forefront of the higher education conversation for the past several months. The panel featured Tanya Greene '91, director of US Programs, Human Rights Watch; Shereem Herndon-Brown '96, admissions professional and co-author (with Timothy L. Fields) of The Black Family's Guide to College Admissions; Theodore Shaw '76, Hon. '14, Julius L. Chambers Distinguished Professor of Law and director of the Center for Civil Rights, University of North Carolina; and Clifford Thornton, former associate dean of admission at Wesleyan.
The event began with opening remarks from President Michael S. Roth '78, and was moderated by Amin Abdul-Malik Gonzalez '96, vice president and dean of Admission and Financial Aid. Gonzalez assured that Wesleyan's commitment to recruiting a diverse student body remains the same, and the University's holistic application process will become even more important in the years to come.
He encouraged the panelists to reflect on their time at Wesleyan across several decades of change from the mid-70s to the new millennium.
Affirmative action has had a long and contentious history in higher education. Ted Shaw '76, Hon. '14, who spent decades defending not only affirmative action but diversity as a civil rights advocate and law professor, recalled another landmark case involving race in admissions. He was at the Supreme Court on June 28, 1978, when the justices ruled that the use of racial quotas in admissions processes was unconstitutional in Regents of the University of California v. Bakke.
"I'll go to my grave as an advocate of affirmative action because of the unfinished work of making this country live up to its ideals. Diversity can help you do that, but affirmative action was specifically targeted at that," Shaw said.
Tanya Greene '91 added that "Affirmative action is difficult for our society because [it] is an aspect of reparations, and we need to own that. It is embracing the history of how this country was born, and how this country was built, and how it became a leader in the world on the backs of certain people and those people are owed. And affirmative action is just part of this."
In their remarks, Shaw and Greene proudly shared that affirmative action was what brought them to Wesleyan.
"Wesleyan changed the course of my life," said Greene. "I saw affirmative action as something to be proud of, as a recognition of my capacity, of my potential. I came from a family where nobody had graduated high school, a working-poor family down South." Greene went on to say that while coming to Wesleyan as a light-skinned Black person was intimidating, "coming as a poor person was sometimes paralyzing." She had experienced homelessness growing up and like many first-generation low-income students, she faced invisible social and financial obstacles that other students from middle-class and wealthy families didn't.
"The presence of other students of color, other people who came from working poor backgrounds made all the difference in the world and it felt like Wesleyan cared about that. There's a value to recognizing what we bring when we are different like this," Greene said.
Throughout the event, several of the panelists and audience members acknowledged the role Clifford Thornton played in bringing them to Wesleyan. Thornton came to Wesleyan in 1985 to work for the Office of Admissions. During his tenure, he made Wesleyan a destination of choice for many students of color, from all cultural and socio-economic backgrounds.
"I was employed by Wesleyan, but I worked for the Black students," Thornton said, as he recalled how students in Ujamaa, Wesleyan's Black Student Union, met with him annually and held him accountable for recruiting more Black students to campus.
He challenged the University to look for the diversity within the diversity because recruitment based on race alone will not address the larger, systemic issues of providing a high-quality liberal arts education to Black students. For example, Thornton said that in the early 2000s, Wesleyan's Black student population was largely made up of African and Caribbean immigrants, not African Americans. Though all three groups identify as Black, international students face different challenges compared to Black American students who come from lower socio-economic backgrounds or represent the first-generation of college graduates in their families, he explained.
During the question and answer portion of the event, audience members, many of whom were alumni or parents of current students, expressed concerns about how the end of affirmative action might trickle down and negatively impact other opportunities for students of color, like access to prestigious internships. In response, Gonzalez challenged those in the audience to promote Wesleyan within their own communities to engage prospective students of color and provide beneficial networking opportunities.
The Dwight L. Greene Symposium honors Dwight L. Greene '70 as a memorial and tribute to his life and work as a professor of law, mentor, and friend. The Alumni of Color Network and the Black Alumni Council sponsored this event.