Wesleyan Celebrates Homecoming and Family Weekend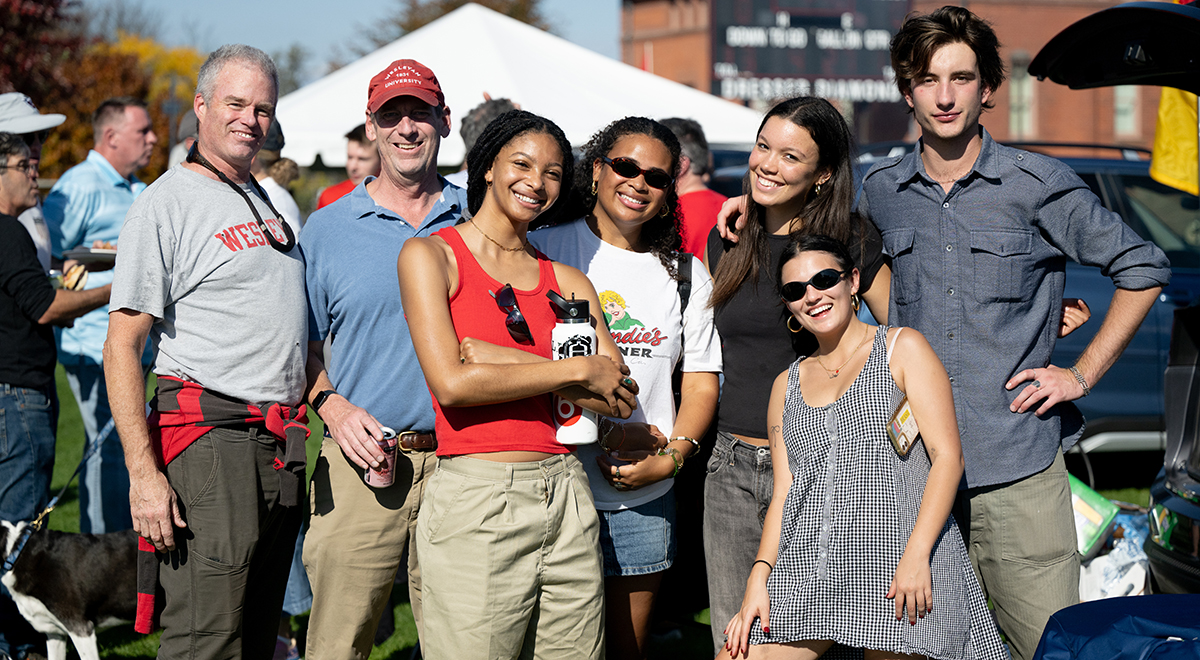 Thousands of alumni and family members converged on Wesleyan University's campus for Homecoming and Family Weekend from Oct. 27 to 29. Attendees walked the footpaths they once knew, hugged loved ones they hadn't seen in a while, sparked up their grills at the football game, sat in on WeSeminars, and joined in on a historic University announcement.
After hours of tailgating on Andrus Field, with music blaring and the distinct smell of hotdogs in the air, Wesleyan's football team took the field against rival Amherst in front of 5,000 fans. The Cardinals cruised to a 34 to 7 victory over Amherst—its largest at home against the Mammoths since 1992—thanks to an outburst of scoring in the second and third quarters, punctuated by an 82-yard pick six at the end of the first half from defensive back Dylan Connors '26. With the win, the football team improved to 5-2 on the season and tied for third in the NESCAC.
Wesleyan University also announced the launch of a $600 million fundraising initiative, the largest in the University's history. Over $360 million had already been raised through the initiative, called "This is Not a Campaign. This is Wesleyan."
"We're asking for your support to do everything we now do with more intensity, creativity, love, and effectiveness. With your help over the next several years we're going to rise to new levels," said President Michael S. Roth '78 at the kickoff event, featuring student performances in the celebration.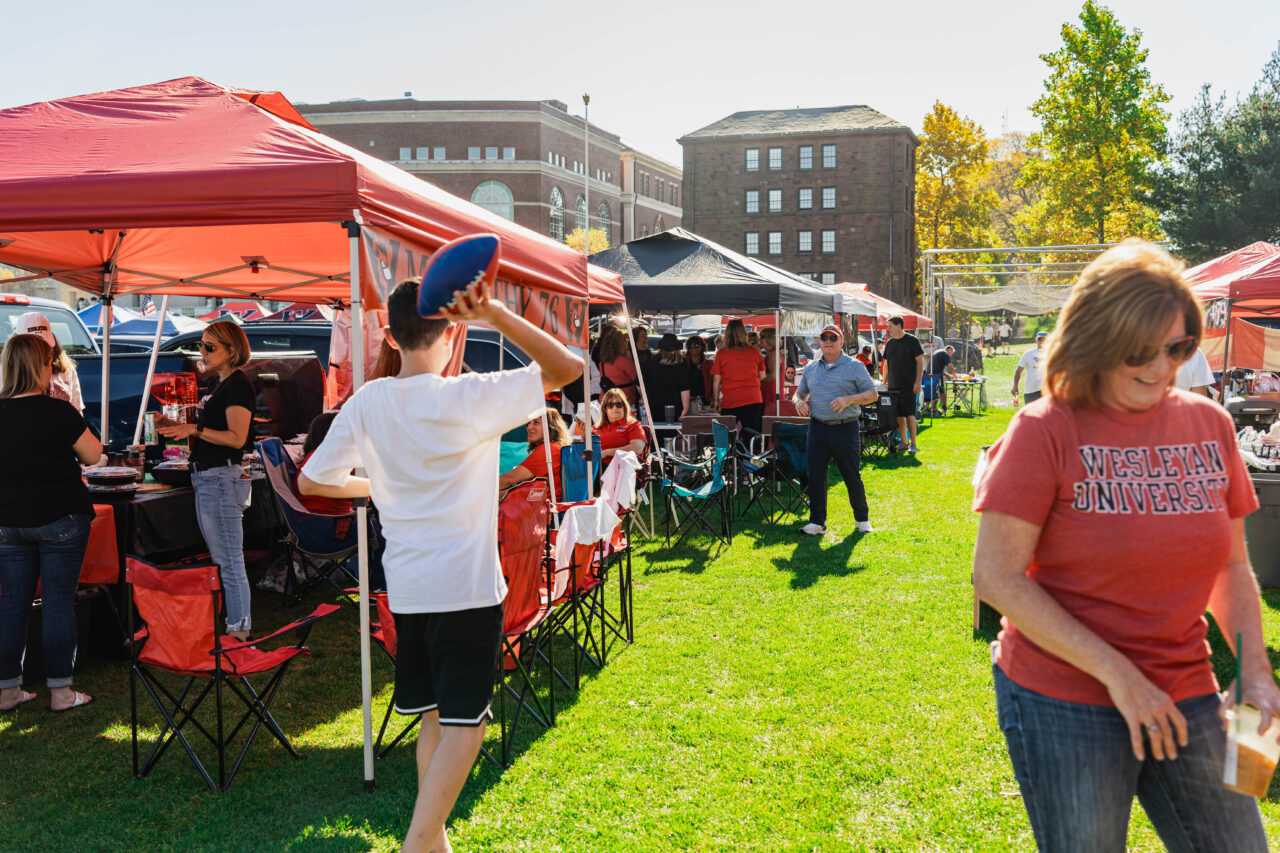 Part of the fundraising effort is to continue fostering Wesleyan's mission to educate students, allow them to find their passions and ways to contribute past the bounds of campus.
"My goal is that [students] work their butts off at something that will teach them who they are and how they can contribute to the world around them," Roth told parents in Beckham Hall on Friday. "That's what pragmatic liberal education is all about, learning things whether you're majoring in the classics, computer science, or both, and to use it after you graduate in ways that other people think are valuable."
Joy Challenger-Slaughter '90 said Wesleyan expanded her world view and connected her to people across the country. "It was the education, but it was the people, the experience, figuring out how to go out into the world that was broader than my upbringing," she said. She served as a "human book" at the Black Alumni Councils' "Human Library" event on Saturday morning, which gave students a chance to learn about the journeys of several Black alumni.
Trustee Josh Guild '96, another "human book," graduated from Wesleyan with a passion for African American history and turned it into a career in education—first getting his Ph.D. and now working as an associate professor of history and African American studies at Princeton University. His journey to a faculty position at an Ivy League school was not without interruptions, though—he found himself on academic probation in his sophomore year after overextending himself with too many classes and activities.
After studying abroad in Ghana and doing an exchange program with a different university, he came back to Wesleyan reenergized and focused on a career in education. "It made me appreciate the academic opportunities here in a different way," Guild said. "It made me, ultimately, a better teacher."
"I think the liberal arts background gives you a core that you can draw upon as you are solving problems in life," said Sylvester Ginn '72, who spent his career traveling the world reviewing commercial loan portfolios in the banking sector. "Whether or not you get a technical skill to go with it, I just think it can be useful to help you to understand different issues."
Many first-years are still in the process of finding the optimal way to get to class, let alone their life's passions and forever commitments. However, several parents visiting this Homecoming said they noticed that their children had seemed to be more self-assured since they first stepped foot on Wesleyan's campus just months ago.
While taking in the sunshine on the lawn between Olin Memorial Library with her older daughter, Susan Daggett P'27 said her younger daughter, Anne Bennet '27, seemed "very settled in herself. I think she's increased in confidence; I think she feels like she's in a place where she's herself."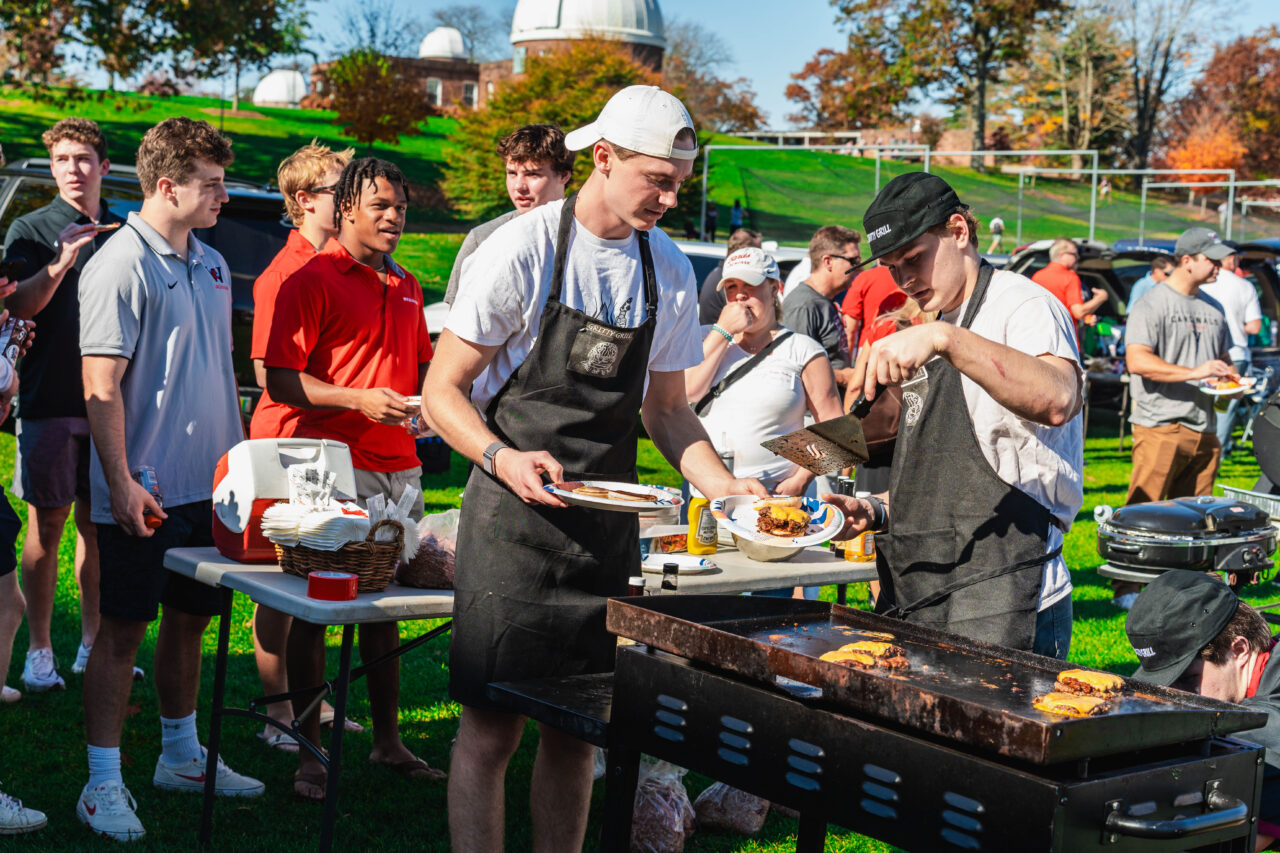 Former Center for Prison Education student Da'Quan Long delved into his Wesleyan experience in front of a room full of intently interested onlookers at a WesSeminar on Saturday morning. Long said the opportunity to pursue research in an otherwise information-guarded environment lit a fire in him to pursue his education—he is pursuing a bachelor's degree in business management.
"[Wesleyan] helped me recognize what independent thinking is," Long said. He now splits time between his work as a facilitator and consultant for the United Mentoring Academy and managing two restaurant locations in-state.
The Center for Prison Education hosted one of several WeSeminars throughout the weekend. Attendees had access to sessions on studying abroad, research through the Black Box Labs, political advertising, the cultivation of leadership, and the world's future living amid the effects of climate change.
Amidst the football fun and the ideas at WesSeminars, a common theme emerged from the weekend—Wesleyan is a place that launches friendships, careers, personal growth, and a world of possibilities.