Tony Award Winner Kail '99 Speaks to Students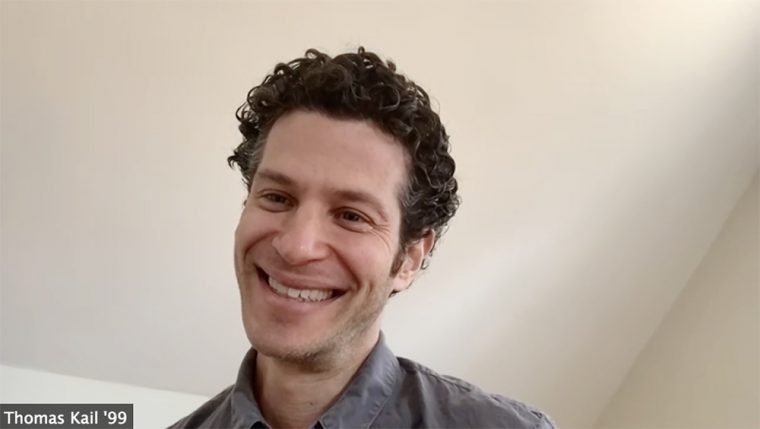 By Rose Chen '26
Tony Award-winning director Thomas Kail '99  joined the Gordon Career Center, in collaboration with the Theater Department, for a career conversation and a Q&A session on Monday, Oct. 30.
Kail graduated from Wesleyan University with a degree in history and went on to work with fellow graduate Lin-Manuel Miranda '02. He became renowned for directing Broadway musicals In the Heights and Hamilton, the latter of which earned Kail a 2016 Tony Award for Best Direction of a Musical. Kail is currently represented on Broadway with the critically acclaimed revival of Sweeney Todd and has been tapped to direct Disney's live-action Moana.
The event was led by Vincent Langan '24, an English and theater double major, and Sam Feuer '24, a computer science and mathematics double major who is involved in music directing for student theater productions.
"Mr. Kail is someone with lots of insight and experience, and we wanted to ask him questions that would allow him to convey this knowledge to the audience," Feuer said. "Specifically, we did not just want the event to only be helpful for students interested in theater and media—we wanted to cater to students of all interests and majors."
Kail emphasized the breadth of options that Wesleyan offers, speaking to the excitement he had in going to college to discover new interests and versions of himself. He chose to study history due to his desire to hone his ability to read and understand texts but became involved in theater and comedy through student groups and acting classes.
"I didn't go to Wesleyan thinking that [acting] was going to be anything that had to do with my life at Wesleyan or beyond Wesleyan, and I feel like the most Wesleyan thing ever is to major in History and then work in theater," Kail said. "There was something about the expansiveness of the and the breadth of the talent at Wesleyan that I was quite struck by… I was around people who were passionate about the thing that they did, and dynamically pursuing it."
Kail credits being surrounded by the drive and focus of his classmates with aiding his development of his own interest in student theater, where he learned how to produce and direct independently through organizing all the facets of a production, from casting to designing.
"Directing and figuring out leadership, I think, is for me something that came from practice," Kail said. "And the beauty of being in school, I found, was that there's always somewhere that you can do a show. And I feel like that's something that's quite rare once you get out of school. So, I was happy to be with a group of people that were trying to make as much stuff as possible."
Upon his graduation, Kail worked in several different positions, including as the founder of his own theater company, a writer of his own productions, and a director working with fellow creatives. He also worked briefly as a stage manager, which taught him the pragmatic skills necessary for directing, and led him to understand his love for being around the show even after it opened as well as being involved in its creation.
"I think I found it was useful to try to just be around production and rehearsal," Kail said in response to a question on how to look for opportunities in theater and film. "I learned a lot from watching and absorbing… I was constantly asking people about their own stories, and there's usually something along the way that you feel like you can pick up and put in your pocket and take with you."
Students found his advice on creating careers from passions found in university illuminating, particularly with his personal anecdotes on the reality of working within the arts, dealing with disappointment, and chasing opportunity.
"I loved Mr. Kail's candor, his warmth, and his honesty," Langan said. "He seemed genuinely excited to speak to Wesleyan students. He answered all our questions so thoughtfully, and he encouraged us to critically consider the reality of working in the arts while emphasizing how important the arts will continue to be. I am grateful for the opportunity to hear his advice, and even more grateful to have represented the Wesleyan artistic community."