Sunny Jain to Create New Music Theater Project During Wesleyan Residency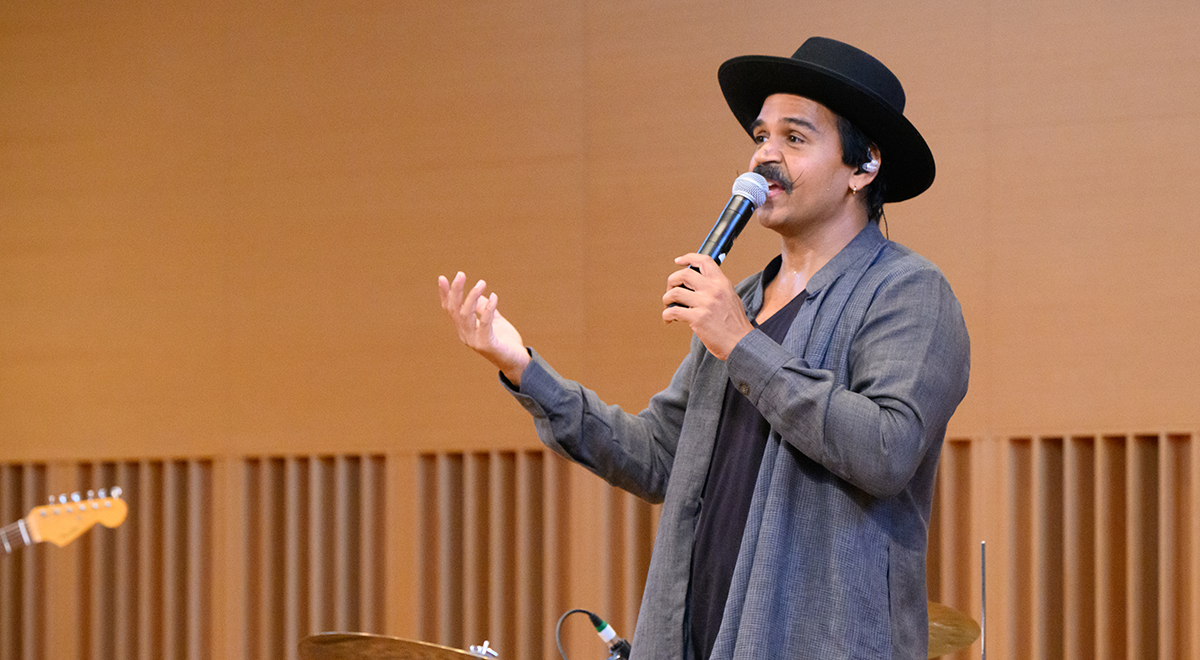 Brooklyn-based composer and dhol (double-headed drum) player Sunny Jain will fine tune a new piece of work during his year-long artist residency at Wesleyan.
Jain is developing the latest iteration of his first music theater project "Love Force." He started working on the storytelling piece in 2020, and previously presented portions as part of a commission from the music venue Joe's Pub, a program of The Public Theater in New York, delivering the narration as well as drumming.
The idea of the show "Love Force" is embedded in rhythm and improvisation and includes immersive elements. Jain is trying to figure out the best way to tell his story during his time at Wesleyan. "How do you tell it through multimedia? How do you tell it through dance, perhaps? How do you tell it through lighting?" asked Jain.
The work is based on the concept satyāgraha, coined by Mahatma Gandhi (1869–1948) during his nonviolent protest against British colonialism in India, which means "insistence or holding firmly to truth." That concept had also influenced Martin Luther King Jr. during the Civil Rights Movement, when he called it "soul force" and "love force." Jain's work will address his family's experiences, including their immigration from India to Rochester.
The personal piece will deal with issues of discrimination and draw parallels between the Hindu caste system in India and the history of American hierarchy, which Jain says has affected every immigrant community that has come to the United States since slavery. He will be poking at culture, traditions, and rituals to find ways that people can unite that have nothing to do with religion, politics, or anything that separates people. "How can we create a better system where we come together, versus the system that's in place?" asked Jain.
After his father passed in 2019, Jain started to ask himself what he holds dear, and what he might pass on to his children. He found that it was the idea of jazz improvisation: being in the moment where there is no hierarchy. "There's no leader or follower," said Jain.
The Center for the Arts approaches long-term, deeper artist development residencies as a form of research built around the individual artist's process. "We are opening up the artistic process and making it accessible to students, so they can understand how particular artists work, how new creative work is developed, and also how projects have a life outside of Wesleyan, touring around the country and even internationally," said Fiona Coffey, Associate Director for Programming and Performing Arts and Adjunct Assistant Professor of Theater.
Jain's group "Wild Wild East" made their Connecticut debut in Crowell Concert Hall at Wesleyan in September 2023 as part of the 50th Birthday Party for the Center for the Arts.
In the three days following that concert, Jain started to explore possible intersections at Wesleyan with the story he is trying to tell. He toured campus, attended exhibition receptions, and visited classes in government, English, and American studies. Jain met with student groups and faculty in music, dance, film studies, history, religion, and environmental studies; as well as from the Global South Asian Studies and Science in Society programs, and the College of Education Studies. "I'm very curious," Jain said. "It's great to sit in and just see what's happening and have conversations with the professors…It's feeding me and inspiring me."
Over the course of the 2023-2024 academic year, he plans on meeting with faculty in theater, art history, creative writing, archaeology, anthropology, and religion; as well as from the Feminist, Gender, and Sexuality Studies program; and the College of the Environment.
Jain will be back on campus in December 2023, and then again in February and April 2024, to visit additional classes and experience various performances on campus. In May and June 2024, his group will rehearse in the Center for the Arts Theater ahead of a work-in-progress public performance of "Love Force" at Wesleyan in September 2024.