In this continuing series, Annie Roach '22, an English and Italian studies major from Middletown, Del., reviews alumni books and offers a selection for those in search of knowledge, insight, and inspiration. The volumes, sent to us by alumni, are forwarded to Olin Library as donations to the University's collection and made available to the Wesleyan community.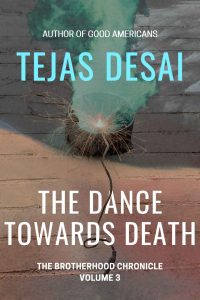 Tejas Desai '03, The Dance Towards Death (The New Wei, 2020)
In the third volume of his crime thriller trilogy The Brotherhood Chronicle, Tejas Desai delivers awe-inspiring narration that easily follows through in its mission to add a breathtaking final installment to the series. The Dance Towards Death follows former private investigator Niral Solanake and his journey through an intricate international criminal world across all corners of the globe. Desai's realistic and clear-cut use of dialogue is most striking in his prose, as he manages to capture a multitude of tones and attitudes within each of his characters.
In an interview with Digital Journal, Desai explained that the exquisite precision of the book is no coincidence—he spent years engaging in a rigorous editing and revising process. "I'm meticulous, so even though the basic draft of The Dance Towards Death was finished years ago, it has still been chiseled and revised several times since," he said. His attention to detail shows, and readers and fans will not be disappointed with the result.