In this continuing series, Annie Roach '22, an English and Italian studies major from Middletown, Del., reviews alumni books and offers a selection for those in search of knowledge, insight, and inspiration. The volumes, sent to us by alumni, are forwarded to Olin Library as donations to the University's collection and made available to the Wesleyan community.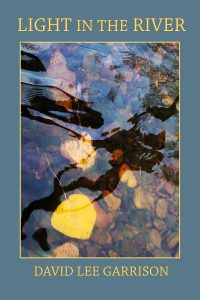 David Lee Garrison '67, Light in the River (Dos Madres Press, 2020)
Lately, many of us have been looking for small ways to escape from our screens and our worries. David Lee Garrison's latest poetry collection is the perfect shelter for moments like these, providing an assortment of charming, readable poems that will leave readers in good humor. All of the poems are brief and enchanting, presenting as bite-sized stories that seamlessly balance comedy and depth and seem to encompass tiny worlds of their own in remarkably few words.
In "Meatballs," a dog begs for the meatballs his owner is cooking, looking at him with "big wet eyes" and a "relentless display / of pathos"; at the end, the owner quips that the dog has "got [him] / by the meatballs." In "Men at Seventy," the speaker's voice straddles wit and sadness: "They take aspirin before playing tennis, / write wills directing that their ashes / be mixed into the clay of the courts." "Beware of the Poem" reflects on the art of the poem itself, and Garrison cites other poets, including Langston Hughes and Thomas Lynch, several times throughout the collection. Garrison's style is effortless and self-aware, and his is the perfect book to keep on your bedside table if you're looking for a nugget of wisdom and humor before calling it a night.
David Lee Garrison '67 is a poet who lives in Oakwood, Ohio. He earned his PhD from Johns Hopkins University and taught Spanish and Portuguese at Wright State University for 30 years. He has translated and published the poems of several notable Spanish poets, and his poems have appeared in several journals and anthologies.