In this continuing series, Annie Roach '22, an English and Italian studies major from Middletown, Delaware, reviews alumni books and offers a selection for those in search of knowledge, insight, and inspiration. The volumes, sent to us by alumni, are forwarded to Olin Library as donations to the University's collection and made available to the Wesleyan community.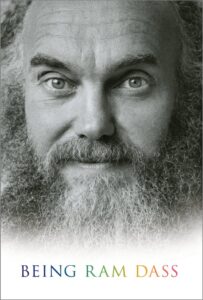 Ram Dass MA '54 and Rameshwar Das '69, Being Ram Dass (Sounds True, 2021)
When Ram Dass, then known as Richard Alpert, was fired from his position as a professor of psychology at Harvard University for giving psychedelics to undergraduates in pursuit of a research project, his adventure-loving soul decided to use the initially disappointing dismissal as an opportunity and a path towards freedom. A few years later, he traveled to India, where he met his Hindu guru, Neem Karoli Baba, who gave him the name of Ram Dass (which means "servant of God"). From then on, Ram Dass led a life of spirituality, teaching, leadership, meditation, yoga, charity, and yes, drugs. His posthumously published autobiography and memoir, which was co-written with his longtime collaborator Rameshwar Das '69, provides a rich and detailed account of these events and more, starting from his early life, tracking his many transformations over the years, and even including some details about his time at Wesleyan.