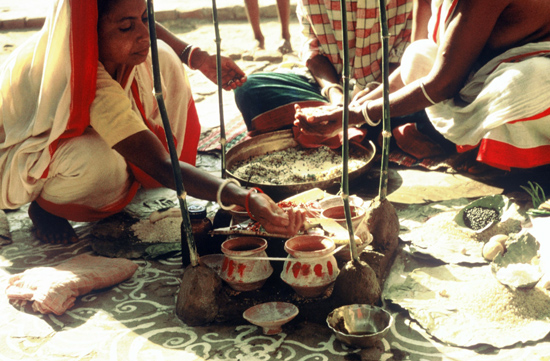 This photograph of a West Bengal wedding altar by Ákos Östör, professor of anthropology and film studies, and Lina Fruzzetti of Brown University, is on display in The Museum of Cultures in Helsinki, Finland. It is part of an exhibit titled "Divine Gifts: Marriage and ritual in rural West Bengal."
Posted 06/15/05
In India, marriage carries great social and cultural meanings. It ensures the continuity of the male line and it is vital to the maintenance of caste status.
Ákos Östör, professor of anthropology and professor of film studies, has spent the past three years traveling to Bishnupur, West Bengal researching marriage rituals. His results – documented with photographs and objects – is currently featured in The Museum of Cultures in Helsinki, Finland.
It's titled "Divine Gifts: Marriage and Ritual in Rural West Bengal."
"Divine Gifts" is funded by a three-year grant from the Finnish Academy of Social Sciences and is supported by the University of Helsinki.
"I first went to Bishnupur in 1967, and I wanted to go back to see the changes that took place over this 40-year period," Östör says. "I'm interested in how the festivals, temples and rituals are changing, and the bazaar's economic system."
Östör was part of a three-member research team. His wife, Lina Fruzzetti, professor of anthropology at Brown University and Sirpa Tenhunen, research fellow of social and cultural anthropology at University of Helsinki, also contributed to the show.
The exhibition features several pieces from Östör and Fruzzetti's personal collections of more than 40 years. It includes a crown of the bridegroom, a conch-shell ritual trumpet, a golden cotton shawl used by the priest in weddings, a wedding ceremony bell, pitcher and oil lamp and a kerosene lantern manufactured from recycled materials.
These are all common parts of a Bengali marriage, known as a biye. The biye also consists of two major elements: the payment of the dowry and the gift of a virgin.
"The gift of a virgin is a ritual of sacred connotation, when the father gives his daughter to another kin group as a divine gift," Östör says.
In addition, the exhibition represents kitchen and household utensils relating to women's every-day life; home altars, deities and ritual objects used in daily worship; and Bankura terracotta horses and elephants given as votive gifts to the snake goddess Manasha.
On Sundays, four documentary films by Fruzzetti and Östör are open as part of the showing. Each film reveals the everyday life in rural West Bengal and of devotion to the goddess Manasha and the gods Krishna and Shiva.
Östör has also put his research into two books, each published by DC Publishers in 2004. He's the author of "Calcutta Conversations" and "The Play of the Gods: Locality, Ideology, Structure, and Time in the Festivals of a Bengali Town," an expanded edition of his older work.
"Divine Gifts" will close in October.
By
Olivia Drake
, The Wesleyan Connection editor