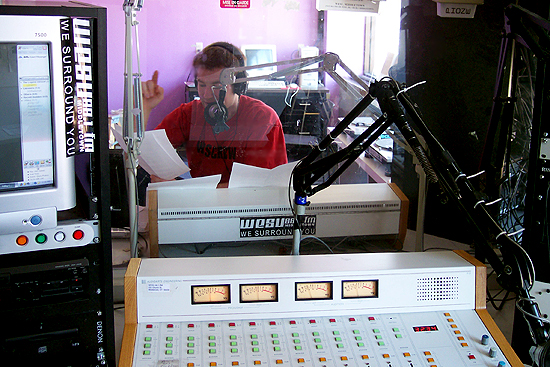 Luke Snelling '05, a DJ with WESU 88.1FM, speaks on air during his talk show March 3. The student-run station now broadcasts shows via the Internet.
Posted 03/15/05
On March 14, Wesleyan's student radio station, WESU 88.1 FM, introduced a new broadcast schedule that combines original programs by students and community members with program feeds from WSHU in Fairfield, Conn.
For the first time, WESU will begin to broadcast via the Internet, a move that should add listeners both on campus and among alumni and parents. In addition, WESU will begin to raise funds from its alumni, local underwriters, and its listeners.
Live streaming of the stations broadcasts can be heard here: http://www.wesufm.org/.
The format changes are intended to provide additional programming options, to enable the station to meet FCC broadcasting requirements when local programming is not available, and to add crucial financial support that can allow it to upgrade its operations and equipment, according to University Communications Director Justin Harmon, who serves as administrative liaison to the station.
Programs produced by students and community members will continue as the mainstay of the WESU lineup. An eclectic mix of ethnic and alternative music will remain the primary feature of the station's original programming. In addition, WESU is initiating a program to produce public affairs shows about local issues as part of a plan to further serve the listening community and the educational mission of the University. Monday's community-based show "Talk For Your Rights" (4:30 p.m.-6:30 p.m.) will serve as a model for such programming. Other talk shows, such as "The Audio MTO" on Sunday nights at 10:30 p.m., feature comedic and other live talent.
Student leaders at WESU and the Wesleyan administration have developed a weekday schedule that features National Public Radio's "Morning Edition" from 5 a.m. until 10 a.m., "The Diane Rehm Show" from 10 a.m. until noon, and "Talk of the Nation" from 2 p.m. until 4 p.m. On weekends, the lineup will include NPR's "Weekend Edition" and "Car Talk."
Students have re-organized WESU's board and operations to put programming and operating decisions firmly in the hands of students while at the same recognizing Wesleyan's ownership of the license and broadcast equipment. Wesleyan will hire a general manager for the station who will be accountable to the board and will report through the University Communications Office. Ben Michael, a long-time station volunteer, will serve as consulting manager for the station pending a search for a full-time general manager. Wesleyan students and members of the community will continue to serve as on-air talent, producers and technicians.
"We have maintained WESU's distinctive blend of music and community programming and added high-quality programs from NPR," says WESU President and Station Manager Jesse Sommer '05. "We intend to build our listener base on campus and in the greater Middletown community, and we hope that our alumni will tune in to our new online service. We are counting on the active support of all these audiences as we move forward with our campaign to revitalize the station."
The station's financial support will come from a variety of sources. The University will continue to subsidize the station by providing offices and utilities. The station will continue to depend on allocations of student activity fees through the Wesleyan Student Assembly. A new non-profit affinity group, the Friends of WESU, will provide fund-raising support and structural guidance.
WESU will receive a portion of the receipts generated by WSHU's fund-raising staff from listeners to the NPR programs WESU carries. Wesleyan will cover the station's remaining budget until these fund-raising sources can sustain the new cost associated with hiring the general manager. It is hoped that, in the third year, fund-raising will attain levels needed to begin investments in much needed production equipment and facilities.
The contract with WSHU runs for 18 months. It places no limits on the content or format of WESU's original programming.
"WESU's purpose is to provide Wesleyan students the opportunity to learn radio as a medium for culture and public service," says Harmon. "Our goal is to keep the station strong and independent. We think this partnership of students and community members, alumni and broadcast professionals best serves this goal."
By David Pesci, director of Media Relations