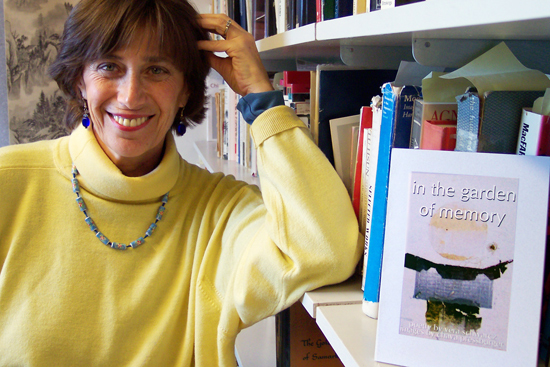 Vera Schwarcz, professor of History and East Asian studies, collaborated with artist Chava Pressburger for the book, "In the Garden of Memory," published by March Street Press. The publication features 18 poems with accompanying paper-art images.
Posted 01/31/05
How does memory speak?
Not with words
in this small country of silenced song. Winter
is the native tongue
of children without food.
-words from Vera Schwarcz's "In the Garden of Memory"
When visiting Jerusalem in 1991, a striking oil painting caught Vera Schwarcz's attention. The Romanian-born daughter of Holocaust survivors instantly felt a connection with the artwork titled "Memories."
"I was deeply moved by its abstract depiction of a shattered world," Schwarcz said. "The painting evoked huge, shards of stone, a rubbled world held together by a fragile thread, lace and barbed wire that I envisioned as memory threads held onto by sheer will alone. In wake of total annihilation, that moved me as an act of spiritual courage."
Schwarcz, professor of History and East Asian studies at Wesleyan and published author and poet, later met the painting's artist, Chava Pressburger. Pressburger, a native of a Jewish community in the Czech Republic, was imprisoned in Terezin in1943-44. Her younger brother was killed in Auschwitz in 1944.
Although Schwarcz was born after the war, their similar backgrounds were the start of a friendship and professional collaboration. Six months ago, the duo released a book together titled "In the Garden of Memory," published by March Street Press. The publication, which they consider "a conversation in paper, poetry and print," features 18 poems by Schwarcz with accompanying paper-art images by Pressburger.
Pressburger's artwork is created from paper she produced herself from plants cultivated in her garden and near her home in Nagev, Israel.
"As a Jew, as a China scholar, the past is not dead for me. It's very alive, very important," Schwarcz said. "I have been looking for ways to give it voice. Through this collaboration, we are putting into the world something that will seed reflection and pleasure. A garden is a bordered space for slow placed reflection. This is an invitation to come into the garden."
Before going to print, Schwarcz and Pressburger exhibited the artwork in Prague, Rhode Island and Connecticut. The display explored the themes of historical trauma in contemporary life.
Schwarcz, like many children born in the generation following the war, was named after other children who had died in the war.
"Our parents often did not tell us about the earlier kin. We thus grew up carrying the name, the destiny of precursors who remained a haunting, vague nameless presence," she said. "Hence, perhaps my compulsion as a writer to name things, as a historian to document truth. If something can have a name and place in the heart, mind the page, it may be somehow be laid to rest."
"In the Garden of Memory" isn't the first time she's written about the holocaust. In her last book, "Bridge Across Broke Time," she wove together her own family's memoirs to with words of poets and historians to show how it is possible to maintain cultural identity in the face of the most disheartening events.
"What was new in this project with Pressburger was poetry, an art form I have been exploring for two decades. Here finally was a way to write about something historical and personal–using the craft of poetry I had been polishing for a while," she said.  
After receiving a bachelor's degree from Vassar College in 1969, a master's degree from Yale in 1971, and a Ph. D. from Stanford in 1977, she wrote over fifty articles on Chinese intellectual history and comparative memory studies. She's also the author of five other books titled, "A Scoop of Light," "Fresh Words for a Jaded World," "Time for Telling Truth is Running Out: Conversations with Zhang Shenfu," "The Chinese Enlightenment: The Legacy of the May Fourth Movement in Modern China," and "Long Road Home: A China Journal."
Since the publication of "In the Garden," several other artists – and photographers – have approached Schwarcz interested in similar collaborations.
She's interested, but she's already made a commitment with a 19th century Manchu Prince named Yi Huan. Huan (1840-1891) wrote poems in Chinese responding to the burning of Beijing's princely palaces by French and British armies in 1860.
"I am adapting Yi Huan's voice to the cadence of historical traumas in the 20th century, including the post September 11th scorched landscape that is our inheritance today," said Schwarcz, who is fluent in Chinese, French, Hebrew, Romanian and Hungarian, and can read Japanese and German languages.
To date, Schwarcz has already published about 25 of these renditions and envisions publishing a collection of 50 poems in the next two years called "Sea of Shards."
Recently, she's working on a new book, "Truth in the Ruins of History: A Comparative Inquiry." And her latest prose/academic book, "Singing Crane Garden; Art and Atrocity in One Corner of China," was submitted to the University of Pennsylvania Press this month. It will be part of a series on the history of landscaped spaces.
 "I find myself wanting to write new books all the time," she said. "In the Garden of Memory is available at Broad Street Books and http://www.marchstreetpress.com/.
By Olivia Drake, The Wesleyan Connection editor