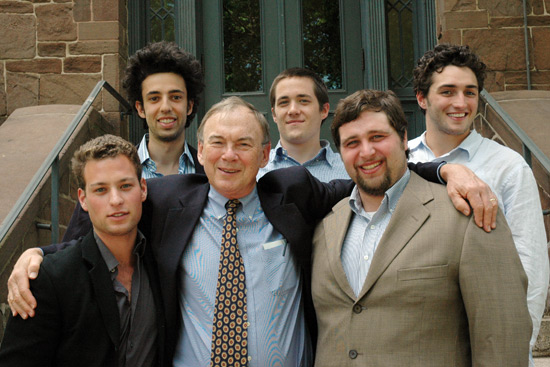 President Doug Bennet congratulates five Wesleyan seniors on their new endeavor, beyondpartisan.org. The students, who graduated in May, are, from left, Adam Jack Gomolin, Bill Ferrell, David Tutor, Robert Weinstock and Nathaniel Byer.
Posted 06/16/06
Last August, four Wesleyan seniors got together for a friendly chat on political issues, each disenchanted with the nature of Internet politics and the few venues available for American citizens to express their viewpoints in a neutral environment. True, there are hundreds of political-action Web sites, such as MoveOn.org and CitizenJoe.com, online periodicals, and single-view blogs, but the students felt the World Wide Web lacked a site that encouraged balanced and consensus-oriented dialogue.

That's when the College of Social Studies majors Adam Jack Gomolin, Nathaniel Byer, Robert Weinstock and David Tutor entertained the idea of starting their own Web site.

The group of four asked their political and Web-savvy friend Bill Ferrell, from the Departments of Philosophy and Physics to join. After months of planning and five design renovations, the students registered the domain, beyondpartisan.org, on Jan. 26.

"BeyondPartisan.org is a response, on one hand, to bipartisan political incompetence, and, on the other, the hyper-speed, unilateralism and overwhelming partisanship of the blogosphere," Gomolin says. "We believe that it represents a new wave of youth-oriented and Web-based politics, the 'anti-blog', or at least 'multi-blog'."

The site, co-engineered with the design firm Dreampod.com and software architects of Pacific Northwest Software, currently gets more than 500 visitors a day and has close to 1,000 registered users.

"On TV, you have all these talking heads yelling their viewpoints, and it becomes a contest of who can shout the loudest," Tutor says. "Our goal with Beyond Partisan is to get viewpoints out there and constructively challenge each other. You may think you are red or blue, but read others' viewpoints, engage with those you don't necessarily agree with."

Beyond that, Weinstock and the others see100 U.S. senators and 435 congressmen preaching partisanship and screaming sound bytes.

"The result is a vain discord that impedes honest legislation capable of helping Americans of all creeds and classes," Weinstock says. "What are we? We're honest solutions, or at least, honest starting points."

The Beyond Partisan process begins with an issue-article, a brief and accessible piece focusing on a single policy area, meant to prompt dialogue with and between users. They offer article-specific commentary, independent forums and personal messaging. Ferrell says the site offers a level of administrator-user parity offered in few other venues, certainly none political.

"Simple, short and open dialogue," Byer explains. "It is a conversation to which each American is invited. We must, as citizens, reflect upon our discussion and draw from it the shared values upon which we may move forward."

The editors have posted articles on gay marriage, stem cell research, educational vouchers, abortion and ports-management, among other topics.

BeyondPartisan.org, they explain, is partly about going "beyond the beltway" mentality and myopia. For instance, in the cleverly punned "Our Civil Union", co-written with another Wesleyan student, they offer a simple solution to the hotly-debated topic of gay marriage: limit the government to 'civil unions', while devolving the 'religious bond' to independent bodies. "If the Catholic church does not want to marry two gay Americans, that is their choice," they note, "but no tax-paying American should be denied the secular privileges consistent with marriage because of their sexual orientation."

This is not a new solution, they point out, just one roundly ignored by elected officials.

Charles Lemert, the John C. Andrus Professor of Sociology, is a BeyondPartisan.org reader and contributor.

"I've followed this project for most of the year and can honestly say that it is one of the most brilliant student projects I've seen in a long while," he says. "The student leaders are themselves very smart of course, but the brilliance is in their ability to pull together BeyondPartisan.org. I'm pleased but not surprised that the site has attracted so much notice. The essays are very compelling and the political theme quite obviously needed."

The students used their own out-of-pocket money to start the site and also received additional financial help and enthusiastic encouragement from President Doug Bennet.

Although the students graduated in May and are now in various locations across the country, they will continue to co-manage the site via the Web. Weinstock says the site will become self-sustaining by allowing other writers and patrons themselves to make lead story contributions: "The more patron-produced the site is, the more successful we have been."

"This is a perfect opportunity for people our age who want to be engaged in politics to log on and discuss today's issues," Byer says. "It's a place to bring and share ideas."

Beyond Partisan is located online at http://www.beyondpartisan.org. Users can log on and sign up at http://www.beyondpartisan.org/login/register.
By Olivia Drake, Wesleyan Connection editor