Multimedia Installation Fictively Reinvents 18th-Century Utopian Society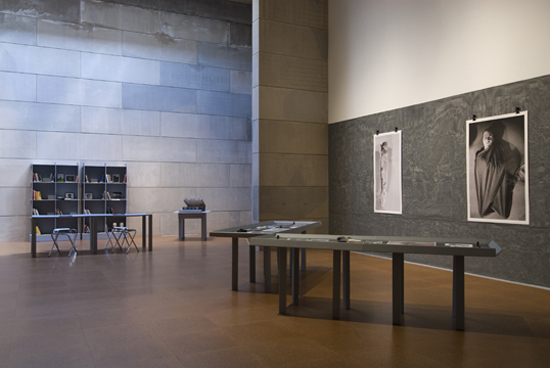 Multimedia artist Lenore Malen is the artistic director of "Lenore Malen and the New Society for Universal Harmony," on display in Zilkha Gallery Feb. 2-March 2.
Posted 02/01/08
A new Center for the Arts exhibit uses the lens of history to explore the far-ranging beliefs and anxieties of our time and the sciences and technologies that have informed them.

"Lenore Malen and the New Society for Universal Harmony" runs from Feb. 2 through March 2 in the Ezra and Cecile Zilkha Gallery. It consists of a multi-media installation that uses video, digital prints and archival materials.

"The New Society exhibit is smart and creative, playful and mysterious, interdisciplinary and interactive," says Nina Felshin, curator of exhibitions. "It winks at both art and life but it also comments on a timely phenomenon in this country in which individuals are pitted against institutions that construct their own realities."

The New Society for Universal Harmony is a group reinvented in 2000, which base their practices on the utopian La societe de l'harmonie universelle established in Paris in 1793 by the followers of Franz Anton Mesmer. Mesmer introduced hypnotic-like healing treatments, which some called "mesmerism." His early medical practices involved using magnetism and the influence of the moon on the body.

New Society members engage in communal rituals and perform historical re-enactments. They document these activities, collaboratively, as artworks.

"This exhibit is a part fantasy, part serious attempt to address the needs in contemporary culture while playfully satirizing them," explains Malen. "We question ideas about community, utopian ideas, medical practices and even cult-like activities."

Malen and company are utilizing the entire gallery for the exhibit. The multi-disciplinary installation includes wall-size digital prints of New Society members engaged in meditative –or even maddening – practices.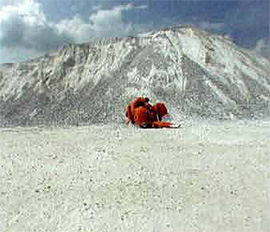 Two videos will be shown repetitively, each documenting two aspects of modernity. One reveals New Society members, donning ceremonial saffron attire, performing a Mesmer-influenced ritual against a bleak Canadian rockscape (see video still at right). The other incorporates archival footage from the 1939 and 1964 World's Fairs and NASA footage, while documenting a re-enactment of the first hypnosis session ever illustrated in a 19th-century engraving.
To encourage interaction, gallery-goers can choose an "ailment" that affects their life, and find a remedy inside the exhibit's Mesmer Research Library of the New Society for Universal Harmony. Malen and Felshin worked with Eunjoo Lee, head of access services in Olin Library, to acquire volumes on topics of psychology, philosophy, literature, political science, physics and biology. The exhibit's collection is a mix drawn from Olin's shelves and Malen's personal collection.
"The library reminds us of the deep and historic connections between books in every discipline," Malen says. "All of the volumes in the Mesmer Research Library are connected to each other through their subjects, authorship, footnotes and marginalia, and the design is emphasized in particular ways."
Housed in shelves and on desks constructed from acid-free cardboard, the architecture and the books allude to a library's function as a repository for material culture. The New Society Library is designed to sharply contrast with the contemporary vision of Google's projected infinite electronic library.
The installation is collaboratively produced by Malen, a multi-disciplinary artist who utilizes photography, video and audio installation, live performance, artist books in order to create imaginative scenarios involving historical fiction. Malen's multi-media project "The New Society for Universal Harmony," is documented in a recent book of the same title.
Admission to Lenore Malen and The New Society for Universal Harmony is free.
The public is invited to attend the opening reception from 5 to 7 p.m. Feb. 1, with an artist talk at 5:30 p.m. inside the gallery.
The Ezra and Cecile Zilkha Gallery is located at 283 Washington Terrace, Middletown, CT. For more information or directions, call 860-685-3355 or visit www.wesleyan.edu/cfa.
 
By Olivia Drake, The Wesleyan Connection editor