Homecoming/Family Weekend Oct. 17-19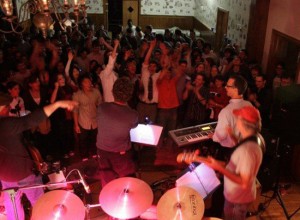 "Come Home" is the theme for the 2008 Homecoming/Family Weekend, scheduled Oct. 17-19 on campus.
"Come Home is a literal invitation for alumni, but we also address this message to parents, families, students, faculty and staff," says Makaela Kingsley '98, associate director of events and alumni association secretary. "We hope all members of the Wesleyan community will take advantage of the rich schedule of athletic events, social gatherings, WESeminars, performances, and culinary offerings."
Highlights of this year's weekend include:
20 WESeminars featuring alumni, parents, faculty, staff and students. Topics range from the 2008 presidential election to climate change, from writing thrillers to tackling the New York Times crossword puzzle. All WESeminars are free and open to everyone, and seating is on a first-come, first-served basis.
Wesleyan Football, Men's and Women's Soccer, and Field Hockey vs. Amherst, plus Men's and Women's Rugby matches.
The Eighth Annual Taste of Middlesex County Lunch where Andrus Field becomes a showcase of the delicious, diverse food in the Middletown area.  Enjoy Indian, Jamaican, Thai and Italian cuisines, plus soups, sandwiches, homemade desserts and more.
The 16th Annual Dwight L. Greene '70 Symposium: "Enough: The Future of Black America" featuring NPR senior correspondent Juan Williams.
A benefit concert for the Green Street Arts Center featuring Wesleyan A Cappella groups.
Nearly 1,400 people have already pre-registered, and another 1,100 are expected to register on site. Registration will be at the Usdan University Center starting at 8 a.m. Oct. 17. There, guests can pick up their registration packets, get answers to questions and meet up with other alumni and families who are checking in.The full weekend schedule is online at http://www.wesleyan.edu/hcfw.